MS Star Legend
Baltic Sea 2022
11-Days & 8-Countries
Copenhagen to Stockholm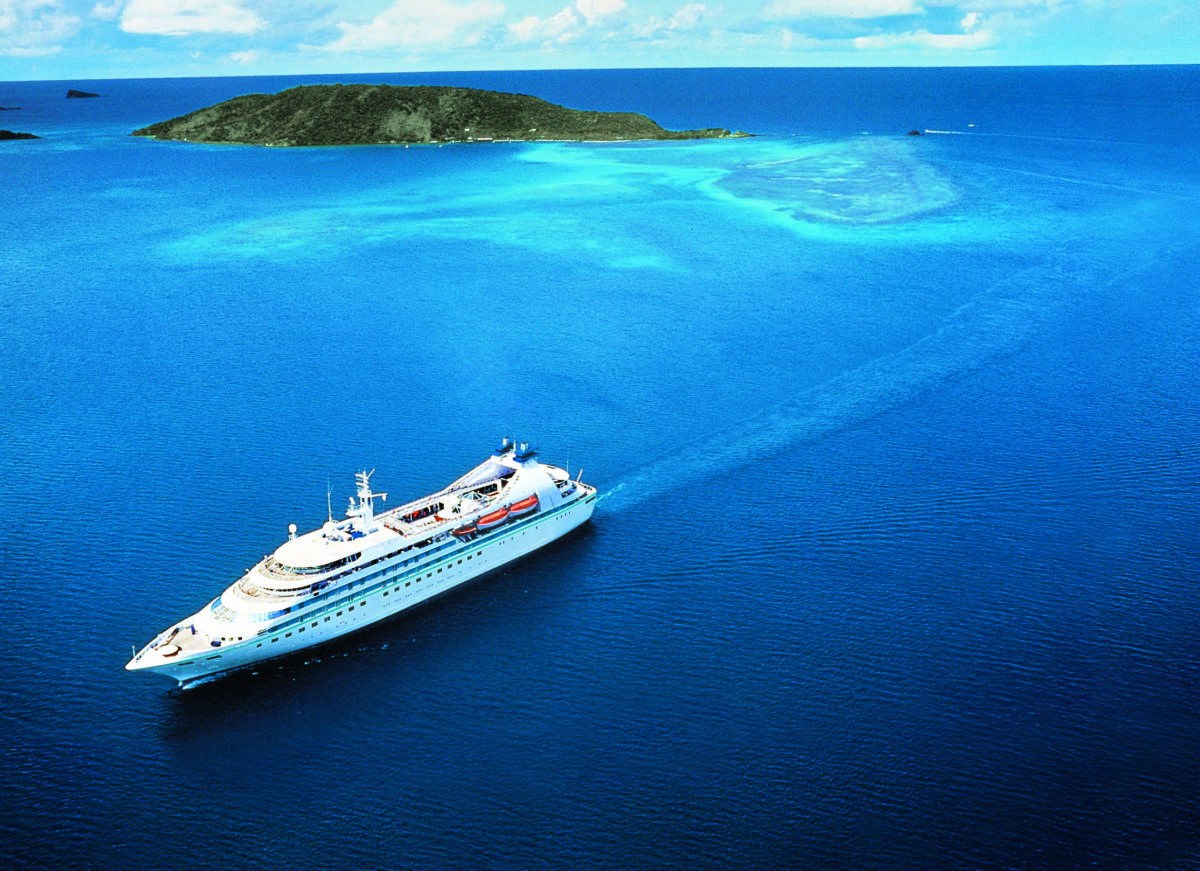 Santana has chartered Windstar's all-suite Star Legend for our Baltic Sea Cycling Cruise!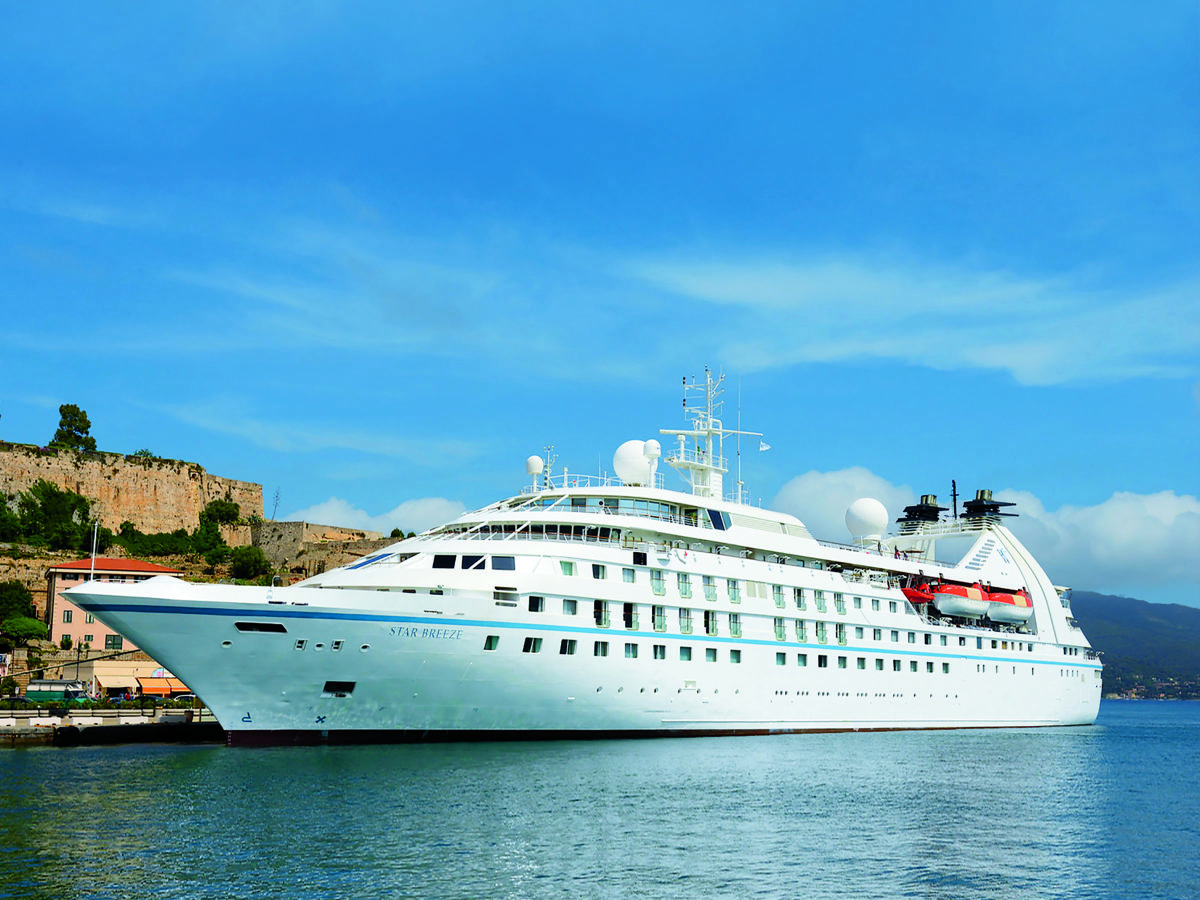 The Star Legend is an ALL-SUITES motor yacht!
The smallest suite, at 277 sq.ft., is twice as large as staterooms found on other new cruise ships.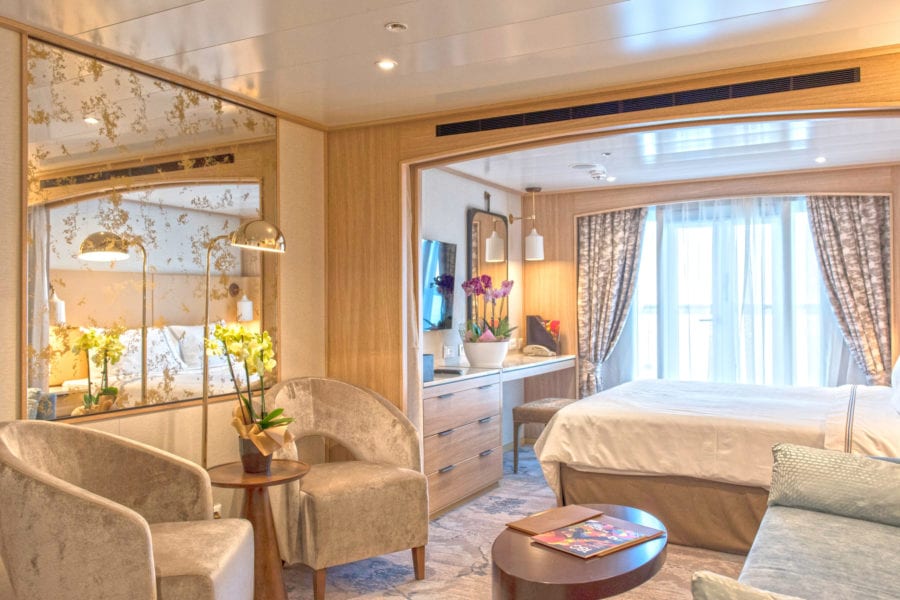 Every single suite on the ship is brand new!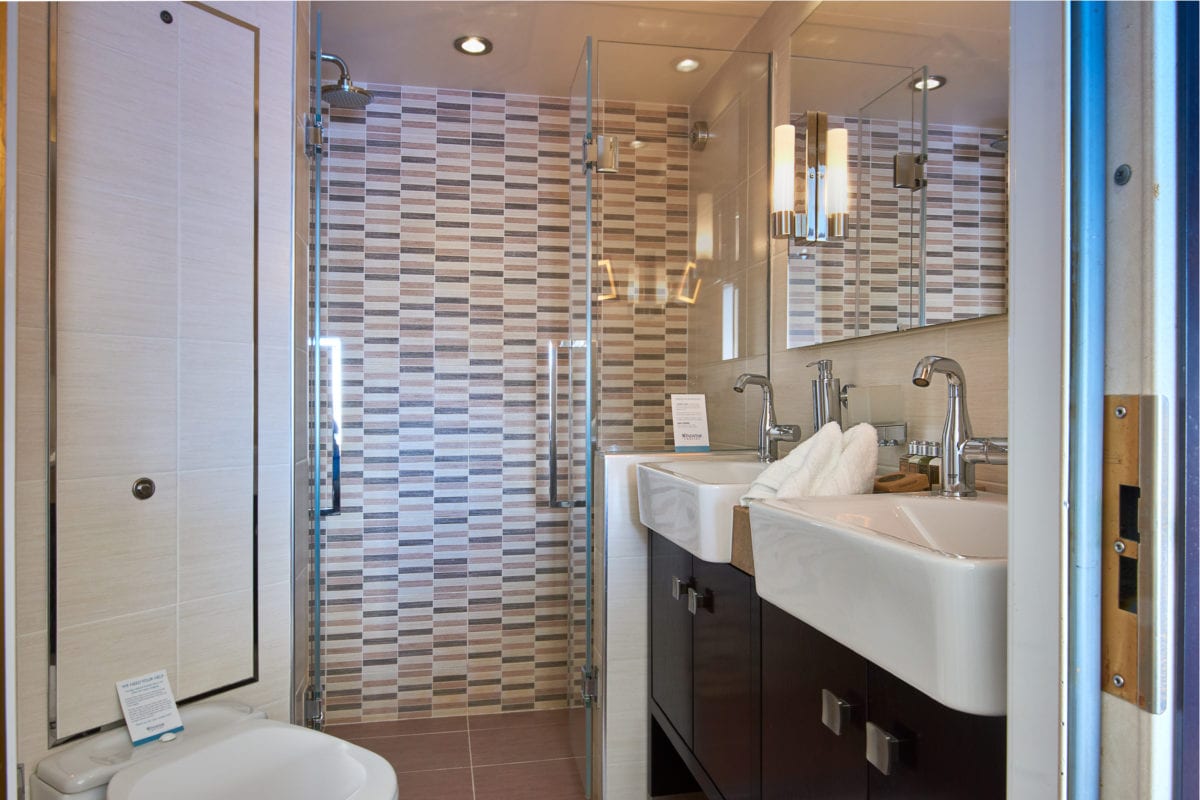 Beautiful new bathrooms in every suite
10 different suite categories makes it easy to find one that's right for you.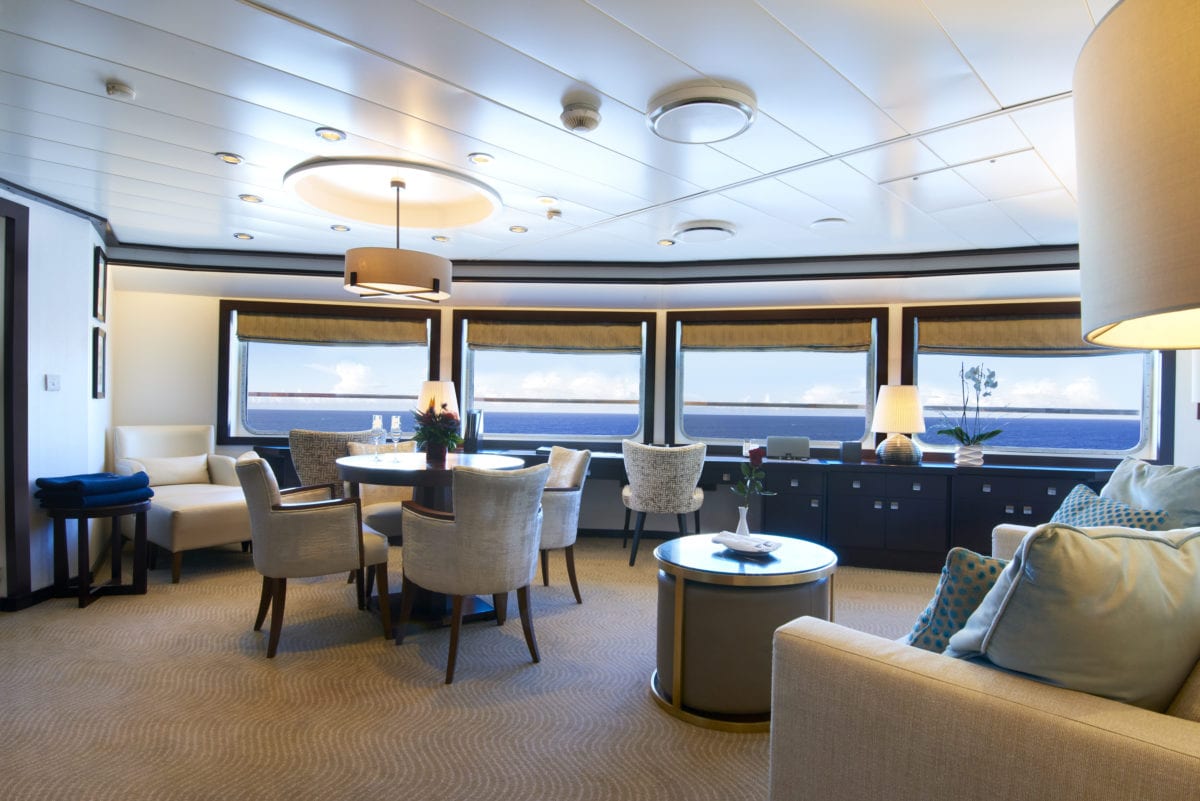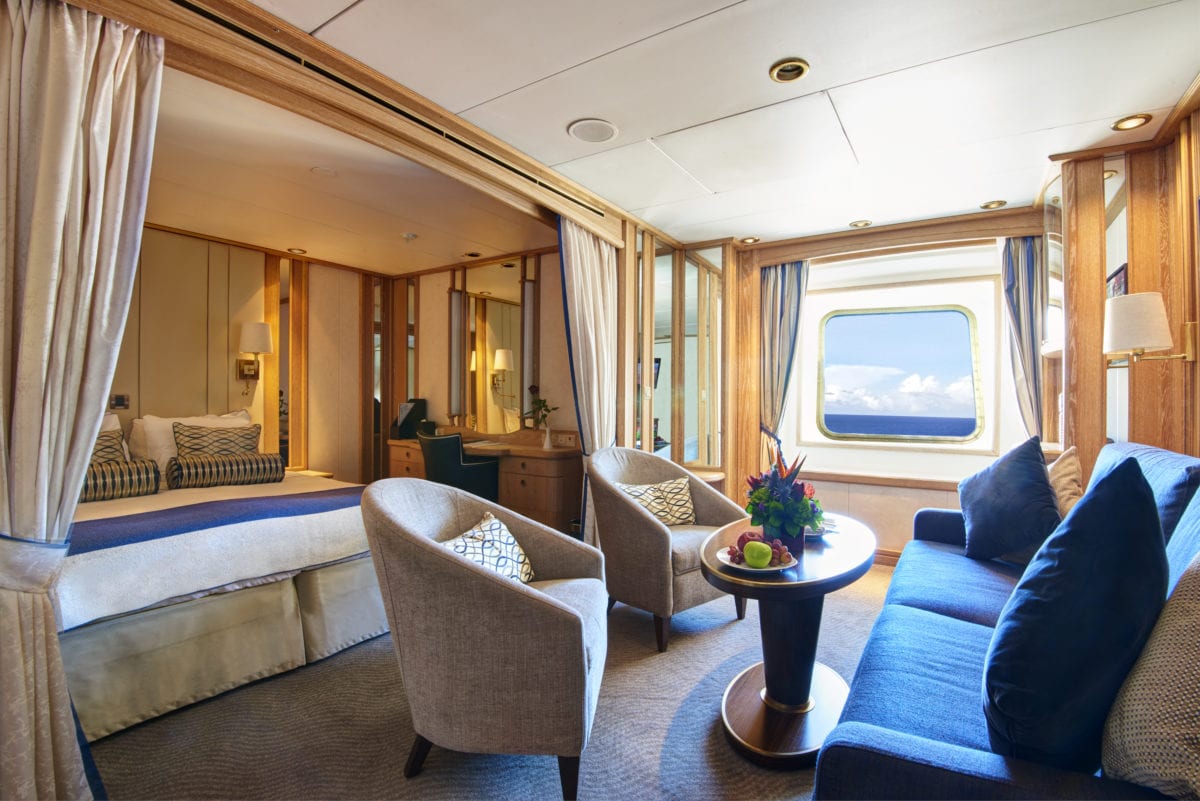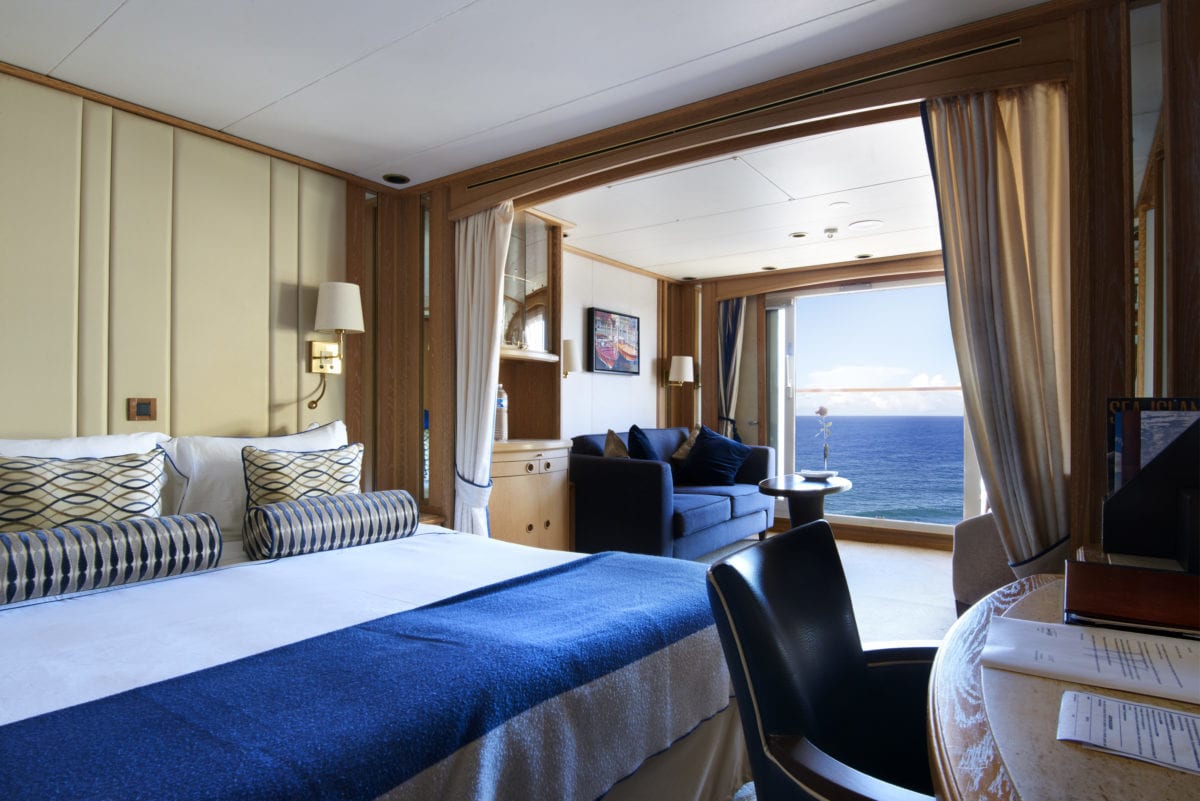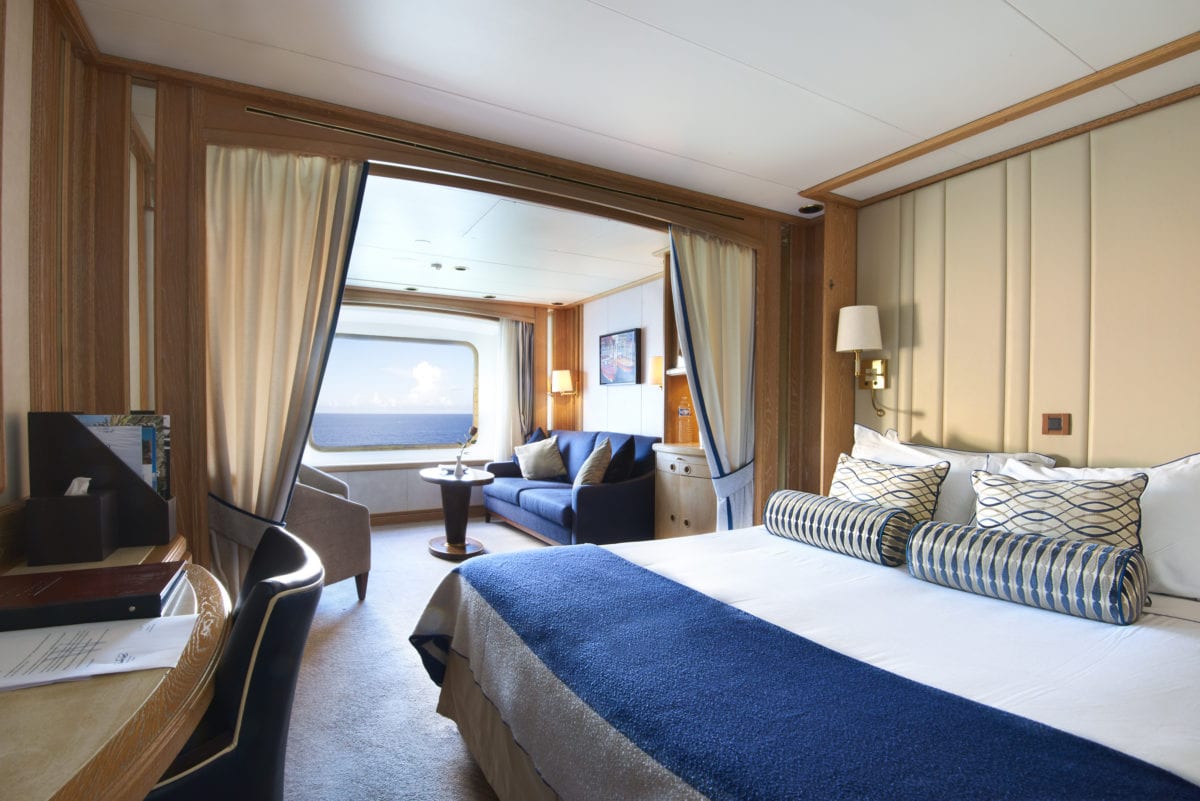 A total of 5 gourmet restaurants provide a variety of fresh culinary options. Jan wants you to know that 24-hour room service is a no-cost extra!
The Star Legend has a 1:1.5 crew-to-passenger ratio to provide award winning service.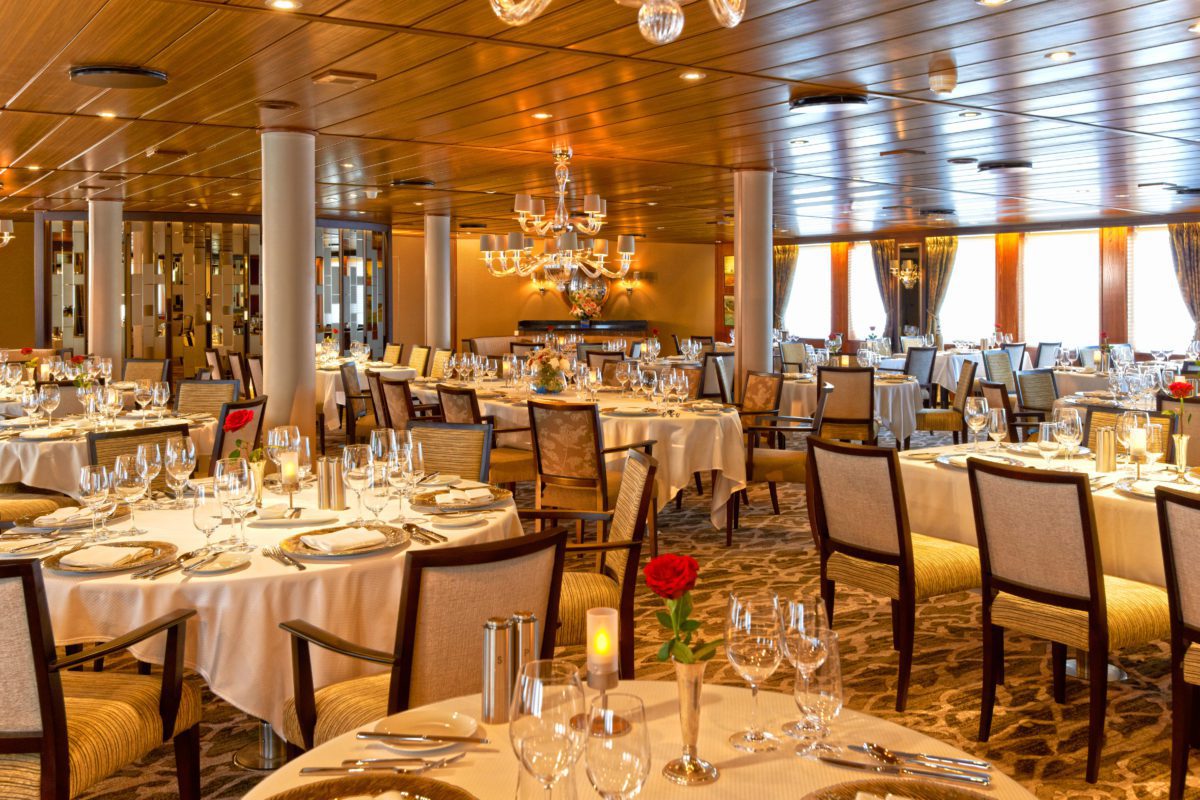 Santana has worked with Windstar since 2010. We love their yacht-sized fleet, as does the cruising public and industry critics. Year after year Windstar wins all the major awards for small ship cruising, and scores the highest return-client loyalty. Santana's previous Windstar charters included the Mediterranean and Tahiti. 2021's Australia charter of their Star Breeze was especially attractive, and sold out nearly two years in advance.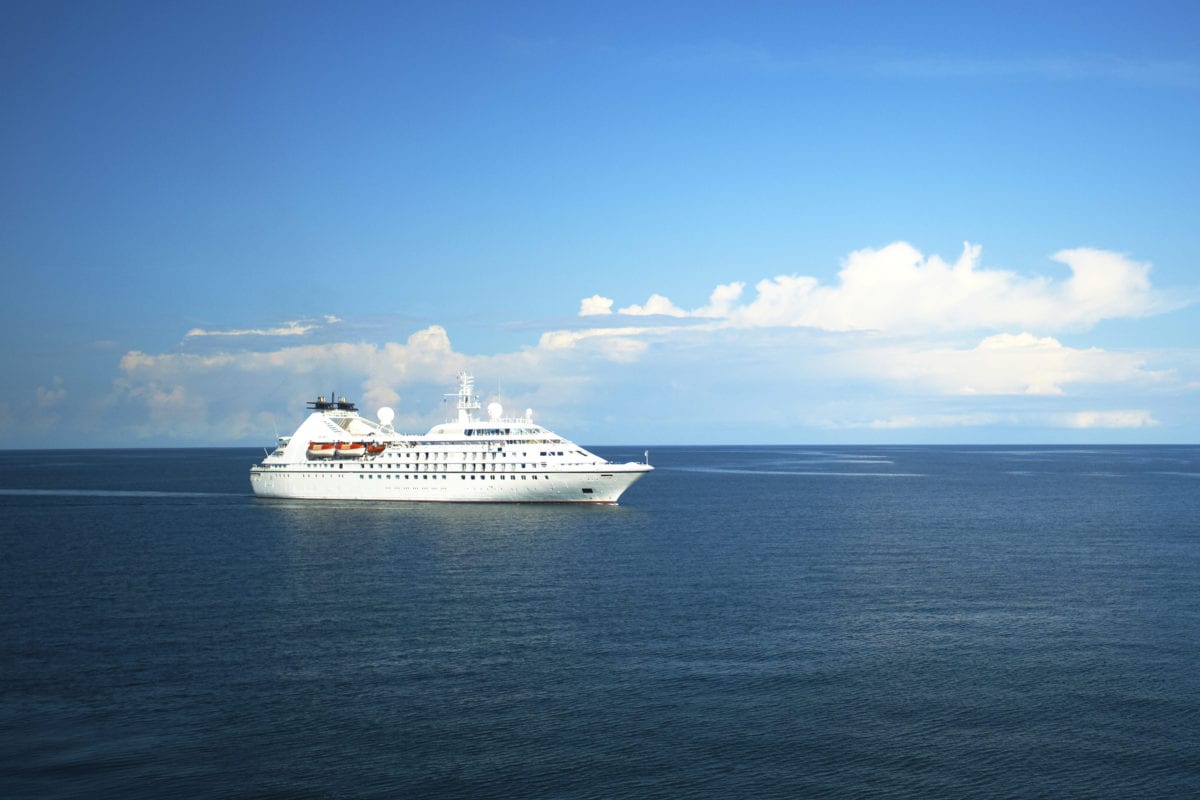 Earlier this year, the Star Legend was withdrawn from service to take part in Windstar's "Star Initiative Project"—a quarter billion dollar stretch of their 3 motor yachts (the twins are actually triplets). After cutting the Star Legend into front and rear halves, a precursor to the installation of quieter new eco-friendly motors and generators, they'll replace the ship's decor and furnishings. Before buttoning things up they'll slide in a new 84-foot midsection.
This 90 second video shows the process –
https://www.youtube.com/watch?v=OTpVxCOjmPY&feature=youtu.be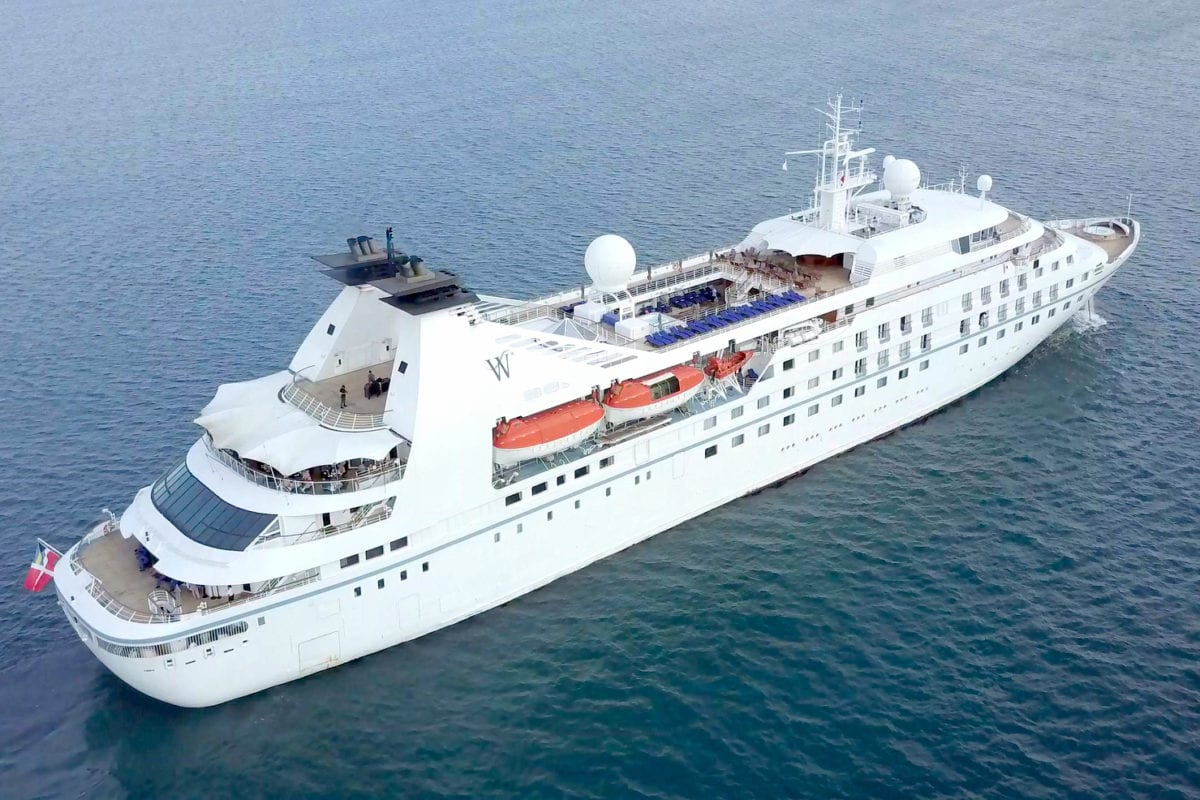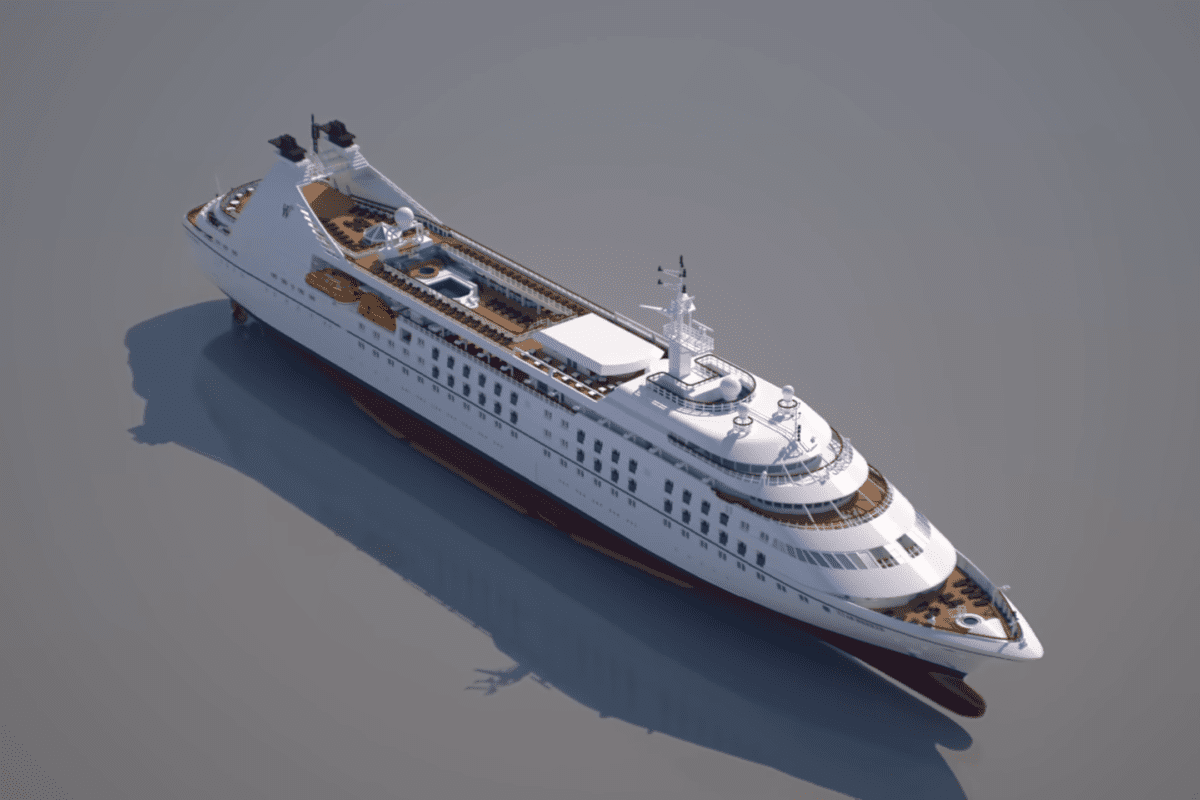 The Star Legend we've chartered for the Baltic Sea will essentially be a new ship with larger additional public areas, a tripled-size ocean-view swimming pool, new tenders, and new lifeboats.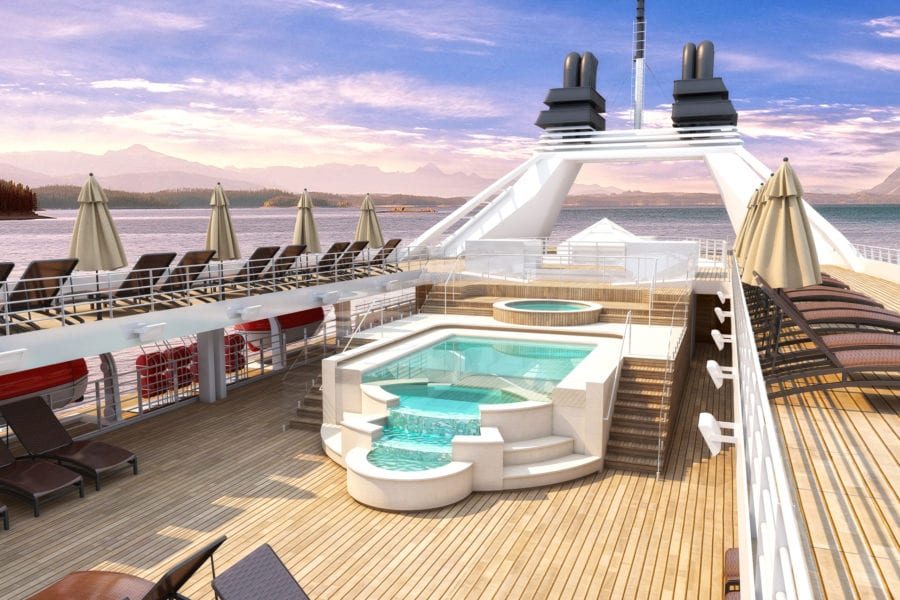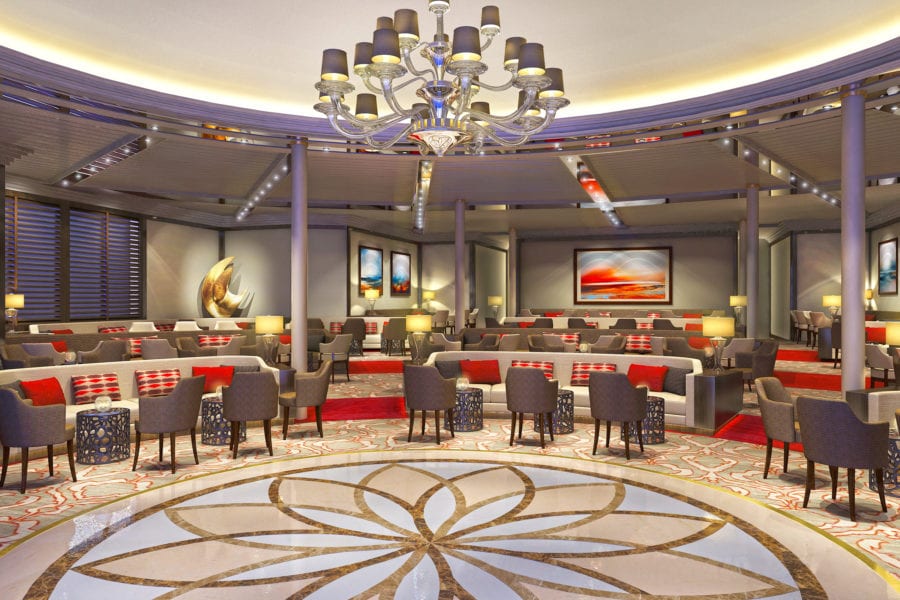 Existing suites have all been completely rebuilt, will obtain enhanced soundproofing, and feature all-new bathrooms. Added suites include new categories at both ends of the price range. After relaunch you'll not only have a wider range of staterooms to choose from, the Star Legend will have five gourmet dining venues to provide a wider range of fresh cuisine.
Owner's Suite (Living Room)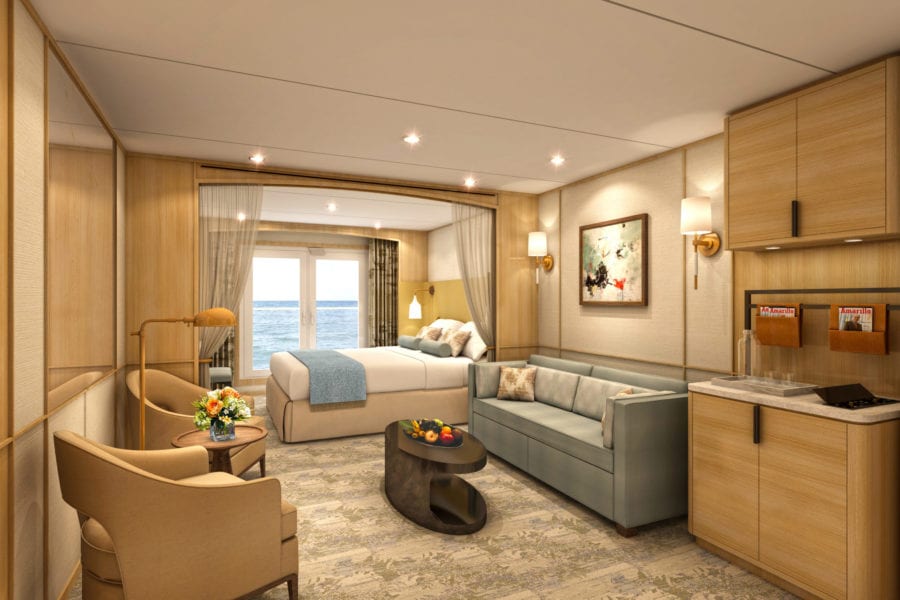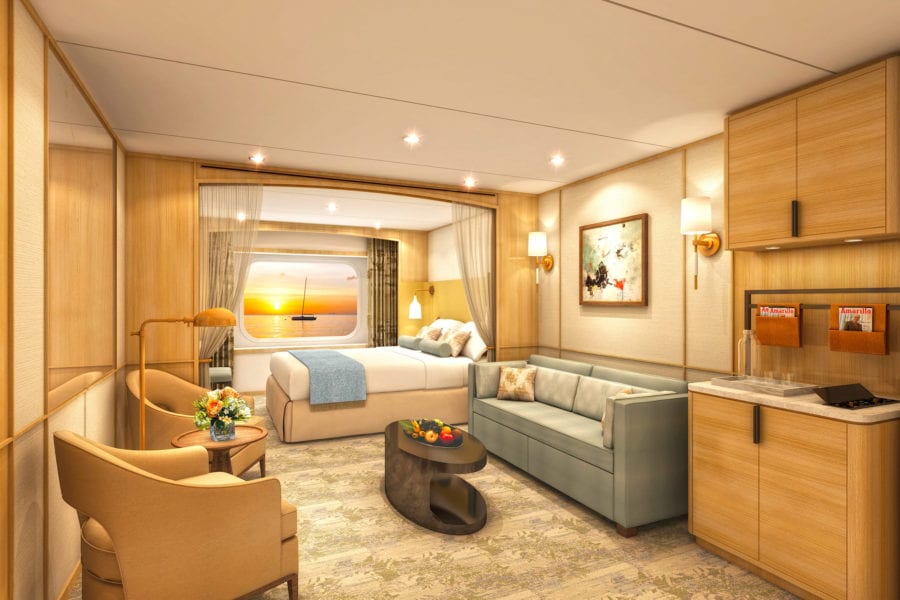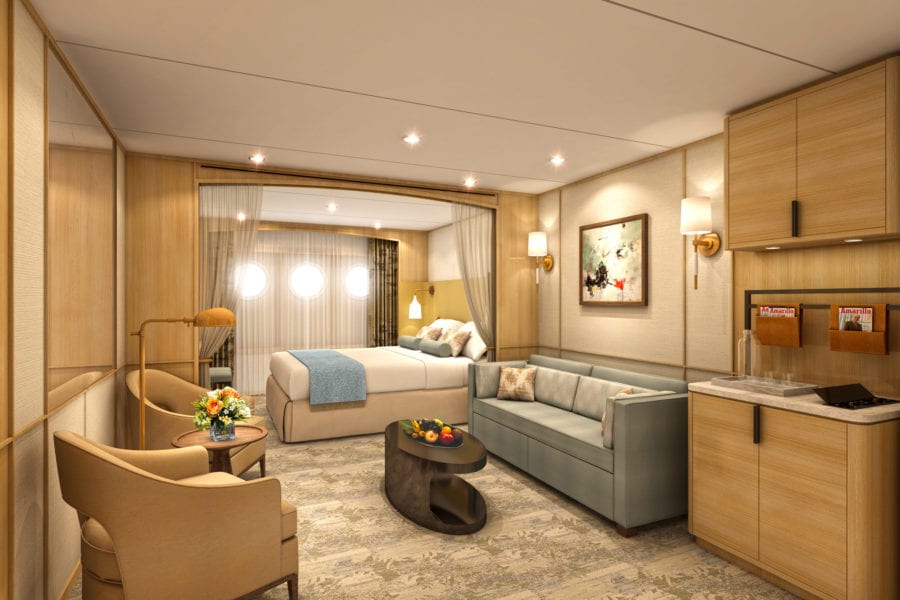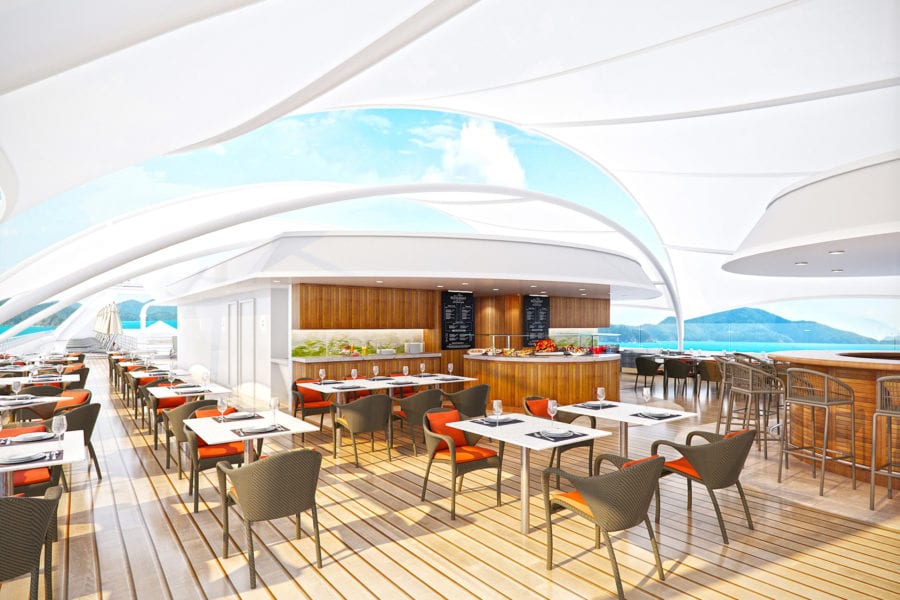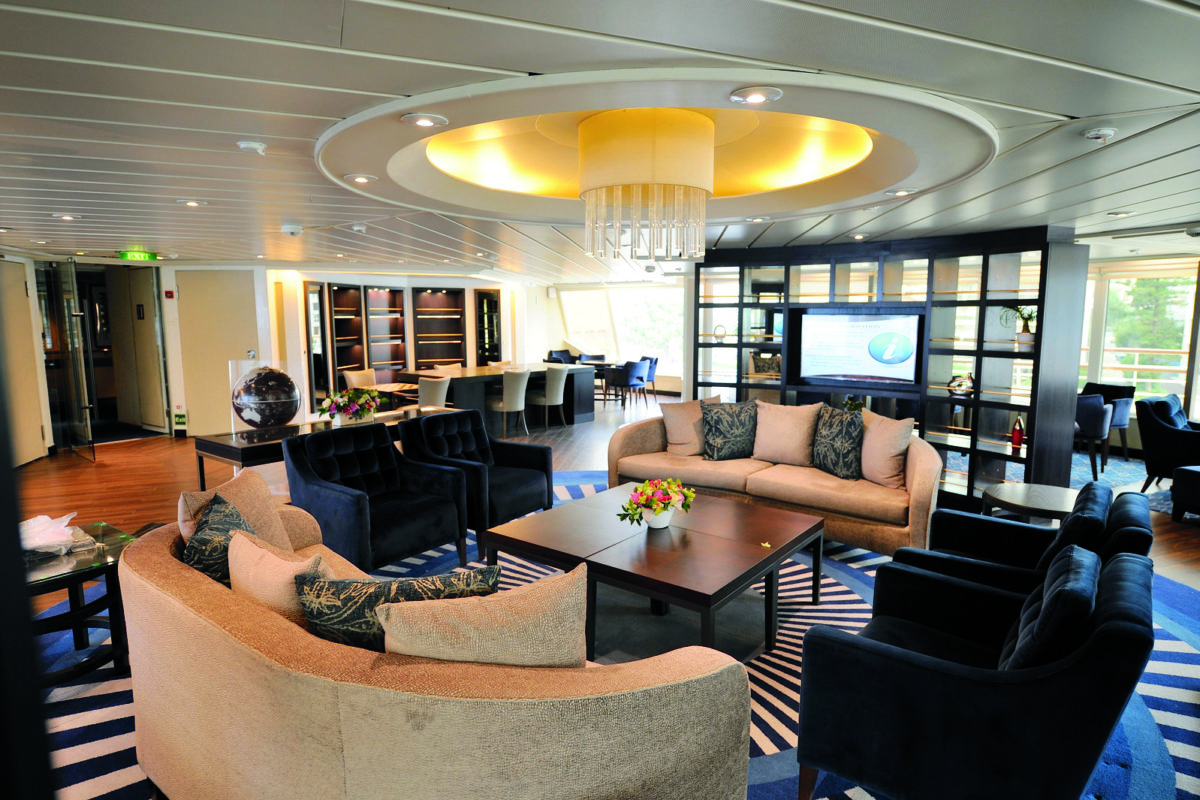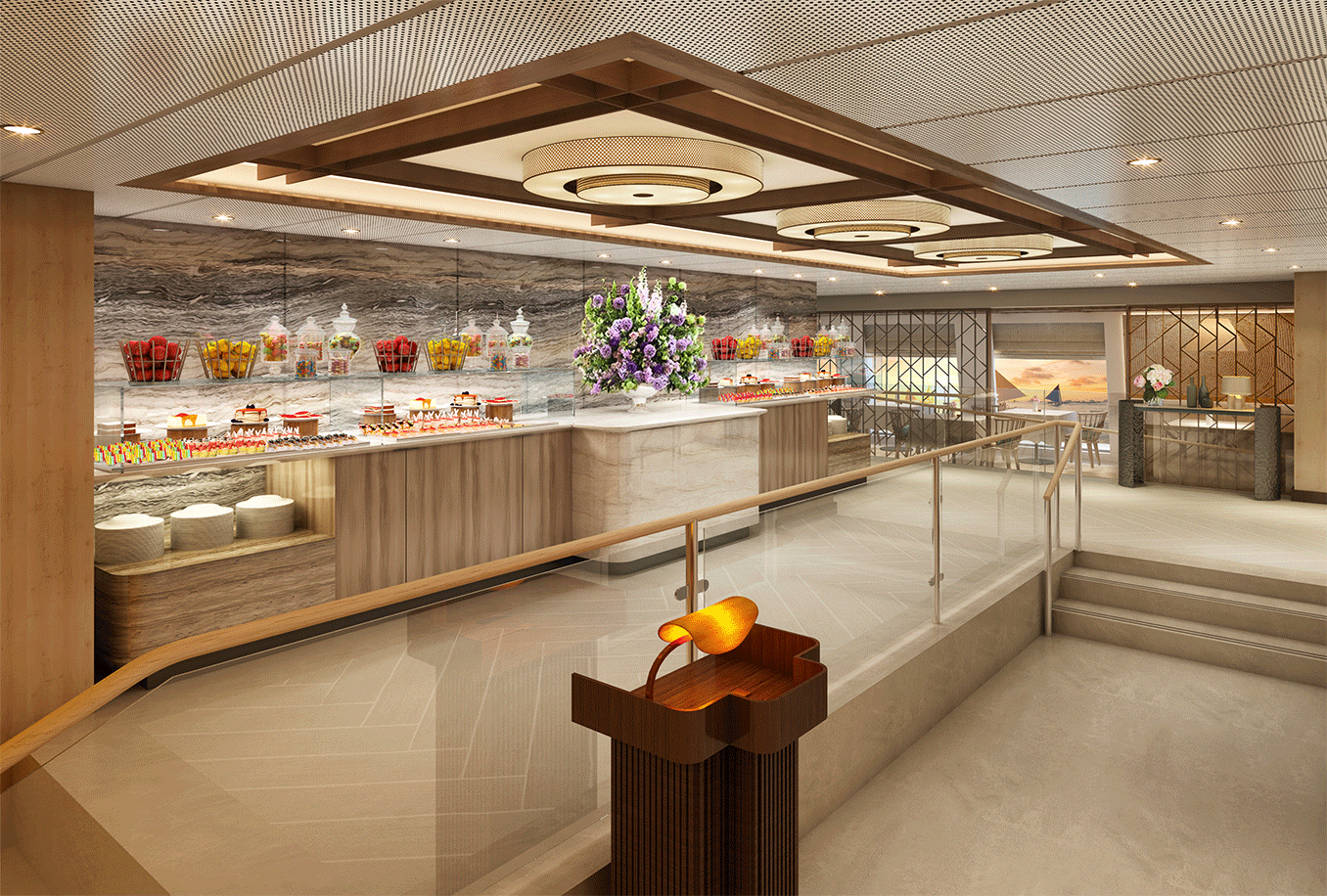 The new Cuadro 44 Restaurant
Frequently Asked Questions
Baltic Sea 2022
11-Days & 8-Countries
Copenhagen to Stockholm
Q: What are the exact dates?
A: The Cruise Dates are July 1 to 11, 2022. In a region where winter temperatures are below freezing, July assures short-sleeve cycling, extended hours of sunshine and daily highs in the 70s.
Q: What's the cost?
A: Due to the current strength of the dollar and the wonderful offer Windstar gave us for Santana's first-ever Baltic Sea cycling cruise, our pricing for this 11-day cycling cruise starts at $6,499 per-person. Booking early is easy and RISK FREE. Our reservations page shows pricing of available staterooms.
Q: What about tipping?
A: Jan and I don't accept tips. A comprehensive "cruise extras" fee of $700 per-person includes a long list of off-ship activities, admissions, interpretive guides, sight fees, and ride support (gps route files, morning shuttles to give casual riders a head start, and SOS vans driven by pro mechanic). Note that this is less than the average cruise passenger pays for a week of "deluxe excursions." Government mandated Port Taxes and Facilities Fees are $400 per-person. Mandatory shipboard gratuities of $180 per-person includes valet bike handling.
Q: All Suites?!
A: Every stateroom is an exterior suite. About 40% have balconies. Pricing varies by location and floor plan (see the Stateroom Reservations section below for pricing details).
Q: Are there differences between the suites?
A: Certainly. The Star Legend features deluxe bedding and spacious floor plans. The suites have a private bathroom with a double-vanity & double-sinks, air-conditioning with adjustable thermostat, and are soundproofed. All Star Legend staterooms are located on the exterior, and offer exquisite views or balconies. The smallest room on the ship is 277 square feet.
Q: How are suites assigned?
A: In any sub-category all rooms are virtually identical. Using the reservation timestamp, those who reserve earliest get the conveniently located staterooms closest to the heart of the ship. If friends desire a pair of adjacent staterooms the timestamp of the first reservation determines the location of both rooms. Out of fairness to all our guests, we will not take requests for specific room numbers. Those who book early obtain prime positioning.
Q: Are rental bikes available?
A: Yes. If you own a nice bike that fits, however, bringing it with you is relatively easy and inexpensive. More info on this in Bill's Travel Tips. Single bike rental, about $450 per-person for the event (and $200 extra for eBike), includes delivery at embark and retrieval at the end of the final ride.
Q: How do we get to and from the tour?
A: Detailed info by August '21. Those who arrive and leave on the embark and disembark days will receive FREE Airport transfers.
Q: How many miles each day?
A: A look at our relief map will show you that the Baltic, unlike most oceans, is surrounded by remarkably gentle terrain. In addition to our daily pair of zero-mile options (remaining on the ship or reaching prime attractions via Santana's non-rider coach), every day has multiple cycling routes. Anyone who can ride 35 flat miles will be able to enjoy multiple days of easy. Longer routes are available, and typically allow 60 or more miles. At each morning's breakfast you'll get a map charting the day's cycling routes and recommended stops. During a brief route talk you'll hear about each route's attractions. Santana's vets have learned to love and rely on their handlebar-mounted gps units. Available for less than $200, these touch-screen marvels prevent the age-old problem of getting lost or riding unplanned miles. Santana supplies free electronic mapping and route files. Simply select the route and follow the highlighted map.
Q: What's the next step?
A: A near-immediate sell-out of this event is anticipated. Early-in pricing is limited to the first few rooms in each category. Pricing listed on the Stateroom Reservations section is the current pricing. Refresh your browser to see any changes that may have occurred if you delay booking after loading this page. To lock-in availability and the lowest pricing on a RISK-FREE basis, reserve your space through our Online Reservations portal. Santana's secure website is open 24 hours per day, accepts all major credit cards, and automatically adjusts for remaining stateroom availability. Reserving your spot is RISK-FREE. In each category the prime location staterooms will be assigned in the same order as the time stamp of your booking.
Q: What do you mean by RISK-FREE?
A: When you use your credit card and book through our website, we'll give you 14 risk-free days to think it over and clear your schedule. If you change your mind, send an email to Cancellations@SantanaAdventures.com within two weeks to cancel the transaction and obtain a full refund. Here is a full listing of Santana Adventures' Terms & Conditions.
Q: What if we change our minds after 14 days?
A: Because full-boat charters are binding, non-cancelable contracts, Jan and I will only enter into this charter based on your confirmed-through-PayPal commitment. In effect, we undertake a huge risk by guaranteeing full payment on your behalf. After entering into this obligation, we cannot afford for you to back out—for any reason. This is no different than the clear written policy that existed for all except one of Santana's prior chartered-ship cruises (this charter will be our 53rd!). While preparing for our 2009 Danube event I neglected to include the following proviso. That's the year a group of friends, after verbally agreeing to pay in full and then stringing Jan along for many months, decided to cancel their plans. Lesson learned! Here it is (again) in writing:
Santana's acceptance of your registration and non-refundable deposit for this event is subsequent to your agreement to pay the remaining balance in full. While Santana allows limited refunds on rallies and tours, Santana's cruises are non-cancelable and non-transferable. When the possibility of paying yet not attending is unacceptable, Jan and I recommend Travel Guard trip insurance. For the past 25 years hundreds of our clients have relied on Travel Guard coverage without complaint. An informative application will be mailed with your invoice; and further information is available online. Here is a full listing of Santana Adventures' Terms & Conditions.
Q: Have you ever relaxed your refund policy?
A: Jan and I have willingly resold a number of fully prepaid staterooms for a fee of $1,500 per room—which was waived when a vacating couple found someone to take their place. When there has been more than one pending resell request, those who paid-in-full earliest had their space resold next. Using this non-guaranteed method (which is grossly inferior to trip insurance) Jan and I have cheerfully refunded over $500,000 in otherwise non-refundable and non-transferable cruise fares. Here is a full listing of Santana Adventures' Terms & Conditions.
Q: What's the difference between a SAG-wagon and Santana's SOS/treasure vans?
A: Most tour companies use SAG-wagons that haul luggage and "sweep" the route between overnight stops. The drivers refill water-bottles, fix flat tires, and retrieve riders who can't manage the easiest route between the widely spaced hotels. The problem, of course, is that the roving vans tend to be annoying until you actually need help. At that point it's common to wait for two or more hours until one shows up. Although SAG drivers can fix a flat, they don't have the tools or know-how to handle serious mechanical problems. Instead, they drive you to a bike shop (which explains why SAG-wagons disappear for hours at a time). This tour's SOS vans are driven by pro bike mechanics who bring tools and spares. When you phone our drivers with the coordinates from your GPS, they'll arrive in a flash to get you back in the saddle. Because Santana expects participants to fill their own bottles, fix their own flats, and choose a ride they can finish, our SOS drivers are underworked, and have time to retrieve your shopping treasures.
Q: Are beverages included?
A: Normally extra, on Santana's Baltic charter a glass of beer or wine are included at our evening route talk. Additional alcohol is not included, but can be charged to your room. Soft drinks, coffee, espresso drinks, and juice are always complementary.
Q: Which meals are included?
A: During Santana's earlier charters of Windstar cruises the culinary staff appreciated our appetites as much as we appreciated their multi-course gourmet meals. A 5-star chef will curate a new menu for each meal, and will always include a surprising selection of local fruits and produce, regional specialties, the freshest-possible seafood, vegetarian options, and grilled-to-order meats. A changing assortment of desserts and pastries are produced aboard each day. Breakfast and Lunch are served nouvo-buffet style, perfect for active cyclists. Dinners are served by knowledgeable and attentive waiters who can help you to make choices from each evening's delightful menu of gourmet selections.
Q: Does the Star Legend offer laundry service?
A: Normally an expensive option, Santana's Windstar charter includes FREE wash and fold laundry. Additionally, Windstar's experts have always taken great care of our expensive cycling wear.
Q: Does the Star Legend have WiFi?
A: Satellite based WiFi is available at extra cost.
Q: Will there be menu selections for vegetarians, vegans and picky eaters?
A: Yes to all of the above.
Q: Does the Star Legend have Room Service?
A: Yes, all food served on board is complimentary, including 24-hour room service.
Q: Does the Star Legend have Elevators?
A: Yes.
Q: What if we have more questions?
A: The easiest way to get help is by phoning or emailing Matt,  who is happy to help answer your questions.
+1 (949) 677-7896
Matt@SantanaAdventures.com
It's also fine to phone Bill at +1 (909) 451-3748
Q: What if I run into problems with Reservations?
A: The easiest way to get help is by phoning or emailing Matt, who is happy to help guide you.
+1 (949) 677-7896
Matt@SantanaAdventures.com