Photo Itinerary
Barcelona to Lisbon Cycling Cruise 2023
Spain, Portugal, Morocco, & Gibraltar
Embark Day – Barcelona Old Town
Santana's Barcelona to Lisbon Cycling Cruise starts in Barcelona, everyone's favorite Mediterranean City. With archeological finds dating back to 5,000 B.C., this perfectly-sited city was never abandoned. Instead, it became the centerpiece of the Catalonian empire.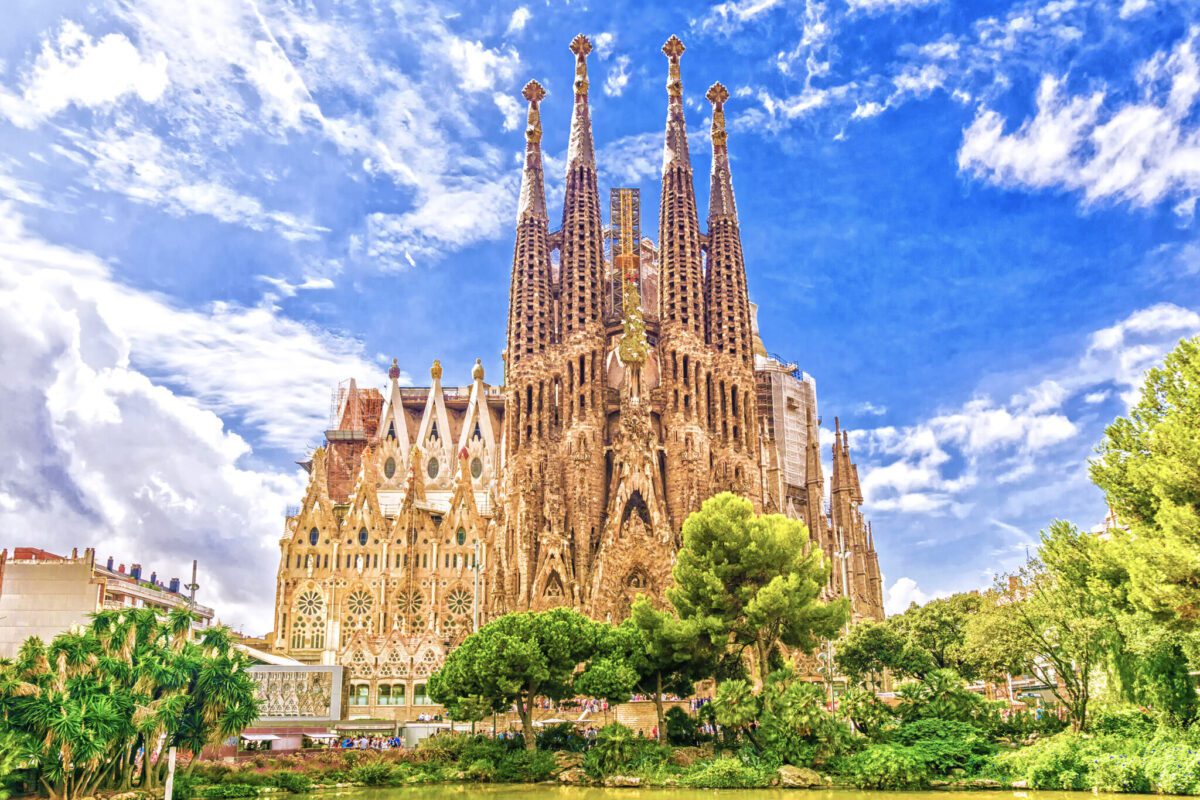 More recently, this gracious city was home to Gaudi and his signature architecture. Transformed to host the 1992 Olympics, the Mediterranean's "greenest" metropolis has wide avenues, parkways, and over a hundred miles of bike lanes.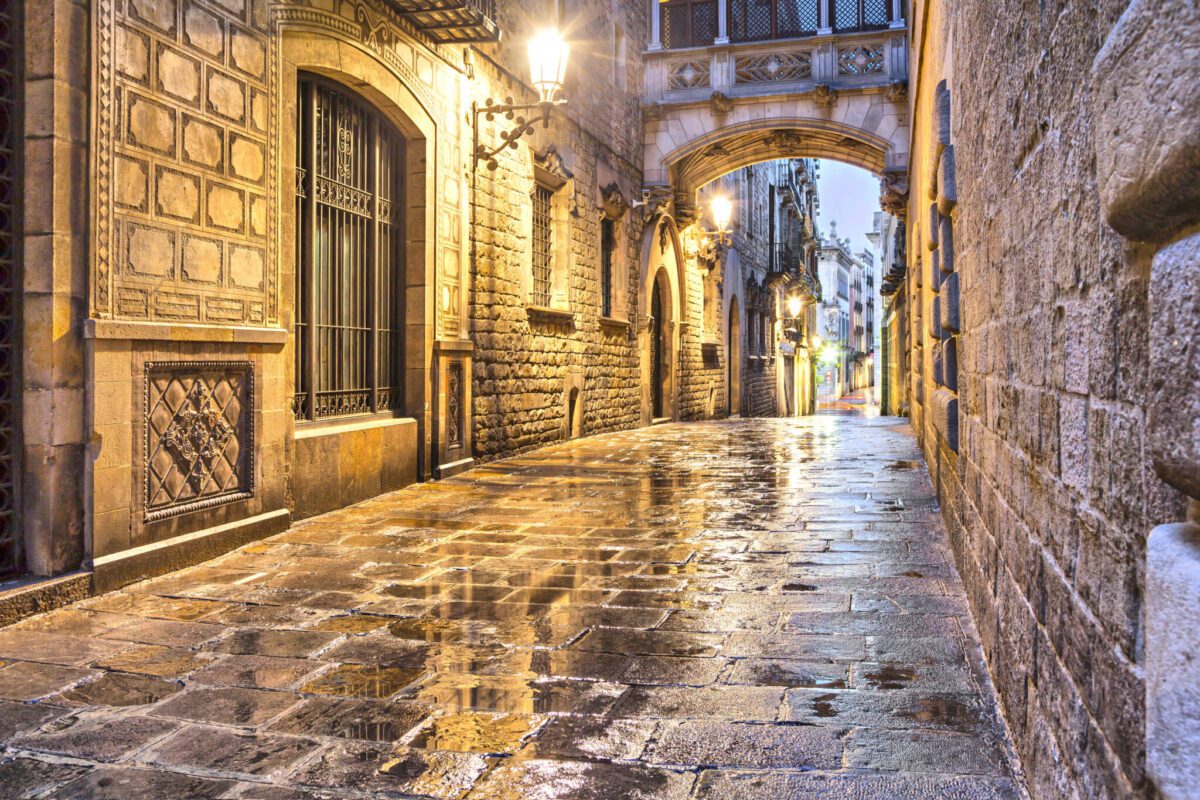 The embark-day shuttle from Barcelona's BCN Airport will take you to our luxurious yacht-sized cruise ship, which will embark only steps away from Las Ramblas and the city's Gothic Quarter.
Day 2 – The Majestic Island of Mallorca
Every year millions of European tourists flock to Spain's Balearic Islands, a place that's largely unvisited by Americans.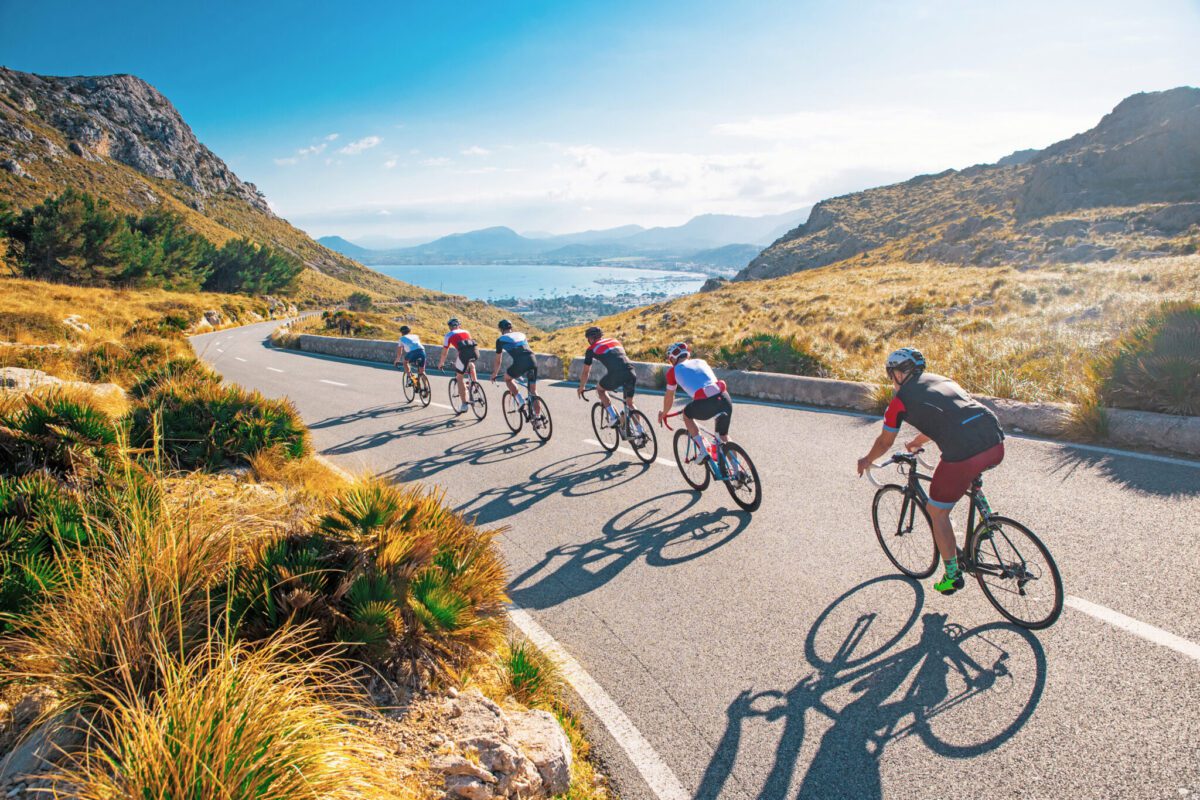 For over 25 years, the #1 destination of European cyclists who fly to a bicycling holiday is the island of Mallorca, where our small ship obtained a special permit that allows a morning stop at the tiny Port de Sóller.
A few miles inland is the picture-perfect town of Sóller, where our hosted stop for cafe, pasteles, and fresh-picked orange juice will be highlighted by a local troupe performing the "Ball dels Cossiers."
From Soller a choice of classic Mallorcan cycling routes cross to the captivating capital of Palma. While our ship circles Mallorca to retrieve us, we'll have ample time to explore the exotic walkways of a vibrant city before our Barcelona to Lisbon Cycling Cruise traverses back to the mainland.
Now a favorite of European visitors, the narrow streets of Palma reflect over 2,000 years of influence from occupying Greeks, Pheonicians, Carpathians, Romans, Vandals, Aragons, Moors, Byzantines and Catalans.
Day 3 – Castellón de la Plana to Valencia
Did we tell you we've done a similar itinerary before? On all three of Santana's previous Barcelona to Lisbon Cycling Cruises (which weren't able to include Mallorca due to the speed of the older ships), a favorite day starts in Castellón de la Plana and cycles the coast to Valencia.
This day's ride features an eclectic mix of white sand beaches, small villages, rice paddies, and a coastal rail trail.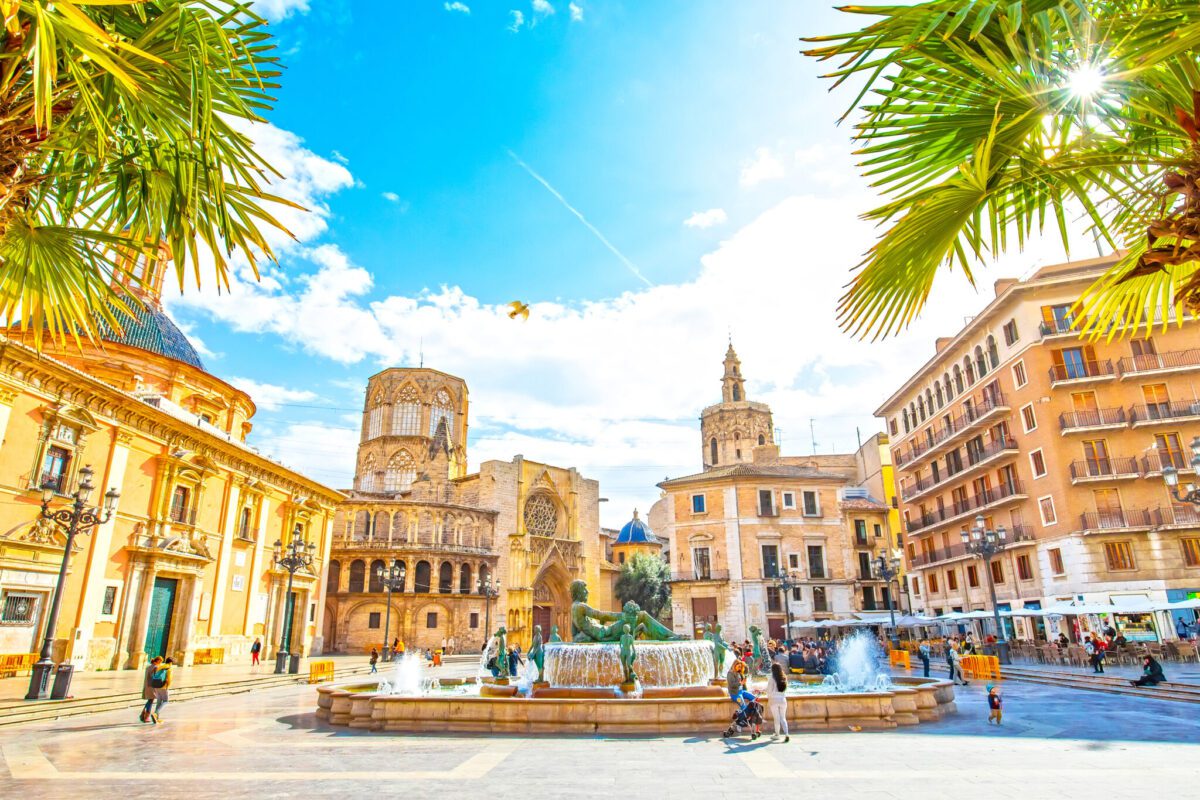 In Valencia we will again hire a team of local experts (who are also cyclists) to guide small group rides that pause to reveal and explain the innovative aspects of the city's famous collection of avant-garde architecture.
Day 4 – Cartagena to Garrucha
One of the reasons we haven't returned to our favorite region is the shortage of petite cruise ships that can comfortably manage Santana's expansive itinerary. Following a six year search, the launch of an ultra-capable new ship has finally made Santana's return visit possible. To reach Cartagena from Valencia, for instance, our yacht will travel 150 miles while we relax, dine, and sleep.
Additionally, this is the third day in a row where the ship drops us off in the morning before racing along the coast to retrieve us at a second port that afternoon. In all three cases, the port at one end of the ride has berths too small for a normal cruise ship.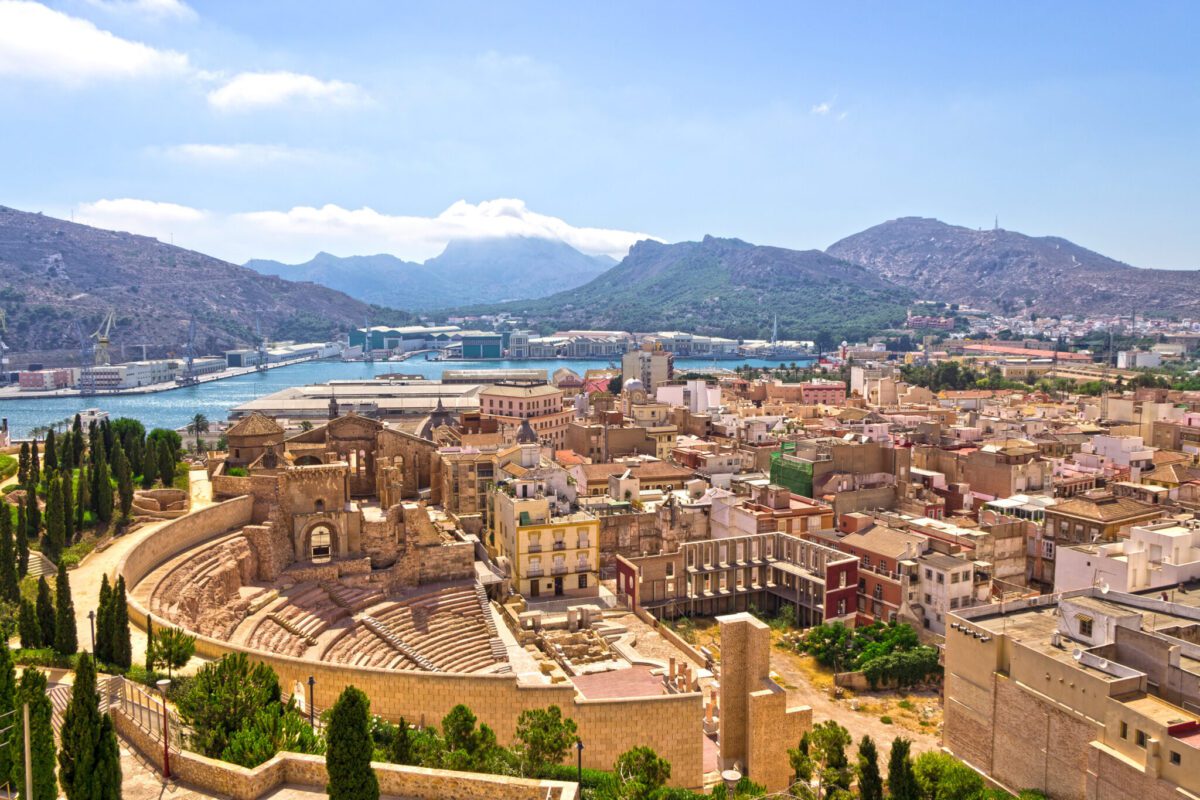 Another difference of Santana's offerings is our ability to satisfy the desires of a wider range of cyclists. On this day, for example, we'll support a century ride for high-achieving cyclists who want to celebrate a time of year when most will reach peak fitness. The less energetic among us will enjoy a morning bus-and-truck shuttle to an intermediate high-point. The easiest option, less than 40 miles long, warms up with a gradual 10-mile descent before tracing a mild section of low-traffic coastline.
On the first of four days that cycle Andalusia, one of today's highlights is Mojácar, a whitewashed moorish village perched atop a rocky outcropping to protect it from pirates.
Day 5 – Málaga, Costa del Sol, & Granada
On a day our ship remains in Malaga, the largest and trendiest of Spain's seaside resort towns along Spain's Costa del Sol, many will choose to take a break from cycling.
While exploring a town famous for museums, galleries and shopping is entirely free, a pair of reasonably-priced options are a visit to a winemaker's hacienda for guided horseback rides, or a coach shuttle that allows you to reach Granada and explore the Alhambra.
Avid cyclists will climb into Andalusia on a beautifully-graded truck route built nearly a century ago. Bypassed fifty years later, this favorite training ride for local roadies includes amazing views and a legendary pair of corkscrew turns.
Instead of retracing the same route for a pre-noon return to Malaga, those who prefer a full-day of epic pedaling will continue through badlands to find lunch at a remote cantina. From there, a third segment of low-traffic pavement returns to the coast by way of a deep gorge.
Day 6 – Gibraltar to Old Tangier
We start at dawn by climbing aboard a fleet of sure-footed minibuses. Shifting into their lowest gear, they'll enter a national park an hour before the normal opening time. Gibraltar's resident apes, curious about the early arrival of multiple buses, will arrive to join us atop "The Rock," where our buses stop for amazing views.
After a tour of a World War II fortress, guns and underground hospital, we return to the ship for a ride that can't be duplicated anywhere on earth.
Just two miles from the ship is an international airport (and fighter squadron airfield) that stretches across the isthmus separating two proud nations. The only way for cyclists to reach Spain is to wait for a break between arriving and departing jets. When the gates lift up, you follow the painted bike lane across the wide runway to reach the Spanish border.

Have you ever ridden a bike through three countries in one day? How about a bike ride that links two continents? Two of today's ride choices allow Santana's participants to achieve this amazing accomplishment. From Gibraltar, today's medium and long rides continue along the Spanish Coast for 12 miles to reach a ferry port.
The long ride uses a fast hydrofoil to reach the Spanish enclave of Ceuta, a little-known portion of Spain that, for over 350 years, has clung to the coast of Africa. Directly opposite Gibraltar, Ceuta's tall peak is the other half of the fabled Pillars of Hercules—an ancient landmark that warned sailors of the point of no return.
Too small for an airport, Ceuta is a fascinating destination for any worldly traveler. Two miles from the ferry port is one of our planet's most tightly-regulated border crossings. In a setting that's incredibly foreign and frightening, Santana's special emissary will meet riders to guide them through a clearance process that allows them to cycle into Morocco. After a fabulous twenty-mile segment through the Rif Mountains, the ride returns to the coast at Tangier Med, the ferry port used by medium riders (which flattens, shortens, and simplifies a transcontinental ride linking 3-countries).
Both routes share a stretch of coastline to reach the harbor at Old Tangier, where less-energetic cyclists will enter Morocco after transiting the Strait of Gibraltar aboard our chartered cruise ship. The short ride will be hosted by the expert guide who stars in the Rick Steves' episode that also features Gibraltar and Cadiz.
Our favorite local ambassador will again hop on the back of one of our tandems to provide a multi-stop highlights tour of modern Tangier. At an oasis shared by all of today's riders, don't remove your helmet before climbing aboard a camel caravan for a short jaunt through coastal dunes.
On a day filled with never-to-be-forgotten sights and activities we've saved the best for last—a guided small-group walking tour that explores Tangier's exotic walled casbah before climbing to a rooftop as the sun sets to sip tea and savor a fresh-baked Moroccan delicacy while being serenaded by the evening's call to prayer.
Day 7 – Cádiz & Andalusia
Crossing back to Spain, we'll arrive in Cádiz. At this UNESCO Heritage City our ship will tie up within the same small harbor where the Nina, Pinta, and Santa Maria departed for their famous voyage of discovery.
A circuit of the old city finds a delightful shoreline exit for an easy ride to the similarly-historic town of Jerez, where we'll enjoy a mid-ride lunch and tasting at a classic Bodega that produces fine sherry.
Following a dramatic demonstration of Andalusian horses and horsemanship, a shorter return uses a ferry to cross the broad bay.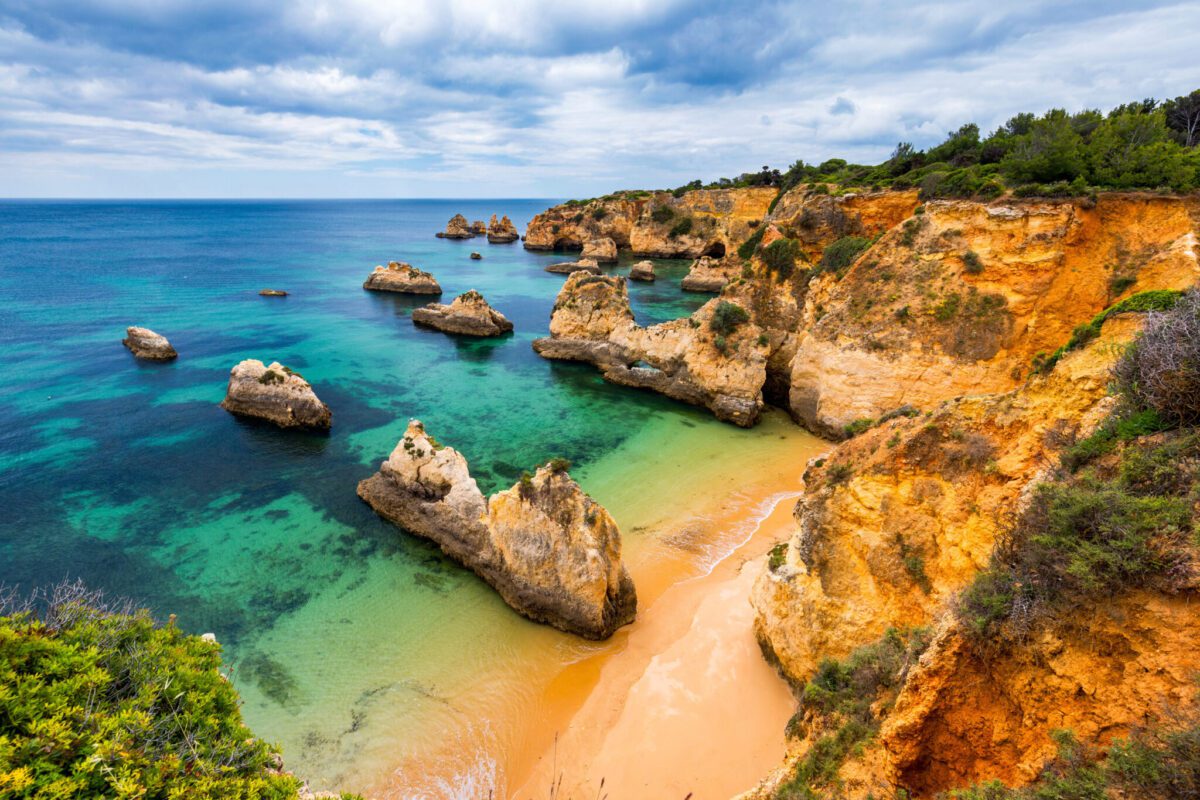 Day 8 – Algarve to Portimão
Portugal's riviera is the Algarve, a south-facing region with delightful beaches and small towns. Those content with a short day can depart from our Portimão tie-up for a coastal boardwalk and bike path that has dozens of places to stop, shop or relax.
The medium ride passes through the once-sinister slaving-port of Lagos, with its restored auction house, to turn around at the beachfront village of Luz—a favorite hangout of Rick Steves.
Those who really want to stretch their legs will continue to the lighthouse and cliffside fortress on the Cape of Sagres, where you can take in a spectacular view of the Portuguese coast as you stand side by side with 500 year old cannons. This is the famous jumping-off spot where Prince Henry founded his university of navigation and exploration.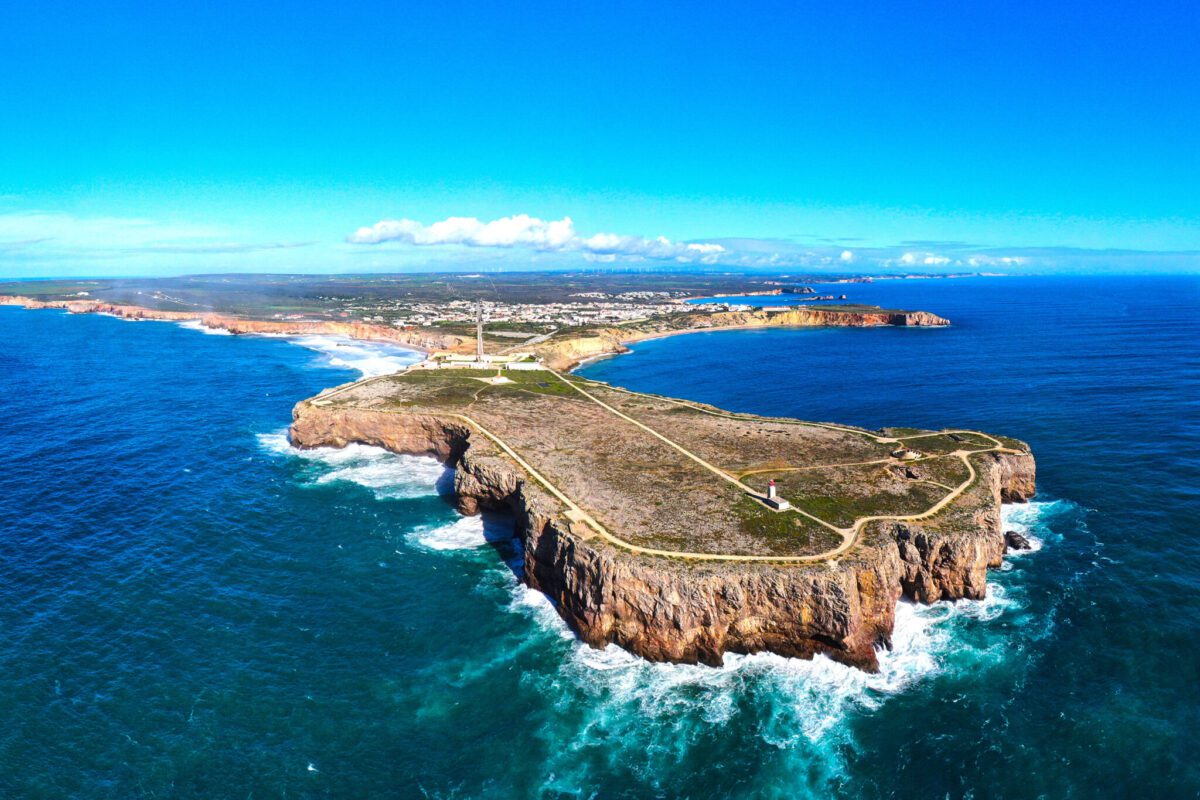 After one of the school's Italian-born instructors was passed over for opportunities provided to Portuguese, Professor Columbus and his Portuguese wife moved to Spain, where Chris convinced King Ferdinand and Queen Isabella to bankroll his exploits.
Disembark Day – Lisbon
Santana's Barcelona to Lisbon Cycling Cruise ends in the beautiful city of Lisbon. To reach Lisbon we'll cruise up the Tagus River past Belém and beneath the towering bridge commemorating their day of liberation, to dock adjacent to Lisbon's famed Alfama district (Old Town), where our disembark shuttle can reach Lisbon's LIS airport in 15 minutes.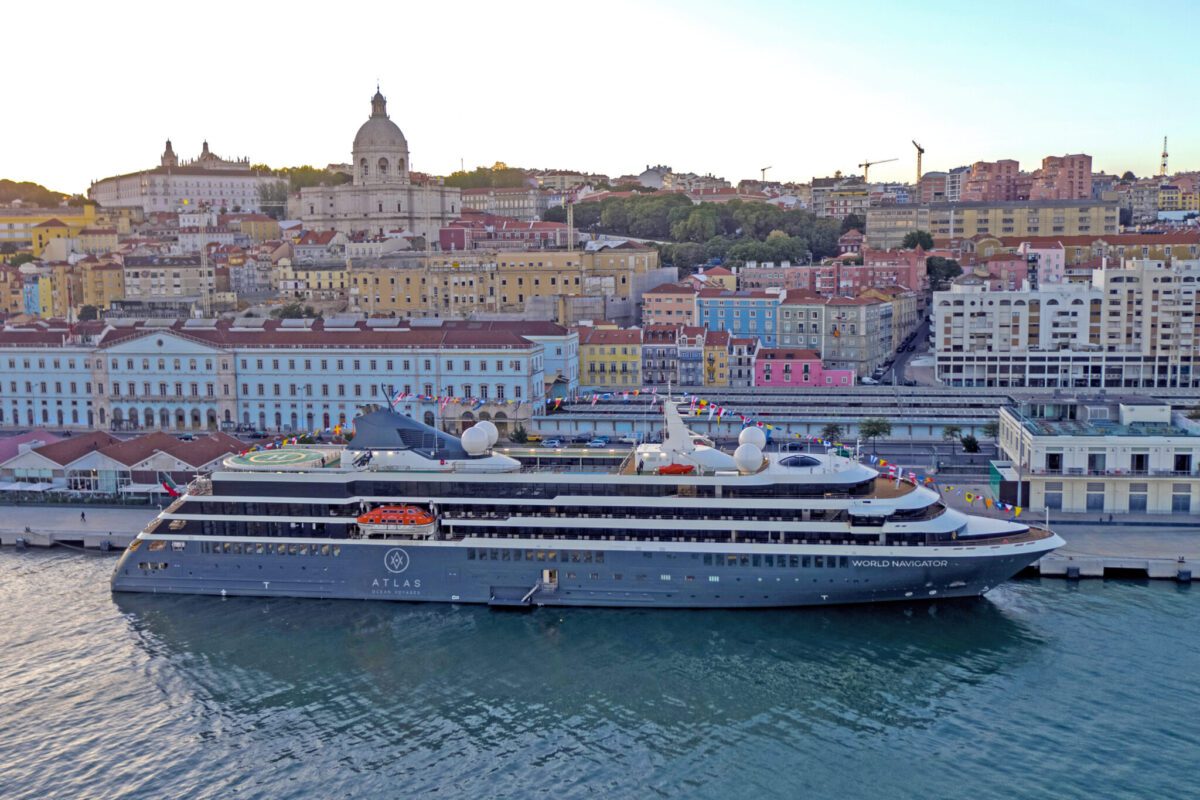 Instead of boarding a transatlantic flight that same day, many will opt to spend an extra night or two in Portugal's capital city, where a few thousand years of history and culture are certain to keep you entertained.
MS World Navigator
Barcelona to Lisbon Cycling Cruise 2023
Spain, Portugal, Morocco, & Gibraltar
The world of cruising has changed. After decades of ever-larger ships, the newest and most innovative ships are distinctly smaller, and designed for travelers instead of tourists. By design, these yacht-size cruise ships are able to reach niche destinations that larger ships can't enter. Perfect for a hand-tailored Barcelona to Lisbon Cycling Cruise.
In late 2020 we heard about a new cruise line being launched by a wizened group of cruise veterans from around the world. Synthesizing decades of experience on cruise ships with countless stays at stylish hotels, these worldly travelers created something entirely their own. Atlas Ocean Voyages has developed a new concept for cruise travel. They've taken the sophistication and luxury of a boutique resort hotel and transformed it into a marriage of modern and vintage in their new fleet of "luxe-adventure" cruise ships.
Each of the 91 staterooms and suites are tastefully finished with the finest materials. Mahogany trim and modern bathrooms are softened with elegant carpets and luxurious bedding.
All of the staterooms are comfortably spacious, and most have room to socialize. Nearly two thirds of the staterooms have a private balcony with table and chairs—a perfect place to relax and watch the port sink into the horizon while enjoying the champagne and a snack delivered by room service. The small collection of super-suites are especially large, and most include the service of a butler.
The lounge is a great place to relax and recount the day's ride while getting to know your fellow adventurers.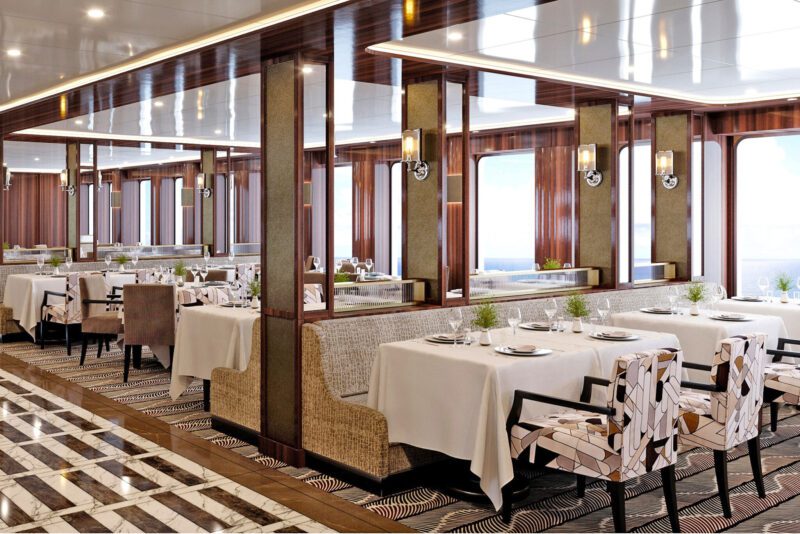 The largest of the six dining options is Porto, a beautiful salon where you can savor the inspiration of Atlas' Portuguese heritage as you experience regionally inspired favorites of our journey from Barcelona to Lisbon.
Prefer to dine al fresco? Porto's refined-dining menu is also available on the ship's aft view-deck. Start with a savory appetizer, move onto a mouthwatering main course and finish with a delicious dessert to satisfy your sweet tooth. Relish it all with a fresh ocean breeze
and expansive horizon views.
7-Aft, a New York style BBQ grill chophouse specializes in jospering, a grilling method originated in Barcelona and now considered a legendary form of gourmet charcoal cuisine. Satiate your hunger with choice burgers, ribs, lamb and many more.
The Dome has a delightful array of snacks, teas, cookies, and finger sandwiches alongside an open bar or opt for a late, light lunch. Complete with 270-degree and overhead views, it's a feast for all the senses.
The Pantry is where you can grab a fresh-pressed juice or hot cup of Milano coffee on your way to exploring. Go for a quick breakfast or snack, be it a tasty specialty sandwich or delightful cupcake, for a satisfying and refreshing meal on the go.
Or, for a more intimate dining experience, the ship has a room service menu and provides 24-hour service.
The Zephyr Lounge is one of the best places to sit with friends while watching the port get smaller and smaller as you sail towards the next day of your cycling adventure. Other great spots are the ship's pool and pair of hot tubs, L'Occitane Spa, and open bridge.
Unless you'd rather "attend" by watching from your stateroom's TV, the ship's Forum is where you'll learn about the next day's choice of routes and activities for our Barcelona to Lisbon Cycling Cruise. On those days you elect to cycle, it's also the place for our morning route talks.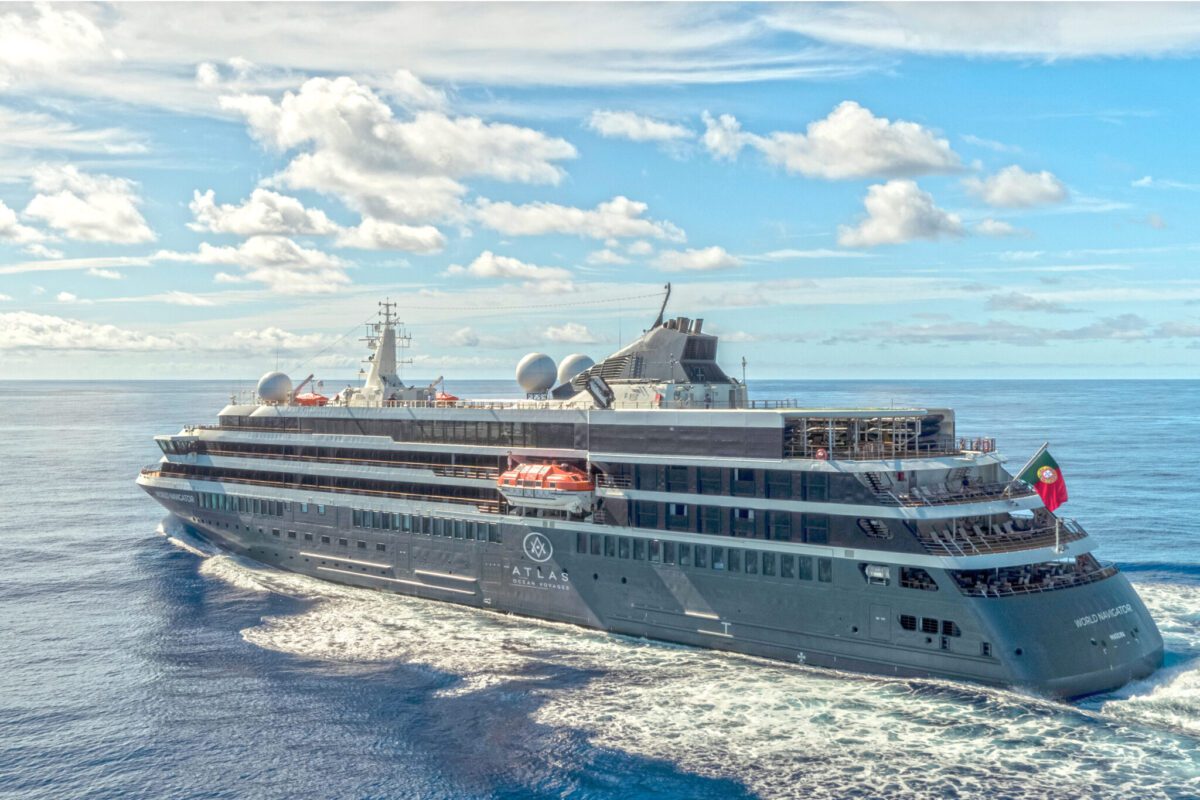 Atlas Ocean Voyages is leading the way with some of the smallest luxury-expedition ships at sea. Combining a style defined as simple elegance with invigorating immersions, they provide a luxe-adventure travel experience made for seasoned explorers like you.
Frequently Asked Questions
Barcelona to Lisbon Cycling Cruise 2023
Spain, Portugal, Morocco, & Gibraltar
Q: What are the exact dates?
A: Santana's Barcelona to Lisbon Cycling Cruise will take place from September 5 to 13, 2023
Q: Why September?
A: The most spectacular Spanish Coast cycling weather occurs in September, just after most tourists have departed. The water and beaches are still warm. The roads and attractions are suddenly uncrowded. We'll experience perfect warm and sunny cycling weather with clear skies and temperatures in the high 70s.
Q: What's the cost?
A: Due to the current strength of the dollar, our per-person double-occupancy pricing for this 9-day cycling cruise starts at $6,499. Booking early is easy and RISK FREE. Our reservations page shows pricing of available staterooms.
Q: Traveling Solo?
A: While some of the ships Santana charters have a small number of single rooms, this one doesn't. If you can't convince someone to join you, the single supplement to have an "Adventure class" double stateroom all to yourself is 80%.
Q: What's "Early-In" Pricing?
A: To manage the risk of chartering entire cruise ships, couples who commit early are rewarded with lower pricing. Booking early is easy and RISK FREE.
Q: What about tipping?
A: Jan and I don't accept tips. A comprehensive "cruise extras" fee of $600 per person includes a long list of off-ship activities, tours, admissions, interpretive guides, site fees, non-rider touring coach, and ride support (gps route files and a pair of SOS vans driven by pro mechanics). Note that this is considerably less than the average cruise passenger pays for a week of "deluxe excursions." Government mandated Port Taxes are $300 per-person. Shipboard gratuities of $180 per person includes wash & fold laundry and valet bike handling.
Q: Are all staterooms the same?
A: The recently launched World Navigatorhas 91 double occupancy staterooms in 10 categories. All rooms in all 10 categories feature exterior view and private bath. Sumptuous king-width bedding can be converted to a pair of full-width twins. Staterooms in 6 of the 10 categories have a private balcony with a table and chairs. Suites comprise 5 of the 10 categories. A small number of the largest rooms can accommodate a third person. The 3 largest Suite categories include butler service.
Q: How are staterooms assigned?
A: In any sub-category all rooms are identical. Using the PayPal timestamp, those who reserve earliest get the conveniently located staterooms closest to the front of the ship. If friends desire a pair of adjacent staterooms the timestamp of the first reservation determines the location of both rooms. In short, out of fairness to all our guests, we will not take requests for specific room numbers. Those who book early obtain prime positioning.
Q: Are rental bikes available?
A: Yes. If you own a nice bike that fits, however, bringing it with you is relatively easy and inexpensive. More info on this in Bill's Travel Tips. Lightweight road bike rentals are about $450 per-person for the duration of the cruise, and E-Bike rentals are about $200 more. Rentals include delivery on embark day and retrieval at the end of the final ride. More info on our "Welcome Aboard" page.
Q: How do we get to and from the tour?
A: Detailed info will be emailed a year in advance. Those who arrive and leave on the embark and disembark days will receive free airport transfers.
Q: How many miles each day?
A: In addition to our daily pair of zero-mile options (remaining on the ship or reaching prime attractions via Santana's non-rider touring coach), every day has multiple cycling routes. Anyone who can ride 35 miles will be able to enjoy multiple days of cycling. If 35 miles seems too tough, you'll have two seasons to train and prepare—there's nothing like the promise of an incredible vacation to motivate you! In any case, eBikes rentals will be available. Longer routes are available, and often provide 60 or more miles. At each morning's breakfast you'll get a map charting the day's cycling routes and recommended stops. During a brief route talk you'll hear about each route's attractions. Santana's vets have learned to love and rely on their handlebar-mounted gps units. Available for less than $170, these touch-screen marvels prevent the age-old problem of getting lost or riding unplanned miles. Santana supplies free electronic mapping and route files that can also be viewed on your smartphone. Simply select the route and follow the highlighted map. More info can be found in our GPS-Guide.
Q: What's the next step?
A: Santana's Barcelona to Lisbon Cycling Cruise is a rare and incomparable event. Pricing listed on the Stateroom Reservations section is the current pricing. Refresh your browser to see any changes that may have occurred if you delay booking after loading this page. To lock-in availability and the lowest pricing on a RISK-FREE basis, reserve your space through our PayPal portal. PayPal's secure website is open 24 hours per day, accepts all major credit cards, and automatically adjusts for remaining stateroom availability. Reserving your spot is RISK-FREE. In each category the prime location staterooms will be assigned in the same order as the timestamp of your booking.
Q: What do you mean by RISK-FREE?
A: When you use your credit card and book through PayPal, we'll give you 14 risk-free days to think it over and clear your schedule. If you change your mind, send an email to Cancellations@SantanaAdventures.com within two weeks to cancel the PayPal transaction and obtain a full refund. Here is a full listing of Santana Adventures' Terms & Conditions.
Q: What if we change our minds after 14 days?
A: Because full-boat charters are binding, non-cancelable contracts, Jan and I will only enter into this charter based on your confirmed-through-PayPal commitment. In effect, we undertake a huge risk by guaranteeing full payment on your behalf. After entering into this obligation, we cannot afford for you to back out—for any reason. This is no different than the clear written policy that existed for all except one of Santana's prior chartered-ship cruises (this charter will be our 68th!). While preparing for our 2009 Danube event I neglected to include the following proviso. That's the year a group of friends, after verbally agreeing to pay in full and then stringing Jan along for many months, decided to cancel their plans. Lesson learned! Here it is (again) in writing:
Santana's acceptance of your registration and non-refundable deposit for this event is subsequent to your agreement to pay the remaining balance in full. While Santana allows limited refunds on rallies and tours, Santana's cruises are non-cancelable and non-transferable. When the possibility of paying yet not attending is unacceptable, Jan and I recommend Travel Guard trip insurance. For the past 25 years hundreds of our clients have relied on Travel Guard coverage without complaint. An informative application will be mailed with your invoice; and further information is available online. Here is a full listing of Santana Adventures' Terms & Conditions.
Q: Have you ever relaxed your refund policy?
A: Jan and I have willingly resold a number of fully prepaid staterooms for a fee of $1,000 per stateroom—which is waived when vacating participants find someone to take their place. When there has been more than one pending resell request, those who paid-in-full earliest had their space resold next. Using this non-guaranteed method (which is grossly inferior to trip insurance) Jan and I have cheerfully refunded over $500,000 in otherwise non-refundable and non-transferable cruise fares. Here is a full listing of Santana Adventures' Terms & Conditions.
Q: What's the difference between a SAG-wagon and Santana's SOS/treasure vans?
A: Most tour companies use SAG-wagons that haul luggage and "sweep" the route between overnight stops. The drivers refill water-bottles, fix flat tires, and retrieve riders who can't manage the easiest route between the widely spaced hotels. The problem, of course, is that the roving vans tend to be annoying until you actually need help. At that point it's common to wait for two or more hours until one shows up. Although SAG drivers can fix a flat, they don't have the tools or know-how to handle serious mechanical problems. Instead, they drive you to a bike shop (which explains why SAG-wagons disappear for hours at a time). This tour's pair of SOS vans are driven by pro bike mechanics who bring tools and spares. When you phone one of our drivers with the coordinates from your GPS, they'll arrive in a flash to get you back in the saddle. Because Santana expects participants to fill their own bottles, fix their own flats, and choose a ride they can finish, our SOS drivers are underworked, and have time to retrieve your shopping treasures.
Q: Are beverages included?
A: Yes. All beverages are included at all times. Staterooms have a complimentary beverage center that is restocked daily. The ship's lounges serve custom coffees and cocktails. The Pantry serves fresh fruit smoothies.
Q: Which meals are included?
A: The ship's celebrity chef curates a new menu for each meal, and will always include a surprising selection of local fruits and produce, regional specialties, the freshest-possible seafood, vegetarian options, and grilled-to-order meats. A changing assortment of desserts and pastries are produced aboard each day. Breakfast and Lunch is available from a menu, or from a buffet, which is perfect for active cyclists. Dinner is a plated multi-course menu with plenty of gourmet options for all of our participants.
In addition to the main dining room, this ship has a choice of five alternate dining options. The poolside grill allows hungry cyclists to find a hot meal and cold refreshments after their rides.
Finally, the ship's room-service menu is available 24 hours.
Q: Does The World Navigator include WiFi? Does the ship have an elevator?
A: Absolutely.
Q: Will there be menu selections for vegetarians, vegans and picky eaters?
A: Yes to all of the above.
Q: What if we have more questions?
A: The quickest and easiest way to get help is to use Santana's Contact Form. One of our team members will follow up with you as soon as possible.