Photo Itinerary
Paris to Amsterdam 2022
Rhine & Moselle Rivers Cycling Cruise
Since the debut in 2010, Santana's Rhine and Moselle itinerary has remained a clear favorite amongst our veteran participants. Great word of mouth caused rapid sell outs of our encores in 2013, 2016, and 2019.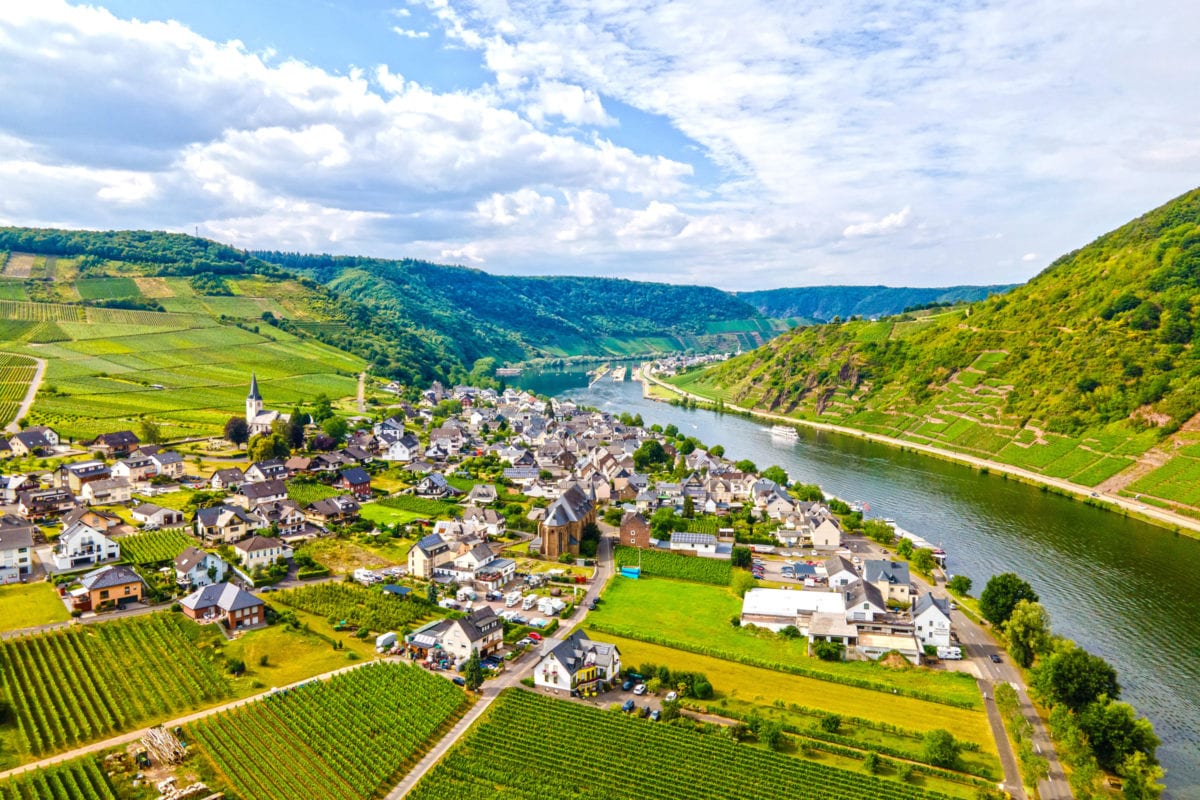 While Jan and I enjoy scouting new and exotic destinations, the romanticism of the castle-lined Rhine and Moselle Rivers is just too enchanting to pass up.
For 2022, Lüftner offered one of their newest cruise ships for Santana's exclusive all-cyclists charter.
Introductory pricing will be exceptionally attractive, actually less than some of the shorter cycling tours that require you to repack for each change of hotels.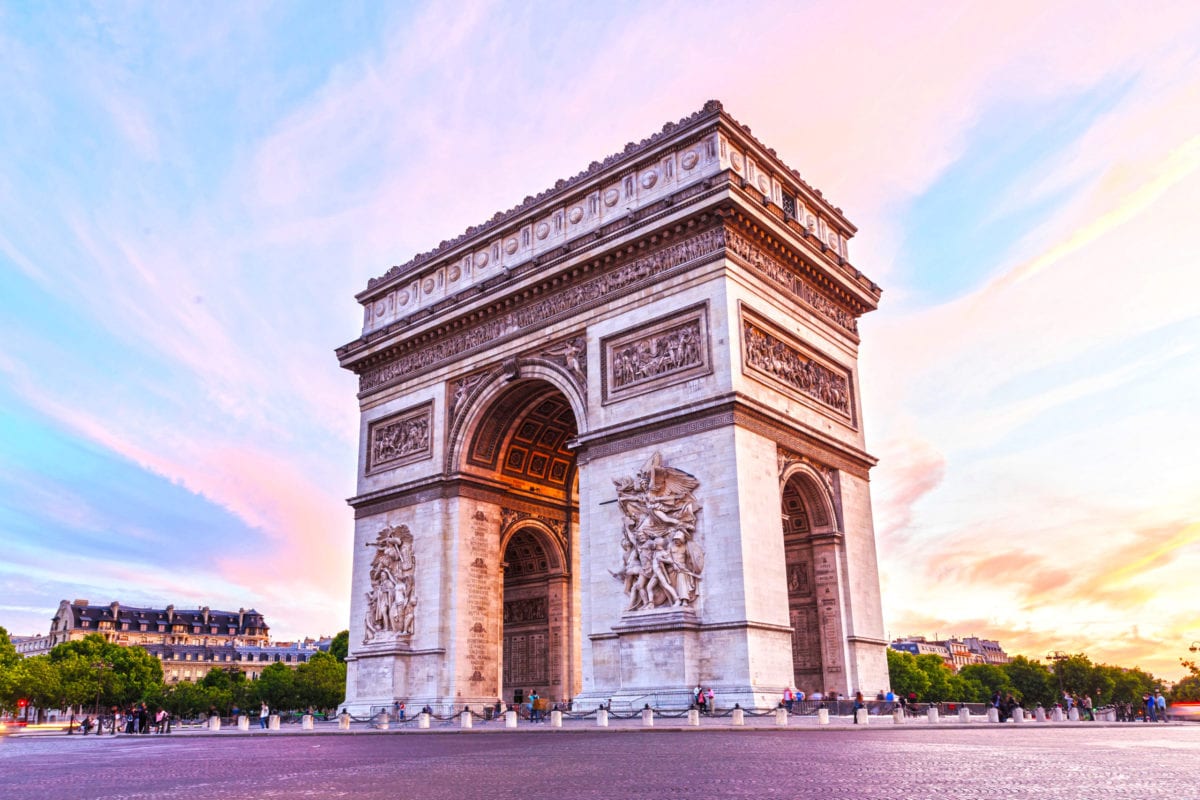 Paris PreTour: Our group will meet in Paris for an optional 2 to 4-Day PreTour, before taking the high-speed TGV to embark.
During our time in Paris we'll explore the Petit Palaces and gardens of Versailles, Marie Antoinette's cottage, and a special Tour de France day where we'll ride the final mile of the closed off Champs-Elysees just hours before the pros!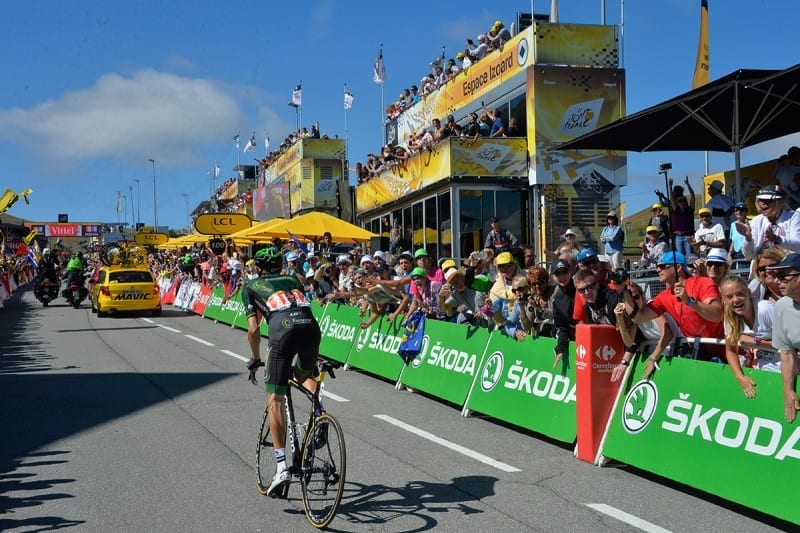 While watching the finale of the Tour de France from a Parisian sidewalk is free, we'll offer tickets to our own private VIP Tour de France grandstand section for those who wish to get up close to the action.
Embark Day: Built on a large island where France's Île River spills into the Rhine, the narrow streets of Strasbourg's "Petit France" are blocked to cars—and perfect for our bikes.
Our tour's first stop is Strasbourg's perfectly preserved Cathedral. Over 500 years in construction, until 1847 this middle-ages masterpiece was our planet's tallest building.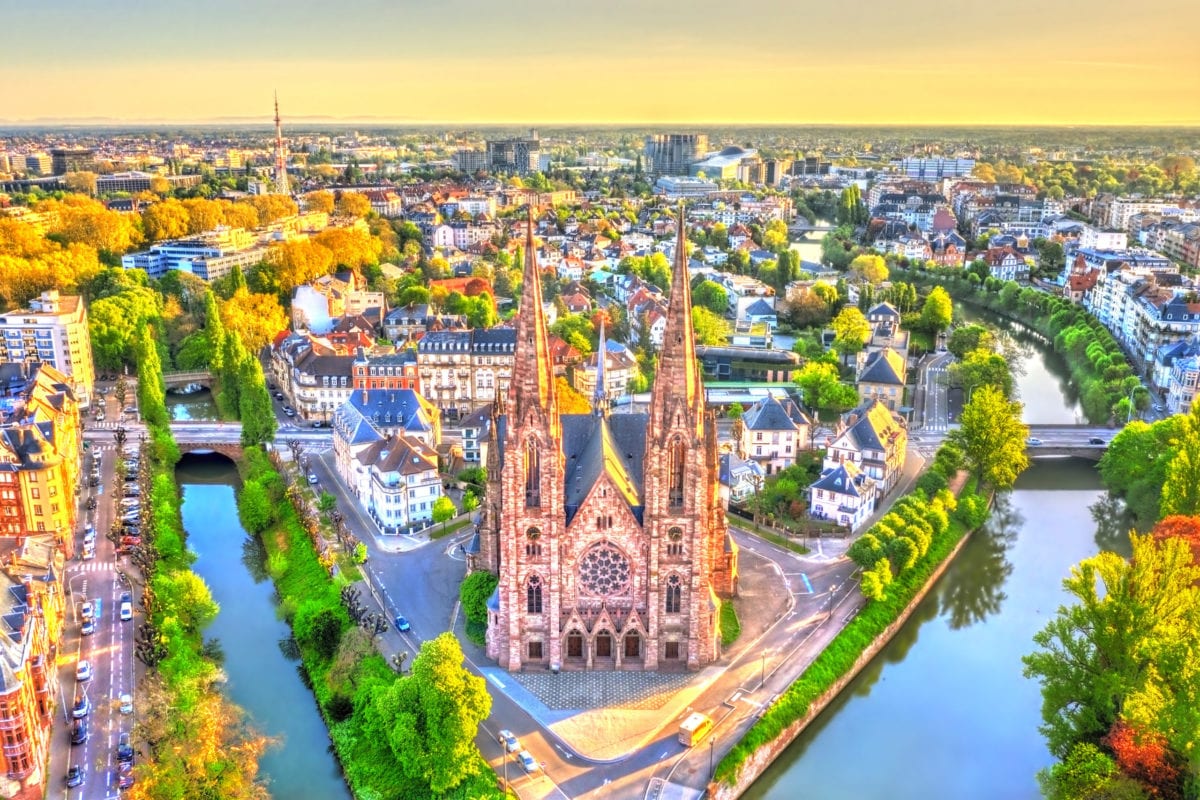 During this time Strasbourg became the hub of European commerce. Canals from Strasbourg allowed Rhine barges to reach the English Channel or Mediterranean Sea. Crossing over an 1852 canal that still reaches Paris, we'll ride along the 1831 canal that connects to Lyon.
Continuing South through a series of Alsatian wine villages, our ride ends when we reach the Rhine to find Lueftner's brand-new Amadeus Queen. The rest of the afternoon, while we settle into our spacious staterooms, the cruise ship passes through three locks.
Day 2: Our second day of cycling leaves Strasbourg to pass through flowered villages adorned with storks' nests. If you haven't yet visited Alsace, this is the part of France you've dreamed of (with half-timbered architecture, clean streets and friendly residents who are quick to smile and wave). On the German side of the river, we'll reboard the Amadeus Queen for lunch. As will be the pattern for most days, after dropping us off each morning the Queen will move ahead 25-40 miles, and tie up for two hours to serve lunch.
Later, she'll move another 15-30 miles to reach the intriguing village where we end our afternoon rides. On most days of this bike tour, you can ride in the morning, afternoon, both, or neither. On this day, our afternoon ride uses a ferry to cross back to Alsace, and continues on the left bank to where the Rhine flows out of France. This evening we'll find the Queen tied up in the city of Speyer, where the old walled section has a lively walking district.
Day 3: Our floating five-star hotel not only bids us farewell each morning, meets us for lunch, and waits for us at the end of our rides, she can also glide through the night to reach a spectacular ride start for the following morning.
While we slept last night the Queen traveled 100 miles downriver to Bingen. Today's morning and afternoon rides explore a fabled fifty-mile stretch of the Rhine where hills on both sides are covered with vineyards and crowned by castles.
To preserve the natural majesty of this castle-lined segment, bridges are banned. Instead, convenient ferries connect the dozen villages on either bank. You'll love this day, which includes a guided exploration of the Rhine's most formidable castle.
Day 4: What could possibly be more amazing than the finest stretch of the Rhine? Those who've cruised or cycled both prefer the Moselle. From its source in the mountains above Strasbourg, this smaller parallel river flows through Luxembourg before joining the Rhine at Koblenz. Because the navigable portion of the Moselle is a mere 120 miles long, most Rhine River itineraries skip it. What a shame!

On our upriver Moselle day even the slowest riders will have time to explore the delightful bridge-joined villages of Traben-Trarbach before the Queen arrives to serve lunch. In the afternoon most will find time to sample Moselle wines before the Queen reaches the magnificent twinned towns of Bernkastel-Kues. This unhurried day of Moselle River cycling is as perfect as it gets.
Day 5: While we slept the Queen climbed through additional locks to reach Luxembourg, and the highest ride start of our entire tour. Here we'll leave the Moselle and follow an old railroad grade through tunnels to reach a bakery stop in Echternach.
From there our downhill ride crosses back into Germany to reach Trier. Never heard of Trier? Settled centuries before the first Caesar conquered the area in 50 BC, Roman emperors enjoyed the Moselle so much that Trier would remain Rome's north-of-the-Alps capital for over 500 years.
Amazingly well preserved, Trier has Roman baths, Roman walls, Roman amphitheater, Roman palaces, Roman gate, Roman Christian church, and a pre-Christian temple that's the largest remaining Roman building outside Rome's city limits.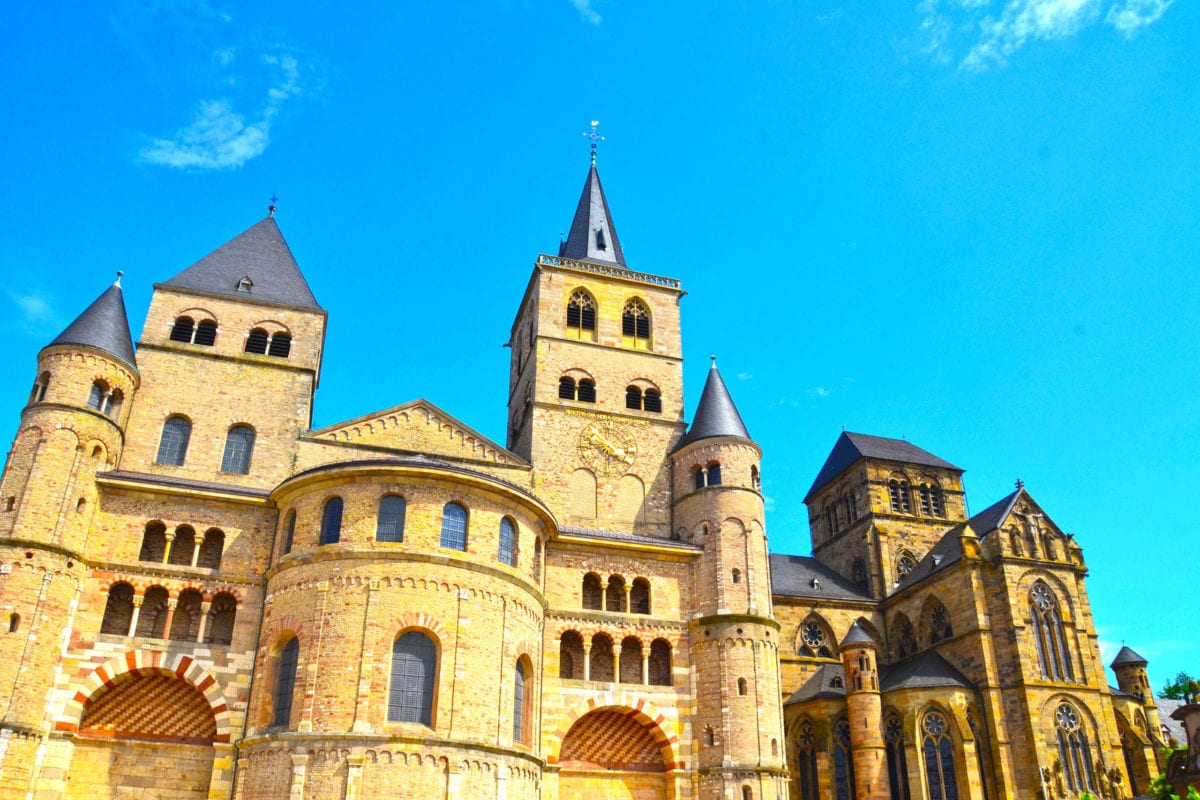 After a guided walking tour through Trier, we'll re-board our floating hotel and stand on the top deck so we can duck as the Queen cruises beneath Trier's 1800-year-old Roman Bridge (the oldest trafficked bridge north of the Alps). In all our years of Santana's tours this day offers the best combination of relaxed cycling and amazing history.
Day 6: Our final day of Moselle cycling stops for a morning coffee in the storybook town of Cochem. On our first visit here a local artist stumbled upon our colorful group on the way to his morning performance. Pausing to share a short conversation, he then climbed the ancient carillon tower to honor our presence with a ringing rendition of The Star Spangled Banner. This afternoon we'll park our bikes for an enchanted streamside hike through gnome-infested woods to reach a magical castle for a guided tour.
According to travel expert Rick Steves, the 800-year-old Burg Eltz is Europe's finest and best-preserved fairy-tale castle. While a paved road through the hills allows cyclists and motorists to reach the castle's back door, Mr. Steves believes the forested hike from the Moselle is an essential part of the castle's magic.
This afternoon we'll re-board the Queen just above the Rhine River confluence. If you stay up late enough, tonight we'll pass beneath the spotlit spires of Cologne's gothic Cathedral.
Day 7: This morning we'll wake up in Emmerich (Germany) and ride through an abandoned border station to reach nearby Arnhem (Netherlands). In Holland's eerily beautiful Hoge Veluwe National Park we'll cycle through heaths and dunes to find the amazing Kröller-Müller Museum.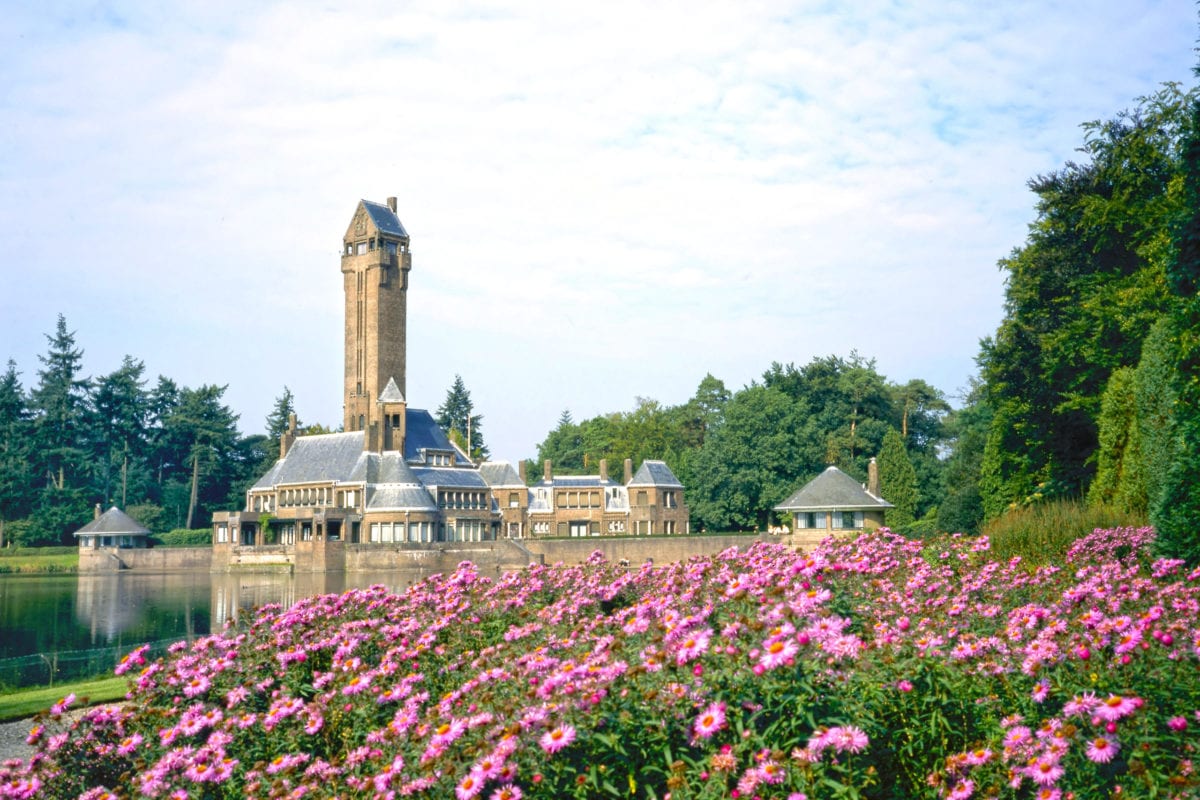 In 1935 Helene Kröller-Müller, a modern art aficionado who was among the first to recognize Vincent van Gogh's genius, left her vast collection to the National government with the stipulation that they continue to enhance the world's finest collection of modern art.
After lunch in Arnhem, another insightful highlight of this Santana cruise will be an expert-guided on-bike exploration of Operation Market Garden, the tragic World War II battle memorialized by the Hollywood classic, A Bridge Too Far. We'll ride across the battle's two final bridges to re-board the Queen in the Dutch city of Nijmegen.
Day 8: We'll tie up at the very center of Holland's capital. Having seen an art museum yesterday, this morning we'll ride past fragrant bakeries and "coffee shops" to Zaanse Schans, to visit a fascinating array of working antique windmills. If you want to treat your feet, you can get measured and watch while your pair of wooden klompen is custom carved in five minutes.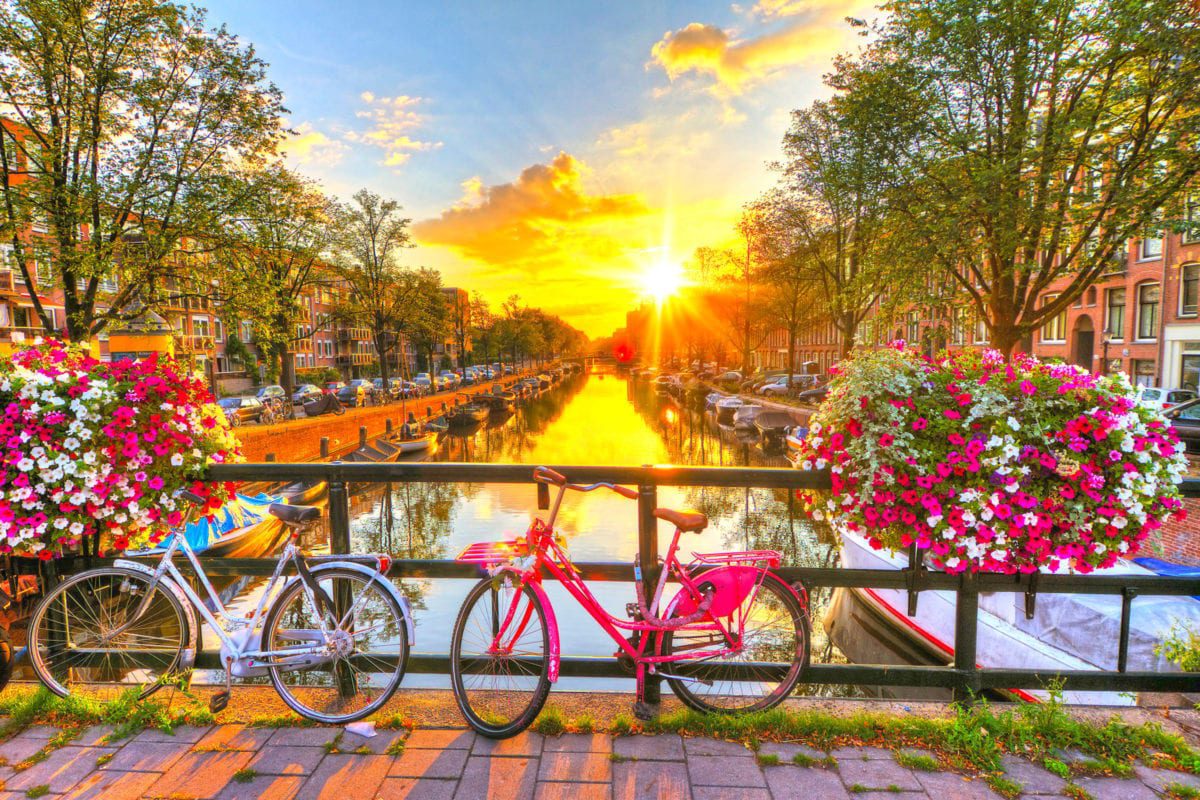 Back at the ship, lunch and bike packing precedes a free afternoon. Because we're docked at the very center, a short walk or tram ride can get you to any of Amsterdam's top sights.
Disembark Day: On Disembark Day, when we need to vacate the ship by 9AM, our earliest shuttle will leave at 6 to get you to Amsterdam's Schipol Airport (AMS) in time for a 9AM departure. If you're headed elsewhere in Europe, the train station is a short walk. If you wish to spend an extra day or two in Amsterdam, we've booked rooms in a 4-star hotel that will provide bike-capable airport shuttles.
Amadeus Queen
Paris to Amsterdam 2022
Rhine & Moselle Rivers Cycling Cruise
The Rhine and Moselle Rivers is the perfect place to replace a string of hotels with a no-repacking week aboard the luxurious Amadeus Queen.
On most days the Amadeus Queen will move through the night to find a perfect place to start a morning ride. After we are off, it will move ahead 25-40 miles to where it docks and waits to serve a late lunch. The day's shortest and easiest rides use riverfront bike paths. Longer options loop inland. Our late afternoon tie-ups are always at the center of a town that merits your pre-dinner exploration. Once everyone is seated for dinner in the panoramic dining room, the ship unties and moves up to 100 miles to our next day's ride. Instead of spending your precious vacation time re-packing and moving between hotels each day, this floating resort transports you overnight while you sleep.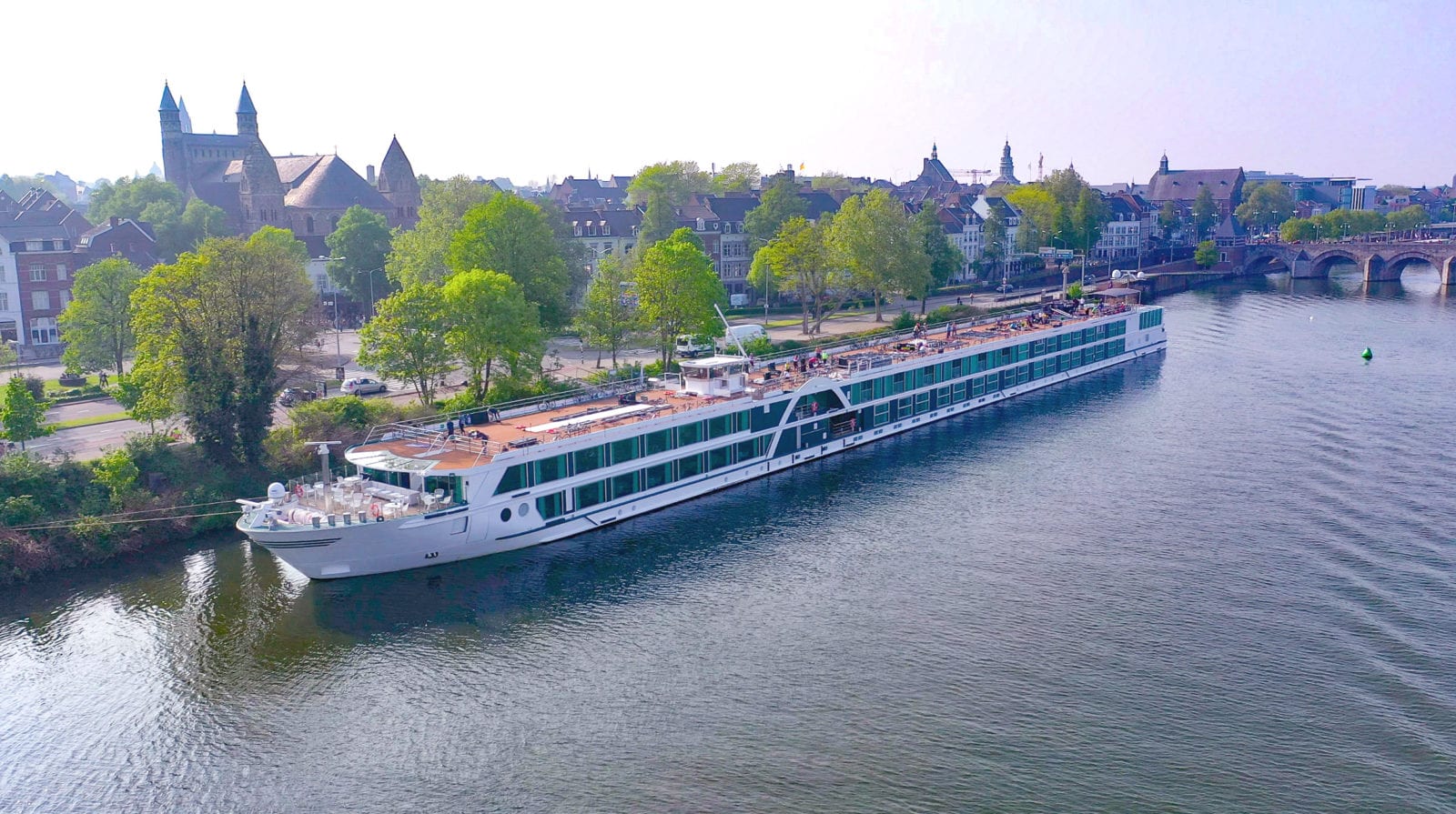 Newer than most of Europe's river ships, the Amadeus Queen's staterooms are the largest and nicest we've found. Instead of French balconies, most staterooms on this ship feature an innovative wall of glass that allows both of you to lean-out and share beautiful views up and down the river.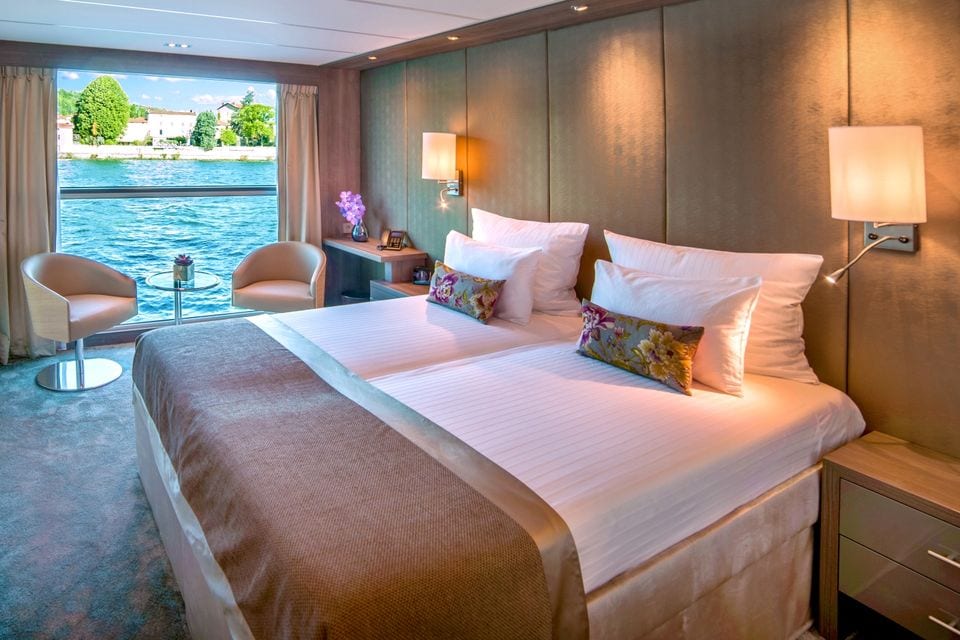 Spacious Staterooms with Panoramic Floor to Ceiling Drop-Down Windows
At 188 square feet, the Mozart & Strauss Deck staterooms are not only large by cruise ship standards, they're twice as large as what you'll find on a European barge.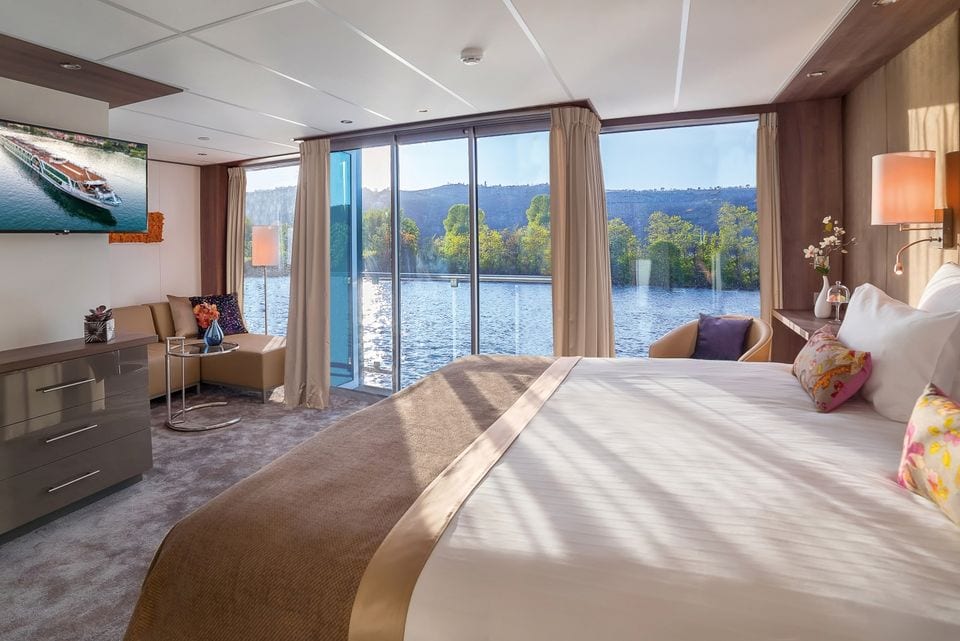 Luxurious Suites with Floor to Ceiling Windows and Walk-Out Balconies
Suites on the Amadeus Queen are not only 50% larger than staterooms, they include a walk-out balcony and enough room to entertain your friends.
The Haydn Deck staterooms, large by cruise ship standards, measure 172 square feet. They have a high-and-wide fixed window and plenty of space for a luxurious king-width bed (that can be converted into a pair of full-width twins).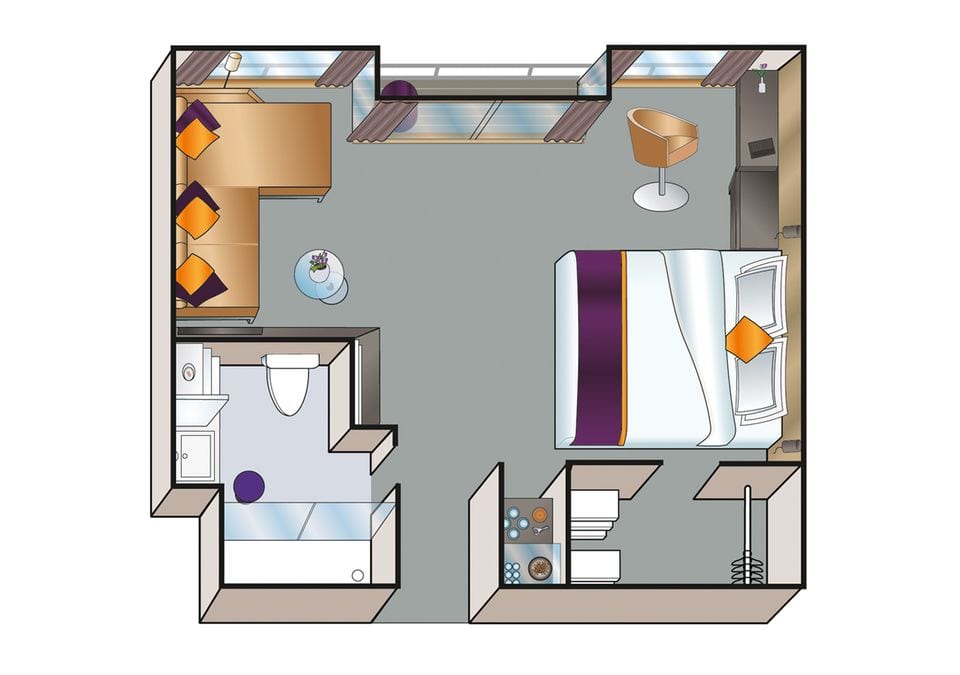 Compared to an inn-to-inn tour, you'll visit additional regions while gaining an hour a day by not having to repack and change hotels. The panoramic view staterooms on the Amadeus Queen are not only cleaner, fresher, and quieter than most hotel rooms, on this bicycle tour you'll sleep better by not having to adjust to a new mattress, pillow, and thermostat each night.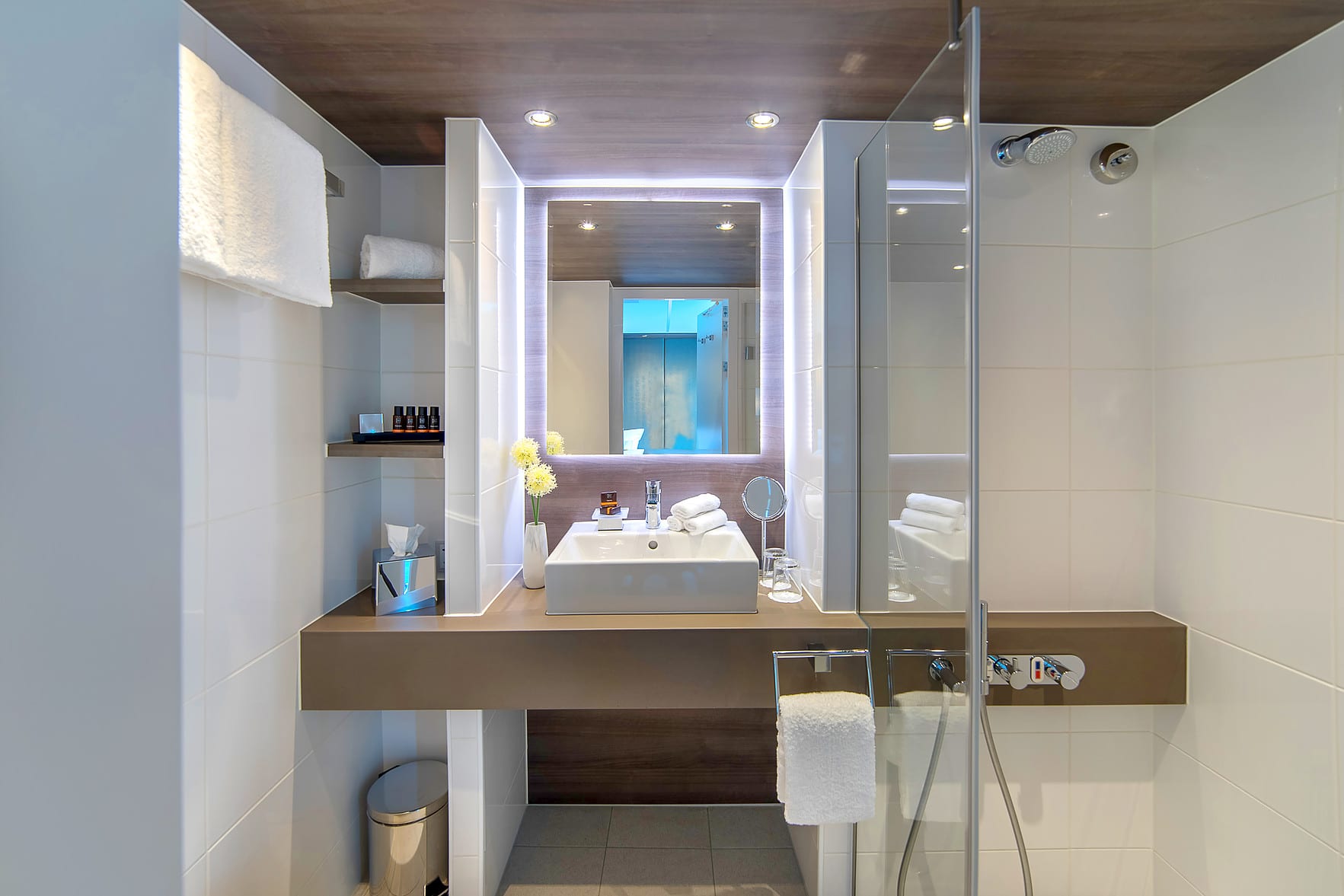 Resort Style Bathrooms in Every Stateroom & Suite
On any day you don't feel like riding, an inland cruise comes with fascinating scenery. While aboard you can nap, read, use the wifi, catch some rays on the sundeck, or enjoy a massage or spa treatment.
A Comfortable Lounge–The Perfect Place to relax, have a drink, make new friends, check your emails, or read a book after a long day of cycling.
Another daily option is to hop aboard Sergio's picture-window coach to reach and enjoy the mid-ride attractions without pedaling.
A Beautiful Dining Room with Floor to Ceiling Windows
Meals? The ship's panoramic dining room accommodates all, and serves three gourmet-quality meals per day curated by our 5-star chef, each with enough choices to please everyone.
A swimming pool to enjoy after each day's ride
A massage salon that offers spa treatments
A beautiful Sun-Deck with 360-degree views and ample room to build/store/work-on our bikes
Frequently Asked Questions
Paris to Amsterdam 2022
Rhine & Moselle Rivers Cycling Cruise
Q: What are the exact dates?
A: July 27 to August 4, 2022. 9-Days/8-Nights. Perfectly scheduled for warm summer cycling through the heart of Europe. The 4-night version of the Paris PreTour will begin on July 23 and includes the ability to ride the final miles of the 2022 Tour de France finale on the Champs-Elysees a few hours before the pros.
Q: What's the cost?
A: Due to the current strength of the dollar our first-in per-person double-occupancy pricing for this 9-day cycling cruise starts at $3,999. Booking early is easy and RISK FREE. Our reservations page shows pricing of available staterooms. 
Q: Single rooms?
A: While some of the ships Santana charters have a small number of single rooms, this one doesn't. If you can't convince someone to join you, the single supplement to have a Hadyn or Strauss Deck double stateroom all to yourself is 80%.
Q: What's "Early-In" Pricing?
A: To manage the risk of chartering entire cruise ships, couples who commit early are rewarded with discounts of up to $1,000 per stateroom. Lowest pricing in every category is limited to the first few rooms. Booking early is easy and RISK FREE.
Q: What about tipping?
A: Jan and I don't accept tips. A comprehensive "cruise extras" fee of $500 per person includes port fees and a long list of off-ship activities, tours, admissions, interpretive guides, site fees, non-rider touring coach, and ride support (gps route files and a pair of SOS vans driven by pro mechanics). Note that this is less than the average cruise passenger pays for a week of "deluxe excursions." Shipboard gratuities of $185 per person includes wash & fold laundry and valet bike handling.
Q: Are all staterooms the same?
A: No. Lüftner Cruises designed the Amadeus Queen to be the most luxurious ship that can navigate the Moselle River and its locks. This cruise ship is the perfect place to dine, sleep, and relax between rides. The Mozart & Strauss Deck staterooms have floor-to-ceiling drop down panoramic view windows. You'll both be able to lean out to share beautiful views up and down the river.
All Mozart and Strauss staterooms are 188 square feet, and suites are over 50% larger (284 square feet) and provide room to entertain your friends. The Haydn Deck Staterooms are 172 square feet, and have a wide fixed window. 
Q: How are staterooms assigned?
A: In any sub-category all rooms are identical. Using the PayPal timestamp, those who reserve earliest get the conveniently located staterooms closest to the front of the ship. If friends desire a pair of adjacent staterooms the timestamp of the first reservation determines the location of both rooms. In short, out of fairness to all our guests, we will not take requests for specific room numbers. Those who book early obtain prime positioning.
Q: Are rental bikes available? 
A: Yes. If you own a nice bike that fits, however, bringing it with you is relatively easy and inexpensive. More info on this in Bill's Travel Tips. Single bike rental, about $450 per-person for the event, includes delivery at the PreTour OR cruise embark and retrieval at the end of the final ride. 
Q: How do we get to and from the tour?
A: Detailed info by July '21. Those who arrive and leave on the embark and disembark days will receive airport transfers.
Q: How many miles each day? 
A: In addition to our daily pair of zero-mile options (remaining on the ship or reaching prime attractions via Santana's non-rider touring coach), every day has multiple cycling routes. Anyone who can ride 35 flat miles will be able to enjoy multiple days of cycling. Longer routes are available, and typically allow 60 or more miles. At each morning's breakfast you'll get a map charting the day's cycling routes and recommended stops. During a brief route talk you'll hear about each route's attractions. Santana's vets have learned to love and rely on their handlebar-mounted gps units. Available for less than $170, these touch-screen marvels prevent the age-old problem of getting lost or riding unplanned miles. Santana supplies free electronic mapping and route files. Simply select the route and follow the highlighted map.
Q: What's the next step?
A: A near-immediate sell-out of this event is anticipated. Early-in pricing is limited to the first few rooms in each category. Pricing listed on the Stateroom Reservations section is the current pricing. Refresh your browser to see any changes that may have occurred if you delay booking after loading this page. To lock-in availability and the lowest pricing on a RISK-FREE basis, reserve your space through our PayPal portal. PayPal's secure website is open 24 hours per day, accepts all major credit cards, and automatically adjusts for remaining stateroom availability. Reserving your spot is RISK-FREE. In each category the prime location staterooms will be assigned in the same order as the timestamp of your booking.
Q: What do you mean by RISK-FREE?
A: When you use your credit card and book through PayPal, we'll give you 14 risk-free days to think it over and clear your schedule. If you change your mind, send an email to Cancellations@SantanaAdventures.com within two weeks to cancel the PayPal transaction and obtain a full refund. Please do not send your request to any other email addresses. Here is a full listing of Santana Adventures' Terms & Conditions.
Q: What if we change our minds after 14 days?
A: Because full-boat charters are binding, non-cancelable contracts, Jan and I will only enter into this charter based on your confirmed-through-PayPal commitment. In effect, we undertake a huge risk by guaranteeing full payment on your behalf. After entering into this obligation, we cannot afford for you to back out—for any reason. This is no different than the clear written policy that existed for all except one of Santana's prior chartered-ship cruises (this charter will be our 53rd!). While preparing for our 2009 Danube event I neglected to include the following proviso. That's the year a group of friends, after verbally agreeing to pay in full and then stringing Jan along for many months, decided to cancel their plans. Lesson learned! Here it is (again) in writing:
Santana's acceptance of your registration and non-refundable deposit for this event is subsequent to your agreement to pay the remaining balance in full. While Santana allows limited refunds on rallies and tours, Santana's cruises are non-cancelable and non-transferable. When the possibility of paying yet not attending is unacceptable, Jan and I recommend Travel Guard trip insurance. For the past 25 years hundreds of our clients have relied on Travel Guard coverage without complaint. An informative application will be mailed with your invoice; and further information is available online. Here is a full listing of Santana Adventures' Terms & Conditions.
Q: Have you ever relaxed your refund policy?
A: Jan and I have willingly resold a number of fully prepaid staterooms for a fee of $1,500 per stateroom—which is waived when vacating participants found someone to take their place. When there has been more than one pending resell request, those who paid-in-full earliest had their space resold next. Using this non-guaranteed method (which is grossly inferior to trip insurance) Jan and I have cheerfully refunded over $500,000 in otherwise non-refundable and non-transferable cruise fares. Here is a full listing of Santana Adventures' Terms & Conditions.
Q: What's the difference between a SAG-wagon and Santana's SOS/treasure vans? 
A: Most tour companies use SAG-wagons that haul luggage and "sweep" the route between overnight stops. The drivers refill water-bottles, fix flat tires, and retrieve riders who can't manage the easiest route between the widely spaced hotels. The problem, of course, is that the roving vans tend to be annoying until you actually need help. At that point it's common to wait for two or more hours until one shows up. Although SAG drivers can fix a flat, they don't have the tools or know-how to handle serious mechanical problems. Instead, they drive you to a bike shop (which explains why SAG-wagons disappear for hours at a time). This tour's pair of SOS vans are driven by pro bike mechanics who bring tools and spares. When you phone one of our drivers with the coordinates from your GPS, they'll arrive in a flash to get you back in the saddle. Because Santana expects participants to fill their own bottles, fix their own flats, and choose a ride they can finish, our SOS drivers are underworked, and have time to retrieve your shopping treasures.
Q: Are beverages included?
A: Beer & Wine are included at dinner. Other alcohol is not included but can be charged to your room. Soft Drinks, Coffee, Espresso Drinks, and Juice are all complimentary at meal times.
Q: Which meals are included?
A: During Santana's earlier charters of Lüftner cruises the culinary staff appreciated our appetites as much as we appreciated their multi-course gourmet meals. A 5-star chef will curate a new menu for each meal, and will always include a surprising selection of local fruits and produce, regional specialties, the freshest-possible seafood, vegetarian options, and grilled-to-order meats. A changing assortment of desserts and pastries are produced aboard each day. Breakfast and Lunch are served from a viewing queue, perfect for active cyclists. Dinner is a plated multi-course menu with plenty of gourmet options for all of our participants.
Q: Does the Amadeus Queen offer WiFi? Does the ship have an elevator?
Will there be menu selections for vegetarians, vegans and picky eaters?
A: Yes to all of the above.
Q: What if we have more questions?
A: The quickest and easiest way to get help is to use Santana's Contact Form. One of our team members will follow up with you as soon as possible.