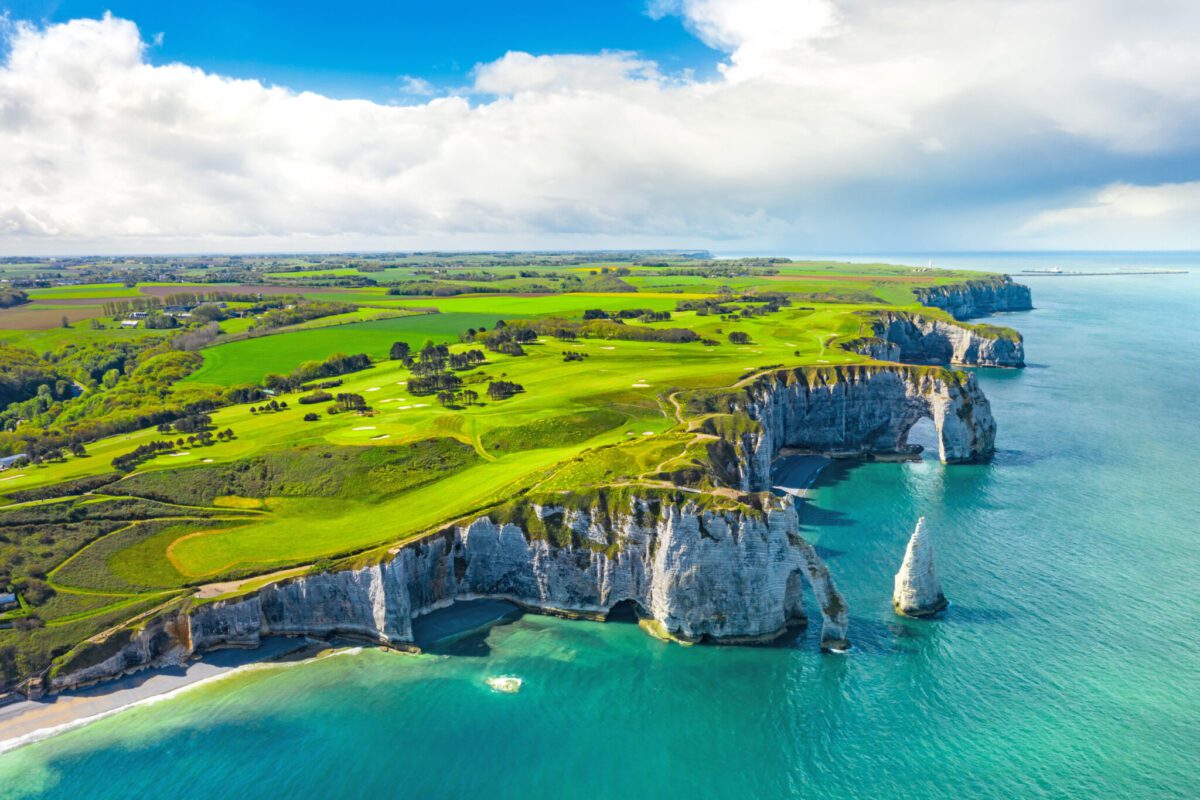 Photo Itinerary
Seine River Cycling Cruise 2023
Normandy to Paris
This perfect French cycling cruise starts in Normandy, not far from the legendary D-Day coast.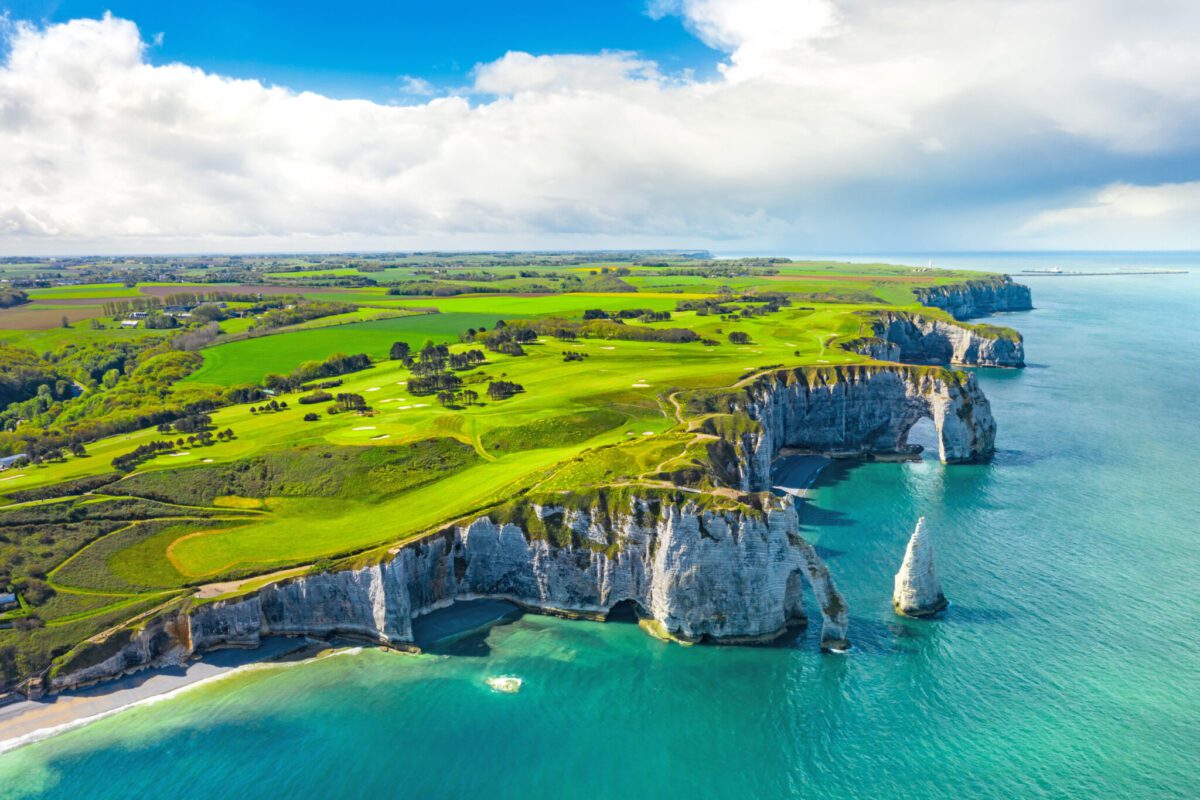 Embark day for Santana's Normandy to Paris Cycling Cruise is two summers from now, we'll retrieve you and your luggage from Paris' CDG-Airport and get you to our luxurious river cruise ship in time to check in, freshen up, and assemble your tandem or single bikes for a short test ride.
Many will opt to arrive at CDG three days earlier for a PreTour that includes our insightful exploration of the D-day coast.
Our luxurious home for 9-days and 8-nights is Lüftner's Amadeus Diamond, a favorite ship of Santana's participants even before she was relaunched on the Seine. Our most recent cruise onboard this ship was performing this same itinerary in 2017—a premiere event that sold out over the first weekend. The Diamond was completely refitted and refurbished in 2019.
Our itinerary stretches from the Atlantic coast to the center of Paris. A cruise ship that repositions overnight to reach superior segments of Seine River Cycling provides a combination of comfort and convenience that can't be duplicated by a tour that squanders precious vacation time with each change of hotels. During this final week of the Tour de France, you'll be able to start early and finish a full-day of incredible cycling before returning to the ship.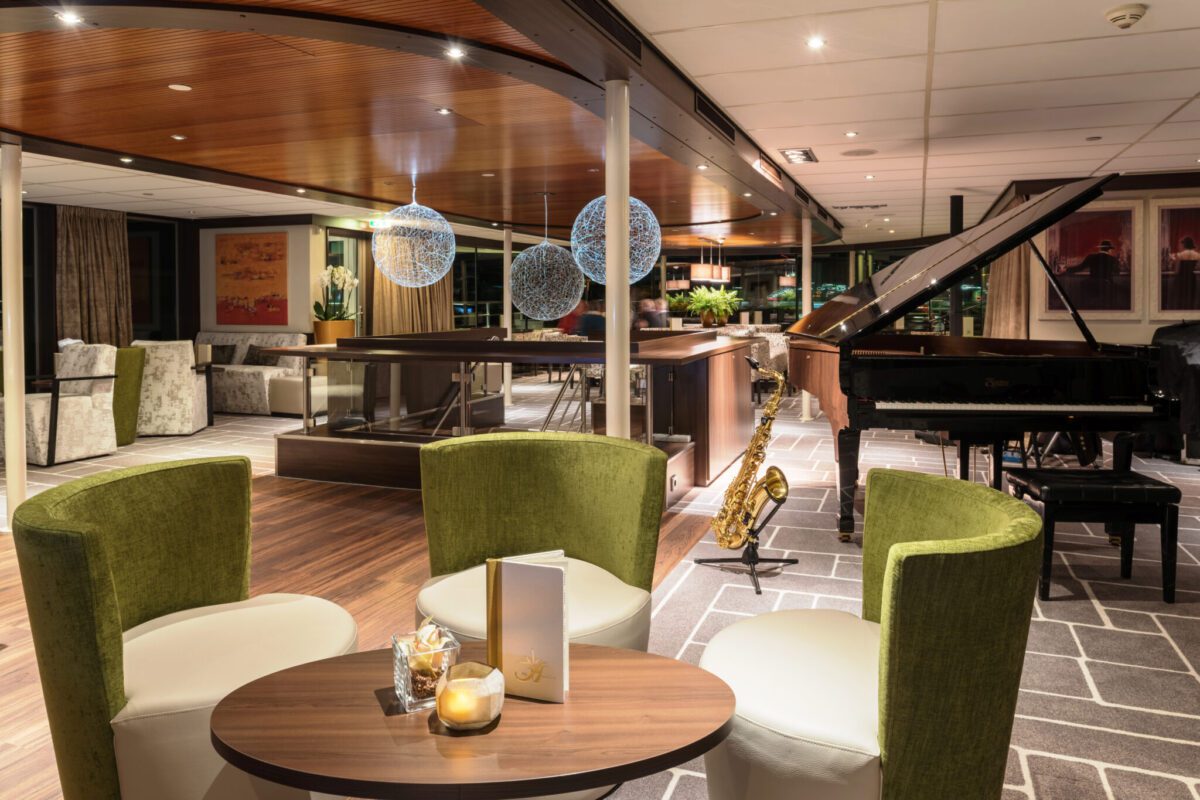 In the ship's spacious lounge equipped with a big screen TV, you'll enjoy snacks and refreshments as you cheer on your favorites while watching the pro peloton complete another stage on their way to Paris. When you return to your room, not only has it been thoroughly cleaned, the kit you wore yesterday has been carefully laundered and folded, and sits atop your freshly made bed. Dinner? 5-star cuisine with fine wine. Dress code? Because Santana has chartered the entire ship, there's no need to pack a jacket, tie, or heels.
Santana Adventures welcomes ALL cyclists and their cycling or non-cycling partners! While our company has its roots in tandems, single bikes have been welcome on our cruises and tours for over a dozen years.
This event is centered on a wide range of fabulous cycling. A daily choice of routes provide a range of miles. In the lightly-contoured Seine River Valley, the longer routes allow the inclusion of challenging climbs.
Here are a few highlights of our itinerary:
Embark Day – Unless this is the day you'll arrive at CDG airport, this morning's ride to our Le Havre embark starts at Pegasus Bridge—the site of D-Day's initial action.
A coastal route through the resort towns of Trouville and Deauville reaches the Seine at Honfleur, the picturesque village and port where the Impressionist art movement was born. A guided walking tour and lunch precedes a tough choice.
Do you want to ride the final 15 miles across Pont du Normandie to reach the ship? Or would you rather spend additional time in Honfleur before using our tour's picture-window coach to reach Le Havre.
Day 2 – An overnight Seine cruise passes refineries and industrial ports to reach Caudebec-en-Caux, where we'll use morning and afternoon ferries for various length-routes to explore Normandy's Boucles de la Seine, a vast natural preserve where a web of paved lanes weave through marshland, woods, and fields of flowers to find ancient villages, fragrant bakeries, and fanciful castles.
Day 3 – The following day of cycling begins from Duclair, where the Mayor will again reschedule the town's ferry service to allow a ship full of cyclists to start their morning ride from this perfect spot. Today's forested routes pass notable chateaus and chapels to traverse Trait Maulévrier National Park.
Although energetic cyclists won't wish to reboard until mid-afternoon, those who prefer a shorter ride will circle back for a lunch-cruise that reaches Rouen in time for afternoon walking tours.
Rouen, an inland seaport and modern center of commerce, is also the ancient French capital where occupying forces from England convicted Joan of Arc as a heretic, and then burned her at the stake. Now viewed as the turning point of the Hundred Years' War, Joan of Arc became immortalized as the savior of France. After the church reexamined the trial and death of the 19-year-old woman who'd commanded armies for two years, Joan achieved sainthood.
In addition to Rouen's soaring cathedral and a gigantic astronomical clock, picturesque markets, and great museums are a short walk from our ship. Perfect for strolling, Rouen was the first French city to ban cars from its main shopping street.
Our ship will remain docked near Rouen's medieval center overnight, which invites late afternoon exploration or an evening stroll through a magical setting.
Day 4 – Today's marvelous day of cycling through farmlands is punctuated by a visit to the spooky ruins of l'Abbaye Notre-Dame de Fontaine-Guérard. Built in 1190, this preserved architectural masterpiece survived the French Revolution of 1789 to become a focus of paranormal research.
Crossing the Seine at Ecluse de Poses, the following miles trace a particularly beautiful stretch of the river to reboard the ship in Les Andelys for a late lunch at the foot of Chateau Gaillard, the Seine castle built in 1196 by Richard the Lionheart who was, at that time, King of England and ruler of Normandy.
Day 5 – This day starts with an early morning ride that passes through the Seine River village of Girverny, and stops at the famous home of Claude Monet, the founder and leader of impressionism.
A Parisian who studied art from age 11, Monet created impressionism while capturing Seine River scenes between Paris and the sea. At age 43, no longer content to reside in Paris, Monet moved his family to Giverny where he lived and painted for another 43 years.
We'll park our bikes to tour the artist's home, outdoor studio, artistically crafted gardens, and the lily pond that dominated Monet's final chapter.
The continuing ride pauses at La Roche Guyon, a castle built into the side of an overhanging wall of rock. While most of Europe's castles were obsolete by the 20th century, when General Rommel arrived in Normandy to beef-up German defenses in advance of suspected allied landings, this fortress carved into the cliffside provided ample protection against allied air raids.
Because the Seine River was central to the pioneers of impressionism and post-impressionism, we'll cycle past buildings, bridges, and landscapes that appear in the works of Degas, Boudin, Pissaro, Cézanne, Sisley, Van Gogh, and Renoir. In addition to huge castles and cathedrals, our multi-day approach to Paris passes chateaus and abbey churches.
A favorite pre-dinner gathering spot is certainly the ship's lounge with its big screen TV, where you'll be able to watch each day's finishing sprint of the Tour de France.
Day 6 – After 4 full days of rides on the Seine River Cycling Cruise (7 if you joined us for the D-Day PreTour), the final two days of rides finish before lunch. Saturday's morning ride uses traffic-free avenues to enter Paris, where the ship will remain docked through Tuesday in the shadow of the Eiffel Tower.
While nothing prevents an apres-lunch ride, Saturday is the perfect afternoon to explore Paris. If you skip the ship's dinner and/or stay out late, we'll leave the light on.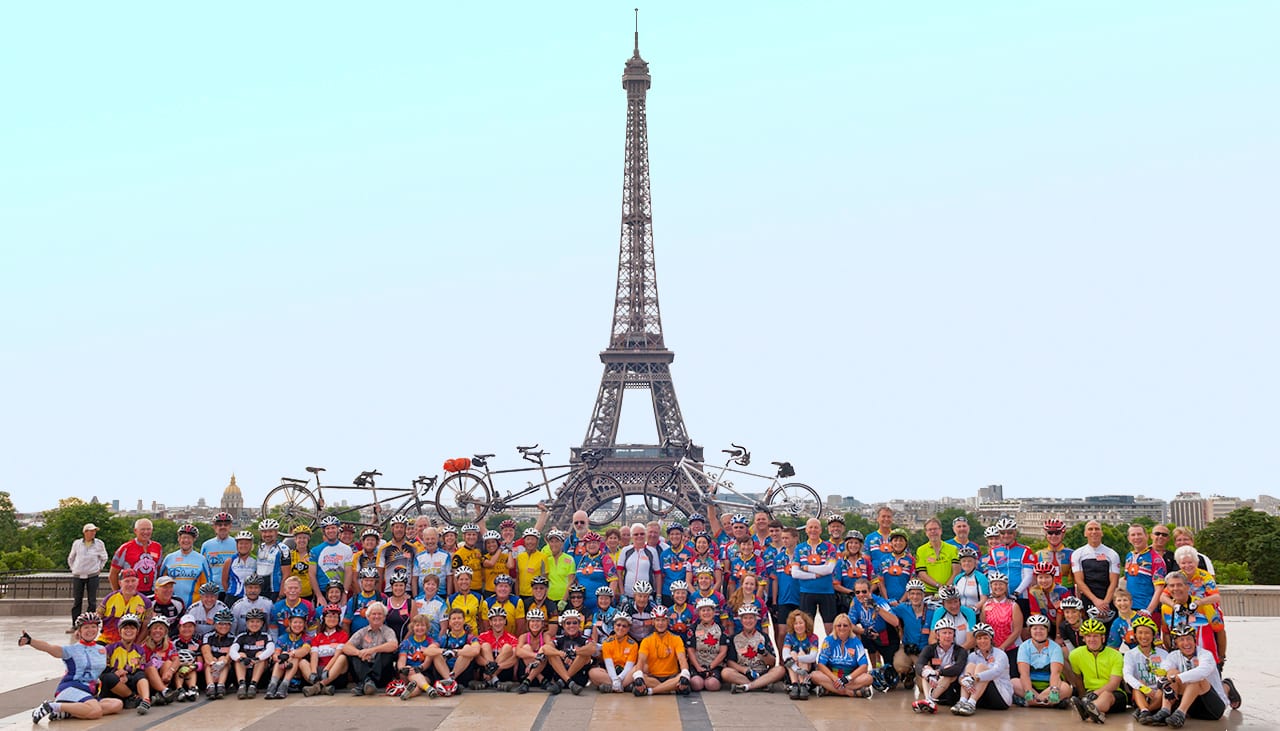 Day 7 – Our Sunday morning ride is one you're certain to remember. From Santana's score of previous tours that started or ended in Paris, we know the perfect spot for our group photo. With a bit of luck we may fit Eiffel's tower and our cruise ship into the same group shot.
A few blocks farther we'll reach the police barricades that prevent traffic from entering avenues that will be used for this afternoon's finish of the 2023 Tour de France. Thanks to Santana's multiyear relationship with ASO (the organization that produces Le Tour), we'll be able to ride the final miles of our tour on the same circuit where, a few hours later, a slightly larger number of pros will ride the final miles of their tour.
As you circle Arc de Triomphe our photographer will capture an action shot with the Arc in the background. Back at the ship we'll regroup for high fives and bike packing.
After lunch it's a short hike back to the circuit, where you'll have time to find a viewing spot before the appearance of the commercial caravan. A low-flying formation of fighter jets announces the arrival of the pro peloton, which rides seven laps up and down the Champs-Élysées before the finishing sprint.
While standing amidst a crowded mass of fans is fun and free, ASO will again allow Santana's participants the option to obtain prime seats in their reserved-for-sponsors compound. This VIP pavilion at the face of the curb (in a secured area with gourmet catering and flush toilets) allows an unobstructed view of this afternoon's action. Location?
Santana's seats are along the finishing sprint, directly opposite the press-boxes. From this perfect spot on Avenue des Champs-Élysées you'll have an unobstructed view of the riders, who pass in front of us fifteen times in the course of 90 minutes.
This prime location produces flashy breakaways by riders who hope to be out front when the peloton passes the press boxes, announcer's stand, and TV cameras. The final sprint is always contested by riders who hope to win the final stage — and collect a yellow jersey a few minutes before the overall winner stands atop the same podium.
While tens of thousands of spectators will party until the start of the fireworks, from our grandstand it's also possible to make a quick exit out the rear gate. Unless you decide to turn in early, the after-dinner fireworks can be viewed from the Diamond's top deck.
After testing this new itinerary in 2017—when cyclists rated it "perfect"—cycling enthusiasts who missed that premiere have been waiting for this week's announcement. Was it worth the years-long wait? While other organized tours have undoubtedly arrived in Paris to witness a Tour de France finish, how many of their participants cycle the Champs-Élysées circuit before taking a reserved seat at the finish line?
Day 8 – Another change that will be new for our 2023 Seine River Cycling Cruise is an extra day to enjoy Paris. On Monday, July 24 you'll be able to sleep in or join with some of your new friends to get in a full day of self-guided activity. The ship is a perfect base of operations. A few will return to the ship for lunch, and most will return for our cruise's gala farewell dinner.
Day 9 – Disembark for the Seine River Cycling Cruise occurs on the morning of Tuesday, July 25. On this 9th morning, our included ship-to-CDG shuttles can get you to the airport in time for the earliest transatlantic departure. If you instead transfer to a hotel or train station, a pre-arranged taxi or bike-capable shuttle can depart from the ship as late as 9am.
Amadeus Diamond
Seine River Cycling Cruise 2023
Normandy to Paris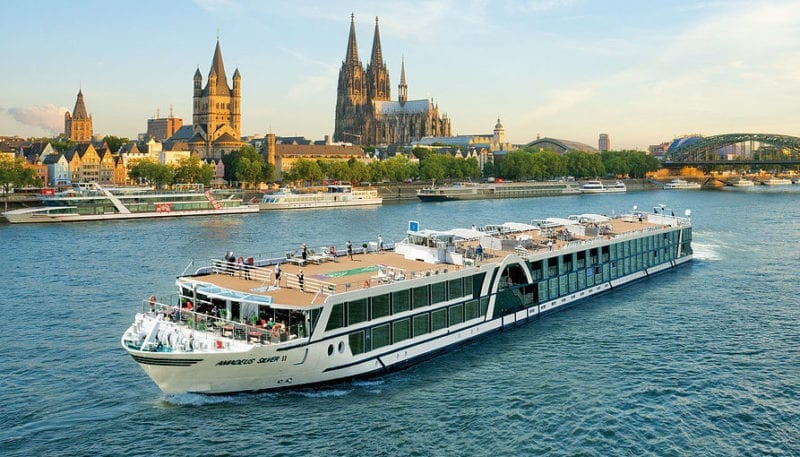 Santana's Seine River Cycling Cruise is the perfect itinerary to replace a string of hotels with a no-repacking week aboard the luxurious Amadeus Diamond.
On most days the Amadeus Diamond will move through the night to find a perfect place to start a morning ride. After we are off, it will move ahead 20-30 miles to where it docks and waits to serve a late lunch. The day's shortest and easiest rides stay close to the river. Longer options loop inland, and find a few hills. Our late afternoon tie-ups are always at the center of a town that merits your pre-dinner exploration. Once everyone is seated for dinner in the panoramic dining room, the ship can untie and move to our next day's ride. Instead of spending your precious vacation time re-packing and moving between hotels each day, on Santana's Seine River Cycling Cruise our floating resort transports you overnight while you sleep.
Mozart & Strauss Deck Staterooms
The Mozart & Strauss Deck staterooms have French Balconies. You'll both be able to lean out to share beautiful views up and down the river. All double-staterooms are 161 square feet, plenty of room for a king-width bed. Suites are about 50% larger (237 square feet!) and provide room to entertain your friends. The Haydn Deck Staterooms have a tall and wide fixed window. With the same floor-plan and amenities as upper deck staterooms, you can't tell which deck you're on with the curtains closed.
Resort style bathrooms in every room
At 161 square feet, the Mozart & Strauss Deck staterooms are not only large by cruise ship standards, they're nearly twice as large as what you'll find on a European barge.
Mozart & Strauss Deck Staterooms
Suites on the Amadeus Diamond are 50% larger than the staterooms, more than enough room to entertain your friends or enjoy your sanctuary gliding down the Seine River.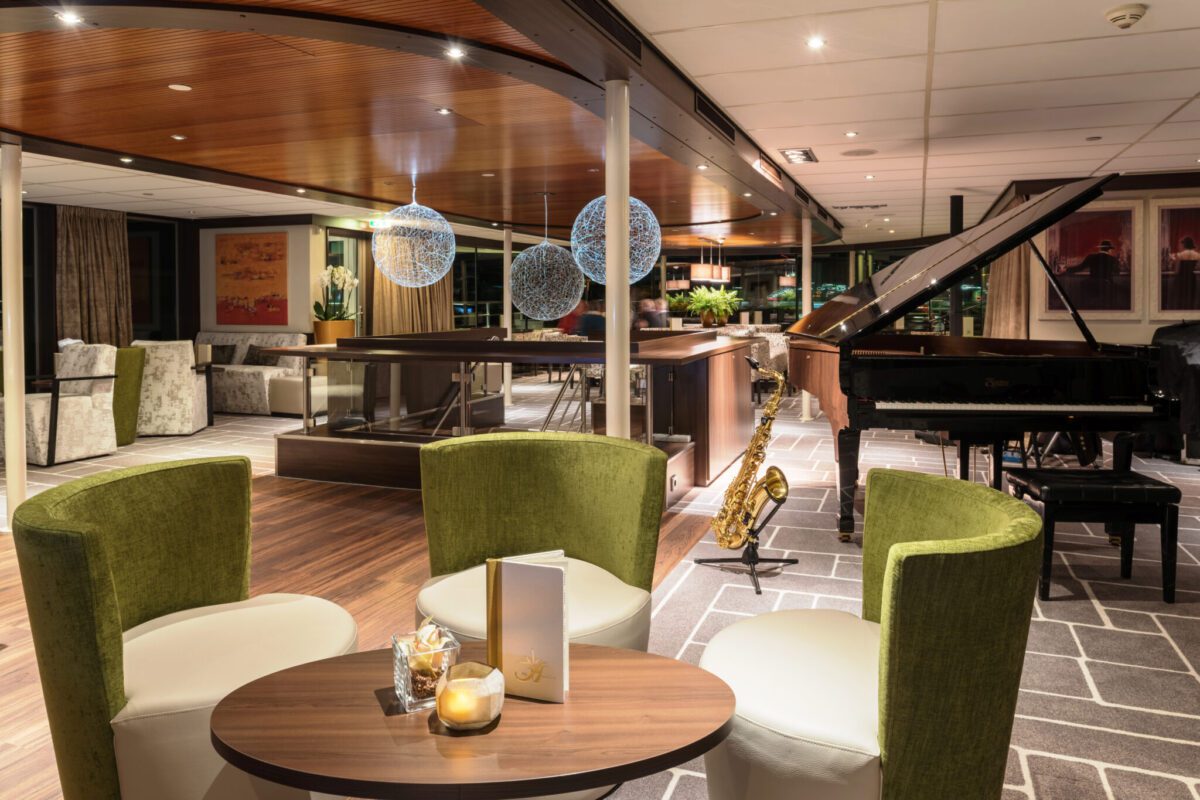 Compared to an inn-to-inn tour, where every day starts where the previous day ended, you'll experience better rides while gaining an hour a day by not having to repack and change hotels. The french balcony staterooms on the Amadeus Diamond are not only cleaner, fresher, and quieter than most hotel rooms, on this bicycle tour you'll sleep better by not having to adjust to a new mattress, pillow, and thermostat each night.
On any day you don't feel like riding, an inland cruise comes with fascinating scenery. While aboard you can nap, read, use the wifi, catch some rays on the sundeck, or enjoy a massage or spa treatment.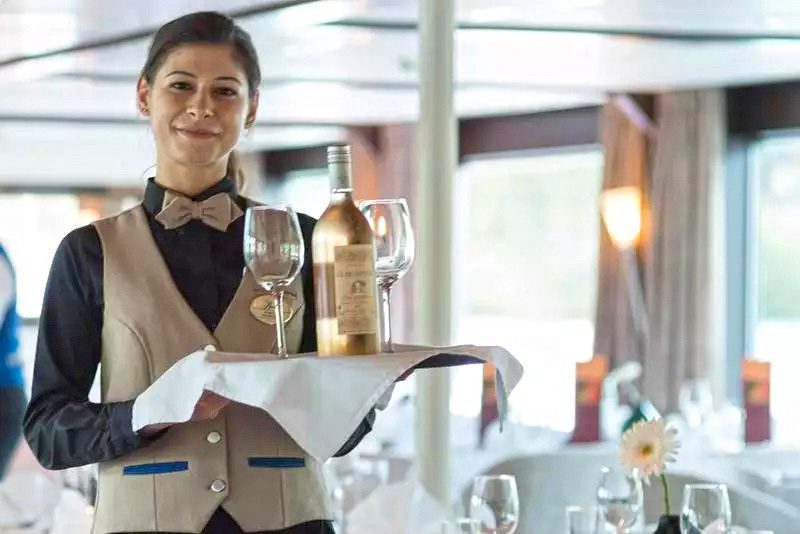 Another daily option is to hop aboard Sergio's picture-window coach to reach and enjoy the mid-ride attractions without pedaling.
Bike Parking on the Sun Deck (about to go under a low bridge)
Meals? The ship's panoramic dining room accommodates all, and serves three gourmet-quality meals per day curated by our 5-star chef, each with enough choices to please everyone.
Frequently Asked Questions
Seine River Cycling Cruise 2023
Normandy to Paris
Q: What are the exact dates?
A: Santana's Seine River Cycling Cruise will take place July 17 to 25, 2023. 9-days/8-nights. Perfectly scheduled for short sleeve cycling in the Seine River Valley. These dates were specially selected to experience the Tour de France Finale in Paris and warm weather cycling in the mid-70s.
Q: What's the cost?
A: Due to the current strength of the dollar our first-in per-person double-occupancy pricing for this 9-day cycling cruise starts at $4,499. Booking early is easy and RISK FREE. Our reservations page shows pricing of available staterooms.
Q: Single rooms?
A: The Amadeus Diamond has a rare pair of single staterooms.
Q: What's "Early-In" Pricing?
A: To manage the risk of chartering entire cruise ships, couples who commit early are rewarded with discounts of up to $1,000 per stateroom. Lowest pricing in every category is limited to the first few rooms. Booking early is easy and RISK FREE.
Q: What about tipping?
A: Jan and I don't accept tips. A comprehensive "cruise extras" fee of $500 per person includes port fees and a long list of off-ship activities, tours, admissions, interpretive guides, site fees, non-rider touring coach, and ride support (gps route files and a pair of SOS vans driven by pro mechanics). Note that this is less than the average cruise passenger pays for a week of "deluxe excursions." Shipboard gratuities of $185 per person includes wash & fold laundry and valet bike handling.
Q: Are all staterooms the same?
A: No. Lüftner Cruises designed the Amadeus Diamond to be the most luxurious ship that can navigate the Seine River and its locks. This cruise ship is the perfect place to dine, sleep, and relax between rides. Staterooms on all 3 decks have a spacious 161 square foot floor plan. Suites are 50% larger (237 square feet) and provide room to entertain your friends. The Mozart & Strauss Deck staterooms have floor-to-ceiling windows with wide French balconies. You'll both be able to lean out to share beautiful views up and down the river. The Haydn Deck staterooms have a wide fixed window.
Q: How are staterooms assigned?
A: In any sub-category all rooms are identical. Using the PayPal timestamp, those who reserve earliest get the conveniently located staterooms closest to the front of the ship. If friends desire a pair of adjacent staterooms the timestamp of the first reservation determines the location of both rooms. In short, out of fairness to all our guests, we will not take requests for specific room numbers. Those who book early obtain prime positioning.
Q: Are rental bikes available?
A: Yes. If you own a nice bike that fits, however, bringing it with you is relatively easy and inexpensive. More info on this in Bill's Travel Tips. Single bike rental, about $450 per-person for the event, includes delivery at the PreTour OR cruise embark and retrieval at the end of the final ride.
Q: How do we get to and from the tour?
A: Detailed info by July '22. Those who arrive and leave on the embark and disembark days will receive airport transfers.
Q: How many miles each day?
A: In addition to our daily pair of zero-mile options (remaining on the ship or reaching prime attractions via Santana's non-rider touring coach), every day has multiple cycling routes. Anyone who can ride 30 flat miles will be able to enjoy multiple days of cycling. Longer routes are available, and typically allow 60 or more miles. At each morning's breakfast you'll get a map charting the day's cycling routes and recommended stops. During a brief route talk you'll hear about each route's attractions. Santana's vets have learned to love and rely on their handlebar-mounted GPS units. Available for less than $170, these touch-screen marvels prevent the age-old problem of getting lost or riding unplanned miles. Want to use your smartphone? Use the tips in our GPS Guide to make sure you're ready to go. Santana supplies free electronic mapping and route files. Simply select the route and follow the highlighted map.
Q: What's the next step?
A: A near-immediate sell-out of this event is anticipated. Early-in pricing is limited to the first few rooms in each category. Pricing listed on the Stateroom Reservations section is the current pricing. To lock-in availability and the lowest pricing on a RISK-FREE basis, reserve your space through our reservations portal. Our secure website is open 24 hours per day, accepts all major credit cards, and automatically adjusts for remaining stateroom availability. Reserving your spot is RISK-FREE. In each category the prime location staterooms will be assigned in the same order as the timestamp of your booking.
Q: What do you mean by RISK-FREE?
A: When you use your credit card and book through PayPal, we'll give you 14 risk-free days to think it over and clear your schedule. If you change your mind, send an email to Cancellations@SantanaAdventures.com within 14-days to cancel the PayPal transaction and obtain a full refund. Please do not send your request to any other email addresses. Here is a full listing of Santana Adventures' Terms & Conditions.
Q: What if we change our minds after 14 days?
A: Because full-boat charters are binding, non-cancelable contracts, Jan and I will only enter into this charter based on your confirmed-through-PayPal commitment. In effect, we undertake a huge risk by guaranteeing full payment on your behalf. After entering into this obligation, we cannot afford for you to back out—for any reason. This is no different than the clear written policy that existed for all except one of Santana's prior chartered-ship cruises (this charter will be our 53rd!). While preparing for our 2009 Danube event I neglected to include the following proviso. That's the year a group of friends, after verbally agreeing to pay in full and then stringing Jan along for many months, decided to cancel their plans. Lesson learned! Here it is (again) in writing:
Santana's acceptance of your registration and non-refundable deposit for this event is subsequent to your agreement to pay the remaining balance in full. While Santana allows limited refunds on rallies and tours, Santana's cruises are non-cancelable and non-transferable. When the possibility of paying yet not attending is unacceptable, Jan and I recommend Travel Guard trip insurance. For the past 25 years hundreds of our clients have relied on Travel Guard coverage without complaint. An informative application will be mailed with your invoice; and further information is available online. Here is a full listing of Santana Adventures' Terms & Conditions.
Q: Have you ever relaxed your refund policy?
A: Jan and I have willingly resold a number of fully prepaid staterooms for a fee of $1,000 per stateroom—which is waived when vacating participants find someone to take their place. When there has been more than one pending resell request, those who paid-in-full earliest had their space resold next. Using this non-guaranteed method (which is grossly inferior to trip insurance) Jan and I have cheerfully refunded over $500,000 in otherwise non-refundable and non-transferable cruise fares. Here is a full listing of Santana Adventures' Terms & Conditions.
Q: What's the difference between a SAG-wagon and Santana's SOS/treasure vans?
A: Most tour companies use SAG-wagons that haul luggage and "sweep" the route between overnight stops. The drivers refill water-bottles, fix flat tires, and retrieve riders who can't manage the easiest route between the widely spaced hotels. The problem, of course, is that the roving vans tend to be annoying until you actually need help. At that point it's common to wait for two or more hours until one shows up. Although SAG drivers can fix a flat, they don't have the tools or know-how to handle serious mechanical problems. Instead, they drive you to a bike shop (which explains why SAG-wagons disappear for hours at a time). This tour's pair of SOS vans are driven by pro bike mechanics who bring tools and spares. When you phone one of our drivers with the coordinates from your GPS, they'll arrive in a flash to get you back in the saddle. Because Santana expects participants to fill their own bottles, fix their own flats, and choose a ride they can finish, our SOS drivers are underworked, and have time to retrieve your shopping treasures.
Q: Are beverages included?
A: Beer & Wine are included at dinner. Other alcohol is not included but can be charged to your room. Soft Drinks, Coffee, Espresso Drinks, and Juice are all complimentary at meal times.
Q: Which meals are included?
A: During Santana's earlier charters of Lüftner cruises the culinary staff appreciated our appetites as much as we appreciated their multi-course gourmet meals. A 5-star chef will curate a new menu for each meal, and will always include a surprising selection of local fruits and produce, regional specialties, the freshest-possible seafood, vegetarian options, and grilled-to-order meats. A changing assortment of desserts and pastries are produced aboard each day. Breakfast and Lunch are served from a viewing queue, perfect for active cyclists. Dinner is a plated multi-course menu with plenty of gourmet options for all of our participants.
Q: Does the Amadeus Diamond offer WiFi?
A: Yes.
Q: Does the ship have an elevator?
A: Yes.
Q: Will there be menu selections for vegetarians, vegans and picky eaters?
A: Yes to all of the above.
Q: What if we have more questions?
A: The quickest and easiest way to get help is to use Santana's Contact Form. One of our team members will follow up with you as soon as possible.