Dubrovnik & Venice 2024
Photo Itinerary
Embark Day: Founded in the 7th century and architecturally master planned in 1205, Dubrovnik is known as the Pearl of the Adriatic. Surrounded by massive walls and turquoise water, Dubrovnik made for the perfect filming location for King's Landing in Game of Thrones. Dubrovnik's polished stone streets have never seen a bus or traffic signal. Walking the softly lit streets at night is a bit like strolling through the middle ages.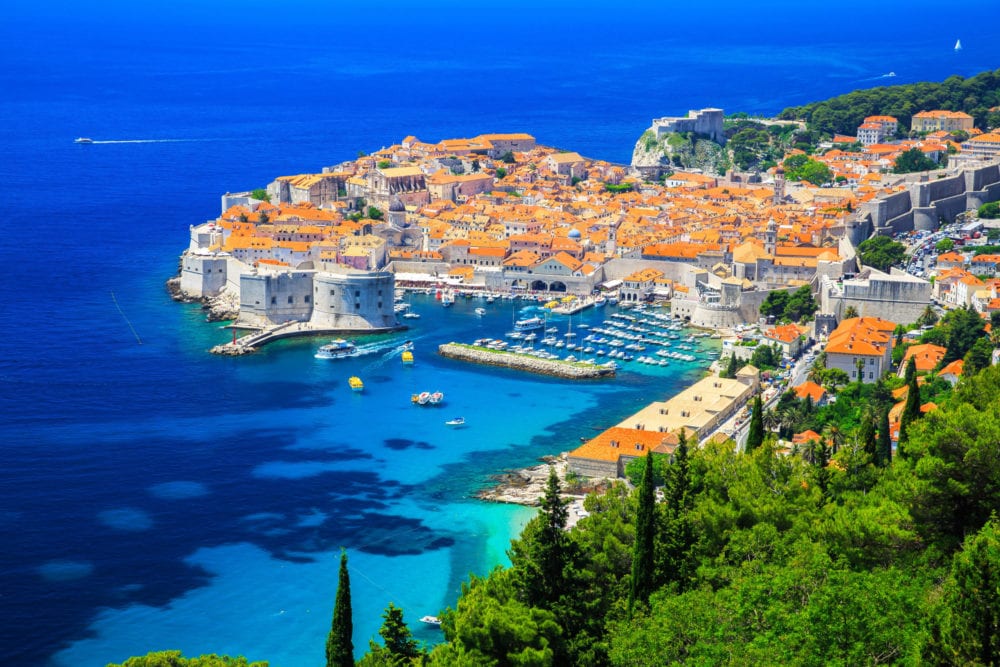 Dubrovnik's allure as a romantic starting point for an adventurous cycling cruise is undeniable. The secluded port is an easy shuttle from DBV International Airport. Following bike assembly and a pleasant intro ride, we'll cast off for a 9-night voyage that features Venice and an 8-day palette of carefully-curated cycling.
Day 2: After departing Dubrovnik and the country of Croatia, our first night's cruise takes us South to the neighboring country of Montenegro. If only a few Americans are aware of this hidden-away country, fewer still know of the Bay of Kotor. In addition to being Southern Europe's only fjord, UNESCO ranked Bay of Kotor as one of the 25 most beautiful bays in the entire world (and Europe's only bay to make this vaunted list).
At the head of the fjord is the Venetian outpost of Kotor. With its back against a solid rock cliff, "Old Kotor" is a medieval walled town where 4,000 residents still enter or leave via the four original gateways. Two narrow gates open to the East and West shores. A smaller third gate opens to a stone stairway that scales the cliff to reach sentry posts high above the city. Until recently the fourth gate opened to the Venetian stone wharf. Because none of Kotor's original gates is as wide as a car, automobiles have never entered the old city.
To preserve the city, its narrow wharf was expanded to make room for a roadway that traces the fjord's inner bay. Our tour's first morning ride uses this sea-level 26-mile circuit through six villages. The first of many stops uses a ferry to cross the ocean inlet that's too narrow for large cruise ships. At other stops you'll enjoy a hosted treat and/or meet guides who will show you three mid-ride attractions. Perast is the richest town of the Italian Renaissance. Our Lady of the Rocks is the island shrine dedicated to travelers. The remaining stop allows you to examine the bright mosaic tile floors of a recently unearthed Roman villa.
Is 26-miles too easy? Energetic riders will get their warmup on the zigzag roadway linking Kotor with Montenegro's interior. Leaving the shore they'll climb through 25 numbered switchbacks to reach a panorama point where they'll look across the fjord and down onto Kotor and our ship. After cycling, sightseeing, and catching a late lunch aboard, there's time for a guided walking tour of Old Kotor. A pre-sunset cast-off allows photographers to capture the bay's amazing beauty from the top deck. Beyond the outer lighthouse we'll end this southerly detour day by turning North towards Venice.
Tonight, for a unique after-dinner treat, La Belle drops anchor off Dubrovnik's Old Port. We'll use Le Belle's tenders to enter Dubrovnik through its torch-lit medieval sea gates, the same way Marco Polo arrived over 700 years earlier. After dark, the heart of Old Dubrovnik (where Game of Thrones was filmed) has a distinctly magical quality, and dozens of friendly places to enjoy a drink or dessert. Last tender from the old sea gate departs at 11:30PM.
Day 3: On Croatia's remote Peljesac Peninsula, we'll pedal traffic-free roads on the Mediterranean's "Peninsula of Grapes," home to some of Europe's rarest and finest wines. The vines grown on the peninsula's south-facing slope receive a doubled dose of sunshine due to the mirror-smooth surface of the Adriatic, the calmest branch of the Mediterranean Sea.
A choice of routes through coastal vineyards all end at a private reception hosted at a showcase winery founded by America's most celebrated vintner. At a bluff-top temple of winemaking overlooking Trstenik's picture perfect port and our waiting cruise ship, we'll enjoy award winning wines with regional breads, cheese, and salami.
A relaxing lunch-hour cruise transports us across the channel to the island where Marco Polo was born. From the stone village where our ship ties up, rides around the island of Korcula return for twilight walking tours that end at the civic theatre, where the island's professional troupe of dancers will provide a private performance of Korcula's thousand-year-old Moreska Saber Dance. Our private show will be the last "home" appearance of the season. In the off-season they perform this elaborate dance elsewhere (places such as London, Moscow, Melbourne, New York, and Tokyo).
Day 4: Croatia's Krka National Park is home to some of the world's most beautiful travertine waterfalls, cascades that become a bit taller every year! After appreciating this hidden valley of waterfalls, our ride reaches the coast at Biograd, the coronation site of Croatia's Kings. From Biograd it's a short ferry-crossing to the bridge-linked islands of Pasman & Ugljan.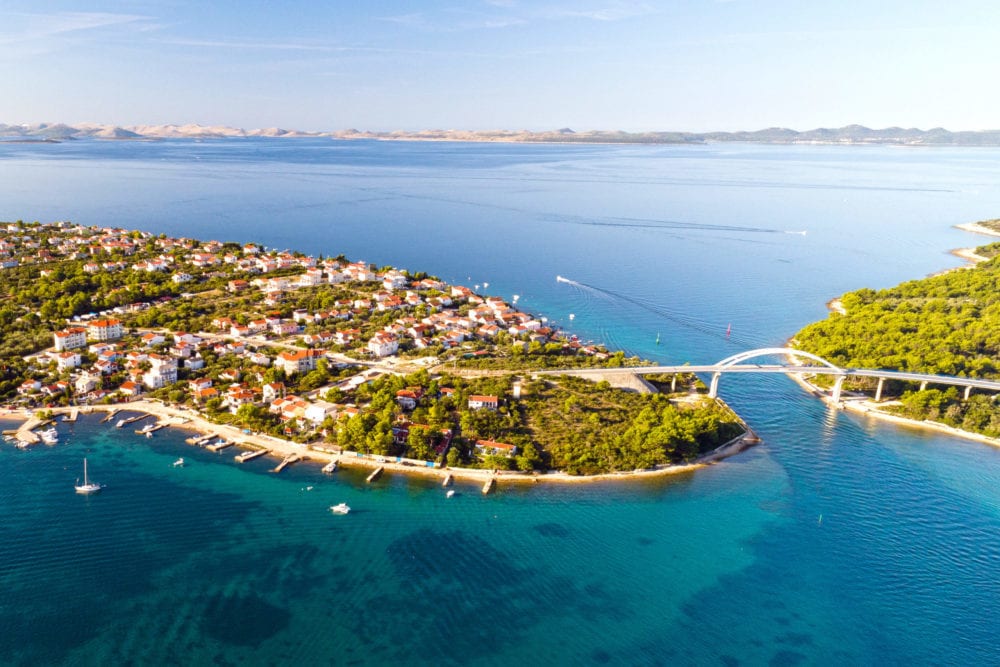 An enchanting day of cycling concludes when a second ferry delivers us to an ancient trading port where the solid marble streets have withstood a thousand years of traffic. Still a center of wealth, within Zadar's walls is a Croatian Rodeo Drive. Closed to cars, our yacht will be parked at the far end.
Day 5: Welcome to Istria! Over the last decade Istria has become the #1 destination of Italian cyclists. And why not? Recently "stolen" from Italy as a punishment for Mussolini's treachery, by 1947 Istria was locked behind the iron curtain. Wracked by civil war until 2003, for the past dozen years Italians, and especially Italian cyclists, have fallen in love with Istria, a former portion of their country that wasn't spoiled by progress and tourism.
The food, wine, churches, plazas, architecture and old signs are distinctly Italian. Cyclists from Italy, and everywhere else, arrive to discover a "lost Tuscany" (but with a quieter network of well-paved lanes than Tuscany could ever wish for). Years from now, when your American cycling friends brag about their upcoming trip to Europe's newest cycling hot spot, you'll be able to smile and say "Been there!"
If there is a more picturesque port to explore than Rovinj, a favorite of Rick Steves, we've yet to find it. Since La Belle will remain here until midnight, there's time to savor it later. Our morning ride heads inland to find Istria's famous green gold. During our scouting we sought out the Istrian family that won the international gold medal for olive oil.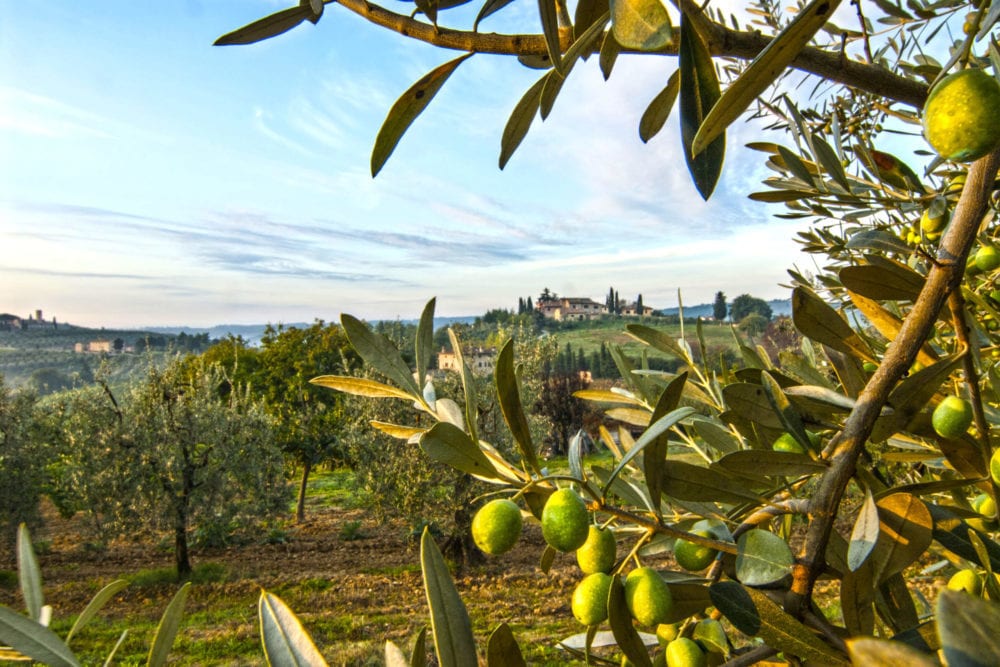 Our easy morning spin takes us to the town with Meloto's tasting room. When their sporting son, Matteo, learned of our desire to cycle from Rovinj to visit, he showed us a route that passes some of the family's prized trees. When he learned of our mid-October arrival he made us an offer we couldn't refuse. In 2024 Matteo will again tie off a trio of trees adjacent to our morning route.
At a roadside reception hosted by his family we'll again experience the fun of helping with the annual harvest. When we reach his press and art studio we'll sample the peppery blend of the previous year's harvest. Our inland return ride to Rovinj passes castles and walled villages that are treasured by locals but not yet known to tourists.
Day 6: After four fabulous days of cycling, most will be ready for a day without lycra. Instead of sleeping in, however, we encourage a climb to the top deck, where you and your partner can savor our sunrise arrival in Venice while sharing a cappuccino.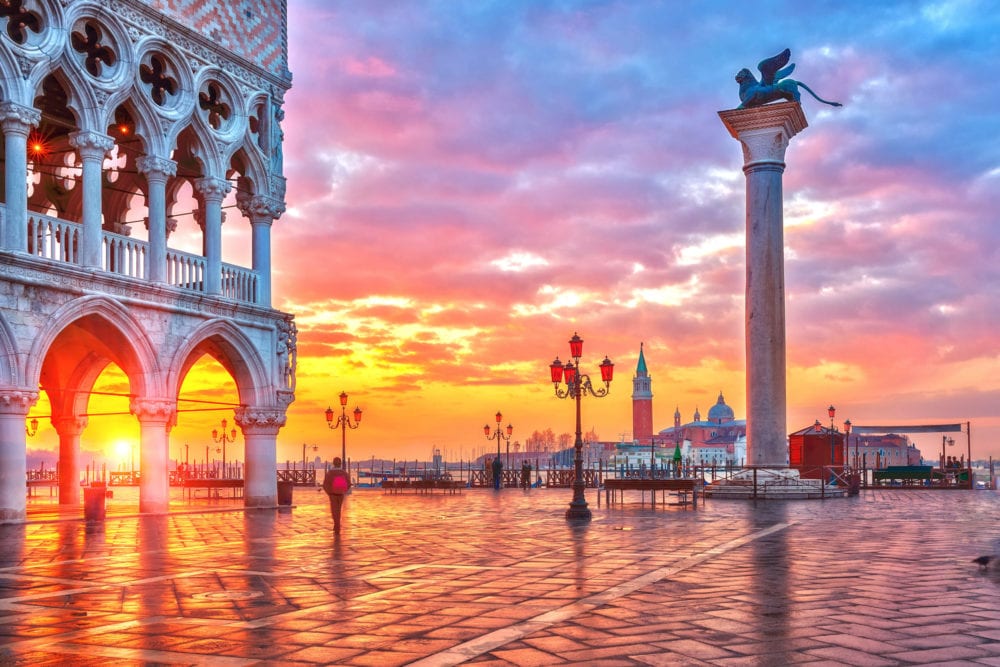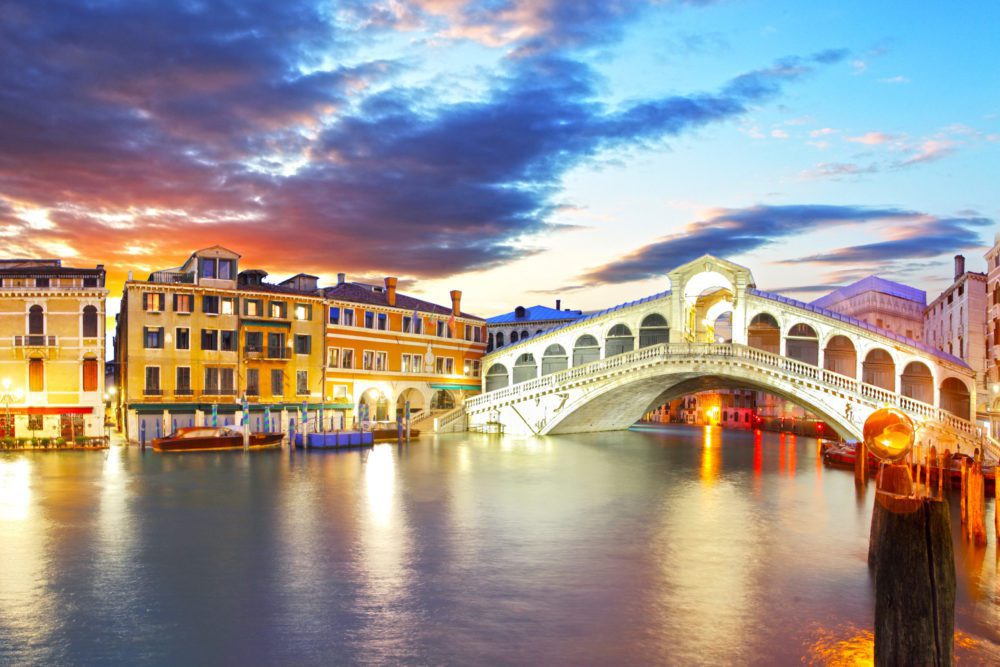 While the cruise ships used by normal tourists are now routed around Venice to a remote terminal, our yacht-sized ship is allowed to cruise through the center and tie up in the pedestrian district only a short stroll from San Marco Square.
As soon as we tie up a group of licensed guides will appear to provide informative 90-minute walking tours—a perfect introduction to the world's most fascinating city. The rest of the day is yours.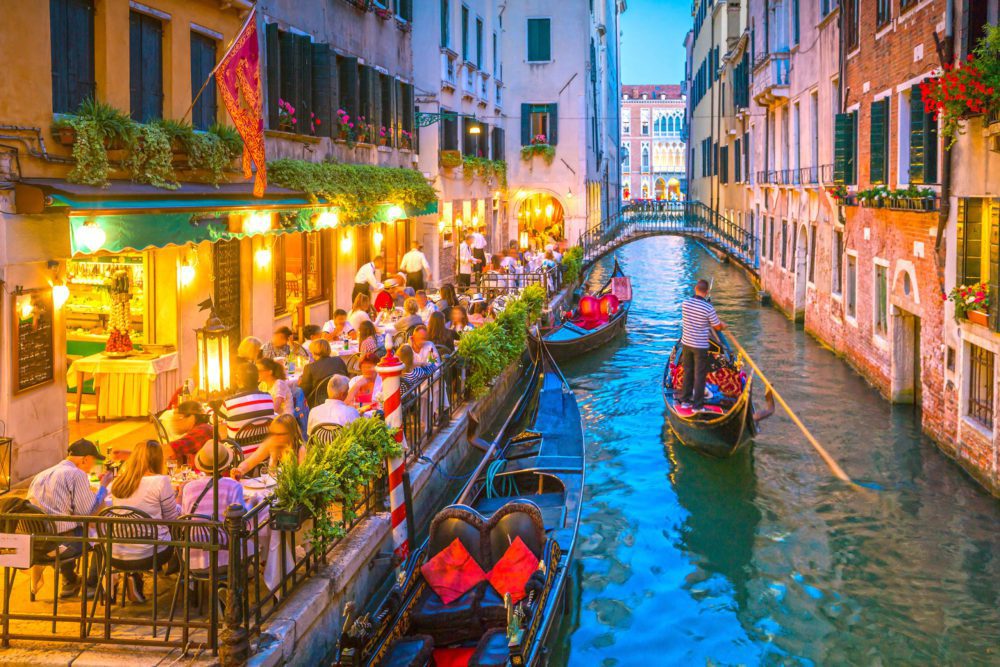 While it's easy to return to the ship for lunch and or dinner, an unstructured day of wandering through the romantic capital of the Renaissance with your partner is the ultimate treat, which only gets better as the sun sets and the throngs of tourists disappear. Venice after dark is magical and safe. As with Cinderella's coach, however, our ship departs at midnight.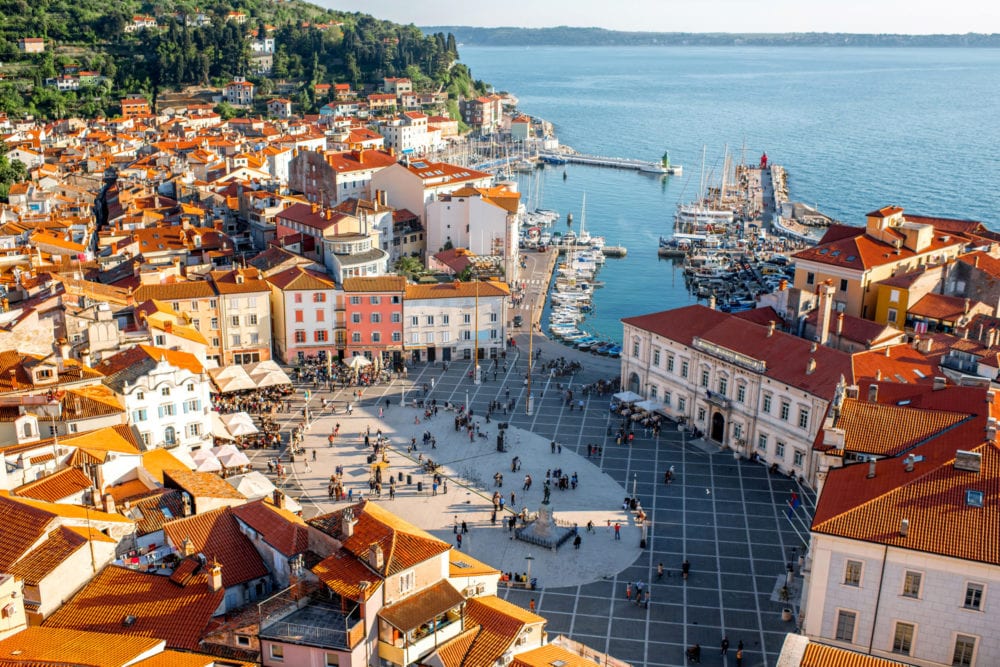 Day 7: Today's ride starts from the port where the Alpine country of Slovenia reaches down to touch the sea. From Koper, a remnant of Istria's famous narrow-gauge railroad allows riders to burrow through a mountain and reach the picturesque port of Piran without breaking a sweat. Continuing past the Belle Epoque Casino in Portoroz, we'll cross a sentry-guarded border to re-enter Croatia.
Will the previous days of cycling prepare you for a gentle climb through oak-forested hills to discover Istria's third epicurean treasure? In addition to wine and olive oil, Italians who visit Istria return home with gourmet truffles. Today's lunch is at a hilltop microbrewery (400 feet above the sea) where the brewmaster / chef is famous for crafting small batches of handmade noodles in a sauce sprinkled with fresh truffles.
Before our after-lunch return to the ship we have yet another treat. We'll adjourn to an adjacent oak grove to learn the Istrian sport of truffle hunting.
While a local expert explains the mysterious process, we'll be entertained by the antics of her truffle-hunting hound.
Day 8: Our morning coastal ride links UNESCO heritage ports of Primosten and Trogir, each a sparkling jewel of the Venetian Republic.
This day's lunch cruise delivers us to a third UNESCO heritage site, a port so perfect that a Roman Emperor chose to retire here, 90 miles distant from Italy. In the year 365, the Roman Emperor Diocletian erected a marble palace that would remain Europe's largest for the next thirteen centuries.
Stranger still, through the dark and middle ages the abandoned structure was repurposed, and became "lost" to western knowledge. Thus when Louis of France finally built a larger palace at Versailles, no one in his court knew of Diocletian's Palace, which was still standing! It's an amazing tour. Afterwards, Split's waterfront Riva at sunset is perfect for people watching.
Day 9: While we sleep in comfort our yacht transports us to the island of Hvar, where a Venetian port guarded by a fortress castle has become the Adriatic's trendiest destination. In order to preserve the serenity of the island's Venetian shore, the past two centuries of development was restricted to the other side of the island. When daily traffic on the narrow road linking the old and new sides of the island became unbearable, they built a tunnel. Like all of the big ferries and cruise ships, we'll dock on the new side of the island. By arriving between the huge ferries, our rides start when the roads are empty.
Cyclists are drawn to Hvar because the now-deserted road across the top of the island is among the world's finest rides. This well maintained and graded route along the ridge line offers breathtaking 360-degree views across seas and islands as it winds between lavender fields and stone villages. While other cyclists who make the famous ride to the old port of Hvar have to turn around and climb back out, during our perfect morning ride the yacht-sized La Belle will cruise 'round Hvar and enter the old Venetian port to retrieve us. If you beat La Belle to the island's yacht port, you'll have plenty of time to look for famous celebrities while inspecting some of the Venetian Republic's finest architecture.
As our 10 day / 9 night – adventure connecting four countries draws to a close, a third lunch-hour cruise crosses a wide channel to reach and explore Vis, our tour's 6th Croatian Island (not bad for an itinerary that also includes Venice and a fjord)
Croatia's forbidden isle of Vis is where Yugoslavia's Communist Dictator created a fortress stronghold with gun emplacements, underground escape routes, and a submarine pen tunneled into a sea bluff. During the decades of Marshall Tito's rule, only those born on Vis could visit. The choice of scenic routes to a hidden cantina and winery are amazing, as is the Vis version of pizza.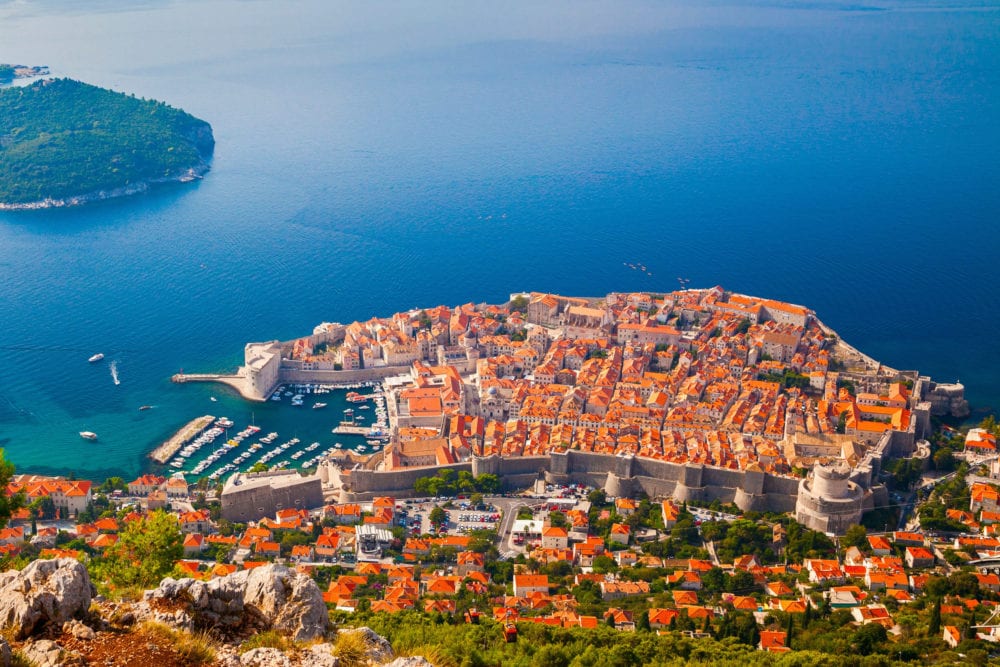 Disembark: Following 8 days with cycling and our layover day in Venice, we'll pack bikes before a farewell dinner and overnight return to Dubrovnik, where a westward flight will allow you to reach home the same evening.
Dubrovnik & Venice 2024
La Belle de L'Adriatique
We've chartered "The Beauty of the Adriatic" for this Dubrovnik & Venice itinerary, a 110-metre (yacht-dimensioned) vessel with advanced stabilization, ultra-green power plants and Z-drive propulsion.

Commissioned by CroisiEurope in 2007, this unique Belgian-flagged cruiser has just fewer than 100 soundproofed staterooms in five categories.
All have private bathrooms, spacious floor plans, king-width beds that can convert into separate full-width twins, individually-controlled A/C, and large view windows.
The floor plans of the A, B, C, & D Categories are identical, the only differences are the windows and which deck they are located on. A & B Staterooms have two large rectangular windows and are located on the top two decks. C & D Staterooms have two large portholes.
The cuisine is exceptional. Breakfast includes bountiful buffets created by our 5-star chef. Each evening your waiter will present a new five course menu—listing an array of choices for you to select from.
Is beer & wine included with dinner? Of course!
The Lounge has seating for all our guests and is a great place to relax, mingle with your fellow cyclists, catch up on emails, or read a nice book.
The bar, located on the Sun Deck, enjoys breathtaking 360-degree views.
Onboard wi-fi is included, as is expert wash-and-fold laundering of your valuable cycling wear.
Dubrovnik & Venice 2024
Frequently Asked Questions
Q: What are the exact dates?
A: October 17 to 26, 2024
Q: Why October?
A: Croatia & Italy are too hot and crowded in the summer. By October the crowds have thinned and the cycling weather is perfect. Mornings in the mid 60s and afternoons in the low 70s. Plus, early fall is the time of year when cyclists enjoy peak fitness.
Q: What's the cost?
A: Due to the current strength of the dollar, our per-person double-occupancy pricing for this 10-day cycling cruise starts at $4,199. Booking early is easy and RISK FREE. Our reservations page shows pricing of available staterooms.
Q: Traveling Solo?
A: While some of the ships Santana charters have a small number of single rooms, this one doesn't. If you can't convince someone to join you, the single supplement to have a B or C deck double stateroom all to yourself is 80%. The single supplement for smaller double rooms below D-category is 60%.
Q: What's "Early-In" Pricing?
A: To manage the risk of chartering entire cruise ships, couples who commit early are rewarded with lower pricing. Lowest pricing in every category is limited to the first few rooms. Booking early is easy and RISK FREE.
Q: What about tipping?
A: Jan and I don't accept tips. A comprehensive "cruise extras" fee of $450 per person includes port fees and a long list of off-ship activities, tours, admissions, interpretive guides, site fees, non-rider touring coach, and ride support (gps route files and a pair of SOS vans driven by pro mechanics). Note that this is less than the average cruise passenger pays for a week of "deluxe excursions." Shipboard gratuities of $150 per person includes wash & fold laundry and valet bike handling.
Q: Are all staterooms the same?
A: The efficiently-scaled La Belle de L'Adriatique has 100 double occupancy staterooms in five categories (sorry, no singles or triples). Launched in 2007 and refurbished in 2017, all rooms in all categories feature exterior view and private bath. Instead of suites and/or balconies La Belle has large public areas and lots of deck space. Four of the five categories have full-width twins that convert to a king width double. A & B Categories have two large rectangular windows and are located on the top two decks. B & C Categories have a pair of large portholes. F Category staterooms are located on various decks, are slightly smaller than A-D Categories, and have a non-standard stateroom configuration.
Q: How are staterooms assigned?
A: In any sub-category all rooms are identical. Using the PayPal timestamp, those who reserve earliest get the conveniently located staterooms closest to the front of the ship. If friends desire a pair of adjacent staterooms the timestamp of the first reservation determines the location of both rooms. In short, out of fairness to all our guests, we will not take requests for specific room numbers. Those who book early obtain prime positioning.
Q: Are rental bikes available?
A: Yes. If you own a nice bike that fits, however, bringing it with you is relatively easy and inexpensive. More info on this in Bill's Travel Tips. Lightweight road bike rentals are about $450 per-person for the duration of the cruise, and E-Bike rentals are about $200 more. Rentals include delivery on embark day and retrieval at the end of the final ride. More info on our "Welcome Aboard" page.
Q: How do we get to and from the tour?
A: Detailed info will be emailed a year in advance. Those who arrive and leave on the embark and disembark days will receive free airport transfers.
Q: How many miles each day?
A: In addition to our daily pair of zero-mile options (remaining on the ship or reaching prime attractions via Santana's non-rider touring coach), every day has multiple cycling routes. Anyone who can ride 30 flat miles will be able to enjoy multiple days of cycling. Longer routes are available, and often provide 60 or more miles. At each morning's breakfast you'll get a map charting the day's cycling routes and recommended stops. During a brief route talk you'll hear about each route's attractions. Santana's vets have learned to love and rely on their handlebar-mounted GPS units. Available for less than $170, these touch-screen marvels prevent the age-old problem of getting lost or riding unplanned miles. Want to use your smartphone? Use the tips in our GPS Guide to make sure you're ready to go. Santana supplies free electronic mapping and route files. Simply select the route and follow the highlighted map. More info on our "Welcome Aboard" page.
Q: What's the next step?
A: A near-immediate sell-out of this event is anticipated. Pricing listed on the Stateroom Reservations section is the current pricing. Refresh your browser to see any changes that may have occurred if you delay booking after loading this page. To lock-in availability and the lowest pricing on a RISK-FREE basis, reserve your space through our PayPal portal. PayPal's secure website is open 24 hours per day, accepts all major credit cards, and automatically adjusts for remaining stateroom availability. Reserving your spot is RISK-FREE. In each category the prime location staterooms will be assigned in the same order as the timestamp of your booking.
Q: What do you mean by RISK-FREE?
A: When you use your credit card and book through PayPal, we'll give you 14 risk-free days to think it over and clear your schedule. If you change your mind, send an email to Cancellations@SantanaAdventures.com within two weeks to cancel the PayPal transaction and obtain a full refund. Here is a full listing of Santana Adventures' Terms & Conditions.
Q: What if we change our minds after 14 days?
A: Because full-boat charters are binding, non-cancelable contracts, Jan and I will only enter into this charter based on your confirmed-through-PayPal commitment. In effect, we undertake a huge risk by guaranteeing full payment on your behalf. After entering into this obligation, we cannot afford for you to back out—for any reason. This is no different than the clear written policy that existed for all except one of Santana's prior chartered-ship cruises (this charter will be our 68th!). While preparing for our 2009 Danube event I neglected to include the following proviso. That's the year a group of friends, after verbally agreeing to pay in full and then stringing Jan along for many months, decided to cancel their plans. Lesson learned! Here it is (again) in writing:
Santana's acceptance of your registration and non-refundable deposit for this event is subsequent to your agreement to pay the remaining balance in full. While Santana allows limited refunds on rallies and tours, Santana's cruises are non-cancelable and non-transferable. When the possibility of paying yet not attending is unacceptable, Jan and I recommend Travel Guard trip insurance. For the past 25 years hundreds of our clients have relied on Travel Guard coverage without complaint. An informative application will be mailed with your invoice; and further information is available online. Here is a full listing of Santana Adventures' Terms & Conditions.
Q: Have you ever relaxed your refund policy?
A: Jan and I have willingly resold a number of fully prepaid staterooms for a fee of $1,500 per stateroom—which is waived when vacating participants found someone to take their place. When there has been more than one pending resell request, those who paid-in-full earliest had their space resold next. Using this non-guaranteed method (which is grossly inferior to trip insurance) Jan and I have cheerfully refunded over $500,000 in otherwise non-refundable and non-transferable cruise fares. Here is a full listing of Santana Adventures' Terms & Conditions.
Q: What's the difference between a SAG-wagon and Santana's SOS/treasure vans?
A: Most tour companies use SAG-wagons that haul luggage and "sweep" the route between overnight stops. The drivers refill water-bottles, fix flat tires, and retrieve riders who can't manage the easiest route between the widely spaced hotels. The problem, of course, is that the roving vans tend to be annoying until you actually need help. At that point it's common to wait for two or more hours until one shows up. Although SAG drivers can fix a flat, they don't have the tools or know-how to handle serious mechanical problems. Instead, they drive you to a bike shop (which explains why SAG-wagons disappear for hours at a time). This tour's pair of SOS vans are driven by pro bike mechanics who bring tools and spares. When you phone one of our drivers with the coordinates from your GPS, they'll arrive in a flash to get you back in the saddle. Because Santana expects participants to fill their own bottles, fix their own flats, and choose a ride they can finish, our SOS drivers are underworked, and have time to retrieve your shopping treasures.
Q: Are beverages included?
A: Beer & Wine are included at dinner. Other alcohol is not included but can be charged to your room. Soft Drinks, Coffee, Espresso Drinks, and Juice are all complimentary at meal times.
Q: Which meals are included?
A: During Santana's earlier charters from Croisi Cruises the culinary staff appreciated our appetites as much as we appreciated their multi-course gourmet meals. Croisi's 5-star chef will curate a new menu for each meal, and will always include a surprising selection of local fruits and produce, regional specialties, the freshest-possible seafood, vegetarian options, and grilled-to-order meats. A changing assortment of desserts and pastries are produced aboard each day. Breakfast and Lunch are served buffet style, perfect for active cyclists. Dinner is a plated multi-course menu with plenty of gourmet options for all of our participants.
Q: Does La Belle offer WiFi? Does the ship have an elevator?
Will there be menu selections for vegetarians, vegans and picky eaters?
A: Yes to all of the above.
Q: What if we have more questions?
A: The quickest and easiest way to get help is to use Santana's Contact Form. One of our team members will follow up with you as soon as possible.